If you iPhone friends are pretty unhappy because you got an Android, then its time surprising them by using the Espier Launcher which will make them feel that you installed iOS over an Android Phone.  The Launcher recently caught my eyes when Sandip Pointed me to Android Advices Post which talked about this launcher. Below is the video demo followed by detailed review :
What the launcher does to Android :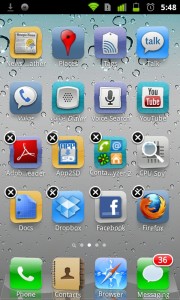 It takes over the default launcher of Android  ( which can be switched back later ) and runs it own interface.
Just like iOS you can

Long Press on any of the app starts vibrating them so you can drag and change its position
That also brings the delete icon on left corner pressing on which takes you to the Android Uninstaller
You can Create Folders by dropping an App over the other and there should be 2 apps in a folder.
See the list of running apps by swiping from bottom to top.
Long Press and you can stop the apps running in background.
If you press left to right here it brings you the Android Power control Widget instead of music player like in iOS. What you sholod notice is that you have one tap switch from Full Volume to Vibration Mode.
Swipe to extreme left and you will iOS like search interface which combines searching in Google, Bookmarks, Contacts and Apps.

The App comes with its configuration items where you can

Disable Animations in case its slow on your Android Phone.
Disable Sensor
Disable Icon Auto Arrange.
Lock Down individual applications using Pass Code or Pattern.
Switch to any other launcher from here.
You can backup and restore settings of this app including your App Arrangement.
Set to Default.
ScreenShots
Download |    Via Android Advices | Thanks Sandip