A program launcher which can just find and help you launch windows program is what most of us have but have you ever though if your launcher which uses index behind the scene to find apps can understand if you are looking for word inside application name or if that starts with the name, This is exactly what Executor is doing.
Taking my case into consideration when I want to search, I want it to be searched whether its into the description or name. Though Windows 7 searching in start menu is smart enough but it still not a replacement of App launcher. Executor is search and launch application program and has smart and configurable indexer which helps you find applications faster.

Apart from this, Executor doesn't just tell you the name but also a bit about them so you understand the difference between apps which have similar name but do different task. For example when I search for Windows Manager, it can tell me that this program is registered as startup program. This way you are aware of bit more about it.
Anytime you want to launch a program just press WIN + Z and you would see the launcher where you can type and find your program. Executor can remember what you had searched before so you spend less time next time and it has the seperate list of keywords built to help you find apps even quicker.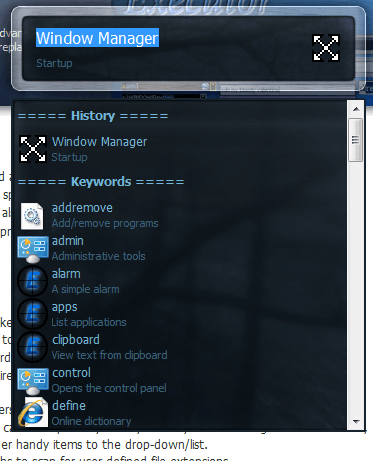 Now if you are looking for a Docked Application Launcher, Executor is not doing that for you. Many of us love but I guess many of you also would like to keep your desktop clean and use the Windows 7 Jumplist and Taskbar feature for that.
If you are power user, I would suggest to learn two configuration options, First is the Input, Wording and Auto Completion and second is Add Keyword section.  Though understanding is not difficult at all and anybody can understand in five minutes and start using it.
Input, Wording and Auto Completion
This is very important configuration section because here you can decide how the executor should behave and also what options should be taken when searched. For example when you search you can choose Keywords ( We will talk more about it), Indexed Items, History and File System.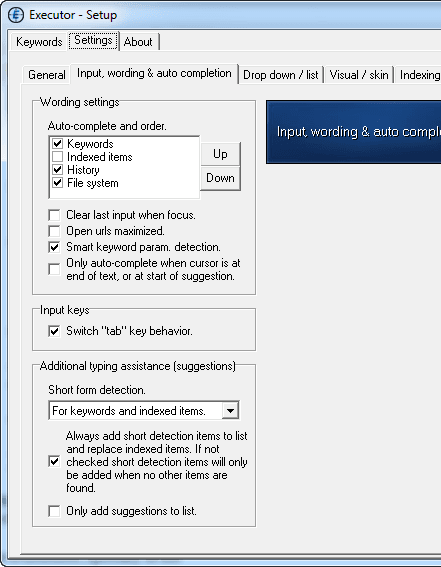 Since the application will try to suggest you, you can configure how short form detection helps you. Short Forms for example you can use FFX for Firefox and when you type bring it up.
Add Keyword Options :
Executor allows you to set keywords or shortcuts for finding applications. For example you can set keyword addremove for Uninstall Program of Windows or StartMusic for your windows media player.  This is very handy if you want to skip typing long words all the time even though this application can ge you things very fast.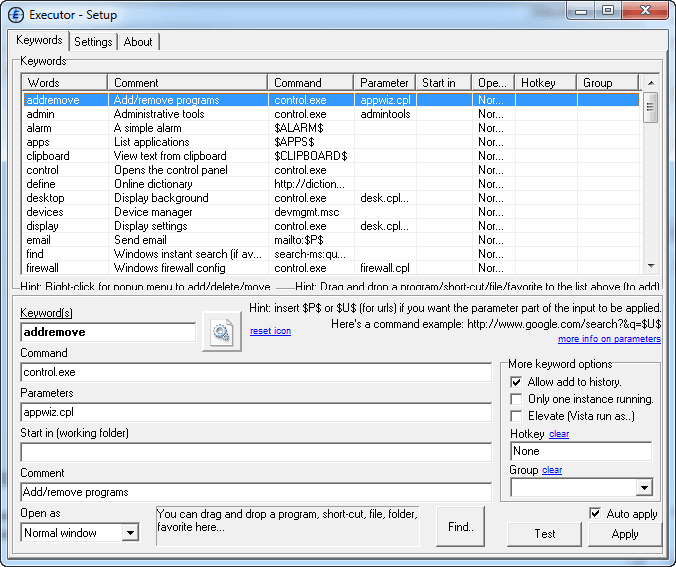 Overall Executor is one of the best application finder and launcher program I have seen. Not many application allow you to configure the indexing and shortcuts but this does. Download Executor