We have seen lot of software which help you get rid of Junk Files, Invalid Files and unnecessary files which occupy a lot of space on your computer accumulating over days you used your computer but today we will discuss about JetClean Software which comes with some great features packed in one place which many novice users would love to have in any application in this category.
This application cleans up your Registry by finding all invalid entries or empty ones,  Temporary Files from System Explorer and Windows Itself, App Clean up which basically cleans up everything from Browsers or any App which follows the rule and has predefined temp area, Shortcut Cleanup.
It also comes along with Ram Cleanup but I generally do not recommend it and let it be managed by System and you should be existing all apps which is not required. Thats my choice though.
What is So unique about Jet Clean ?
Rescue Center :
It comes with a Backup Center or Rescue Center in place which lets you create System Restore from within the app i.e. You don't even have to search for a system restore feature in windows to do this. However for restoring it launches the In built System Restore when you need it.
If you are wondering why I am discussing this first because not every software gives you this option and when things go haywire, we always end up in blaming the software.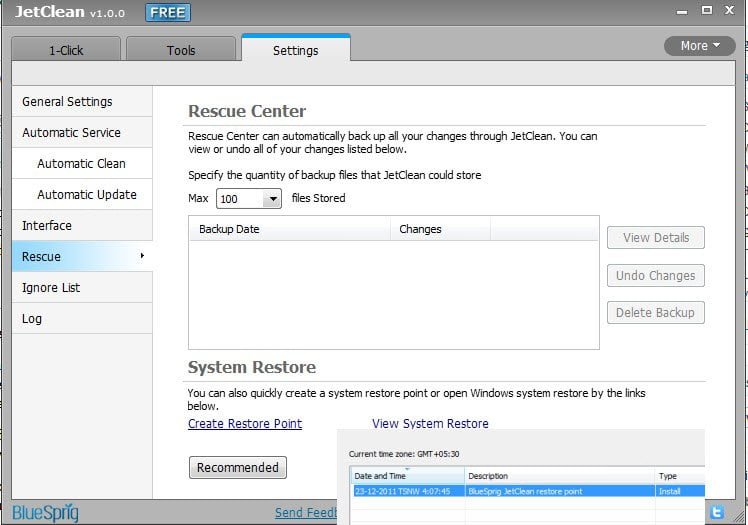 You can also specify how many files can be backed up using this too and you have option to view the backup files and also restore from any of them.
Smarty Uninstaller 
It's smart because it categorizes the installed application and gives you list of most wanted applications you might like to uninstall first and they are  : Toolbars and Large Programs. I love the toolbar option because in Windows Uninstaller you will sweat finding them for every browser.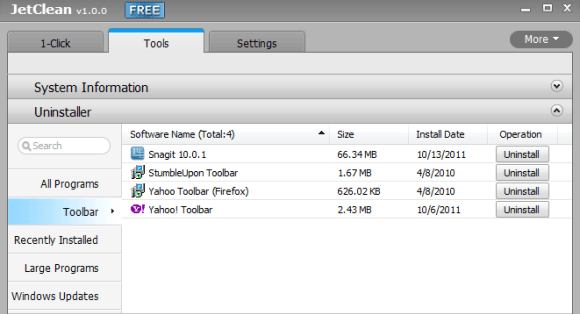 Portable :
Have lot of machines to clean up, It can even turn itself into a portable application which can be used on multiple computers with any hiccups of installing it again and again.

How about Startup Organization ?
Though JetClean gives you clean options to disable apps from startup, But I would highly recommend Soluto for handling this. The reason being it gives you much clear idea how much time every app takes, recommend you and gives you cleaner interface to organize. You can read more about it here.
Said that rest of things are awesome with Jet Clean with so many features packed in one place and I would recommend you to use it on your computer. Since it comes with Option to create a restore point, make sure you do create one before you start cleaning up. Precaution is always better. Download Jet Clean