Do you find it tiring to type long images from the text for further use? If so, you must use special tools to help you copy text from images in one click. Whether you want to extract from receipts or documents or preserve important Text from magazines or scans, you can do it all. They will help you save time and effort by simplifying your task. This article tells you the five best tools to help copy text from images supporting you at work.
5 Best Tools to Copy Text from Image
There are several free and Paid tools to copy text from images. But many of them can give you output filled with errors. To help you find the best ones, we have listed the top 5 tools which will help you.
Below- mentioned is a list of reliable tools:
Image To Text
Nanonets
Image to Text Converter
Easy Scan OCR
Office Excel (Text from Picture)
Let's dig into the details!
1] Image To Text
Image to Text Converter is an OCR tool that will quickly help you extract text from images. You have to upload the required picture to the website, and you will get results within minutes. It can accept up to 50 images at a time for bulk processing.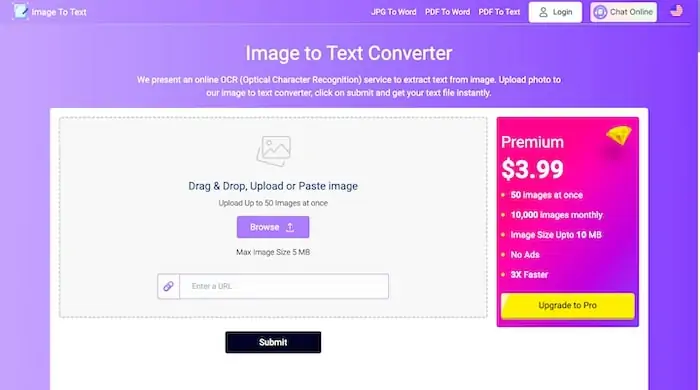 Features
Supports Images up to Size 5 MB- You can easily upload images with a size of up to 5 MB for copying its text.
Accepts URL Input- If you don't want to add pictures, you can add its URL for quick use.
Text-to-Image Conversion- Besides copying text from images, it can also help you convert text into images.
100% Accuracy- You won't have any flaws or inaccurate copying of your text from ideas that make it credible.
Multiple Image Formats- An image-to-text converter supports various image formats. So, you don't necessarily have to convert it into a specific extension for using it. It supports image formats like JPG, JPEG, JPE, JFIF JIF, JFI BMP, and PNG TIFF.
What do we like about it?
Free to Use- Unlike other tools, you don't have to get subscription plans to use its services. It is a completely free tool to copy text from images.
No Login Required- You don't have to enter your email ID or any other details to log in to use these tools. It saves your time and ensures privacy.
AI-based Extraction- Image-to-text uses the latest AI technology and is powered with tesseract-ocr – an open-source software developed by Hewlett-Packard, funded and maintained by Google. This technique helps you get 100% accuracy.
Supports Multiple Languages- You don't necessarily have to capture images in English or any specific language to convert them into text. This tool supports multiple languages like English, Spanish, Russian, Dutch, Italian, Portuguese, Indonesian, German, etc.
Download Text File-  Once you have copied the text from your images, you can download it into a text file. Later, you can edit it as per your need.
You can check it out Here.
2] Nanonets
Are you looking for a Copy of Text from an Image tool for professional use? If so, Nanonets may be an ideal tool because more than 1000 enterprises trust it. It provides a drag-and-drop approach to uploading images into it and getting immediate results. Moreover, it accepts images of up to 30 MB, which will help you copy text from bigger images.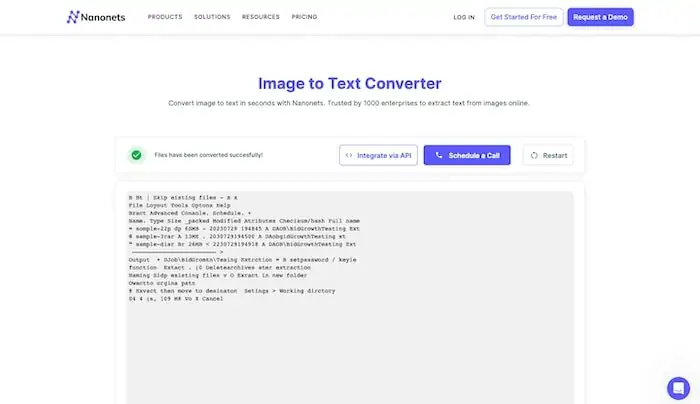 Features
Download Text File- Nanonets helps you download the text output to further edit or share it per your needs.
Supports Multiple Image Formats- Nanonets supports PNG, JPG, and PDF files.  So, there is no need to change the format of your images.
What do we like about it?
Try it for Free- Although it offers paid plans to access its premium services, you can try it for free.
Customization- A unique feature of Nanonets is that it helps you set up your own custom OCR API for any new document type in less than 15 minutes.
Ensures Privacy- If you are concerned about the security and confidentiality of the data or images you upload, Nanonets has a strict privacy policy. They don't share or sell any of your data.
You can check it out Here.
3] Image To Text Converter
Image-to-text Converter is one of the most accessible copy text from images tools where you don't have to log in to use it. Based on the latest OCR technology, it is developed with advanced libraries and text recognition models that make it accurate and credible.
It also does segments and arranges text as per your uploaded image. Once you fully extract your text, the Image to Text Converter makes light grammar corrections to make it more accurate.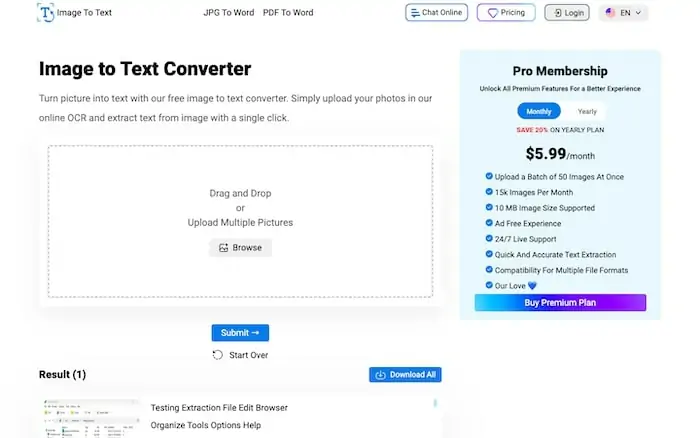 Features
Upload Images- You can upload the images in Image to Text Converter into multiple formats like JPG, PNG, JPEG, BMP, GIF, and TIFF.
Auto Extract Text from Images- Image-to-text converter automatically extracts text from images and transforms it into editable text. Further, it provides you the option to automate this process.
Download/Copy Options- You can download your converted text from images by clicking a single icon or copy it and then paste it on any clipboard for further use.
Why do we like it?
Free Unlimited Access- You don't have to spend a penny using this tool. It gives you unlimited access for free.
Supports Multiple Languages- It supports images in various languages for converting them into text.
You can check it out Here.
4] Easy Screen OCR
Do you want to convert text from screenshots? Easy Screen OCR is an intelligent tool that will help you capture screenshots and convert them into text accurately. It is a simple-to-use tool, and you must try it. Easy Screen OCR is an easy-to-use tool where you need to follow just three steps to convert screenshots into editable text with better accuracy.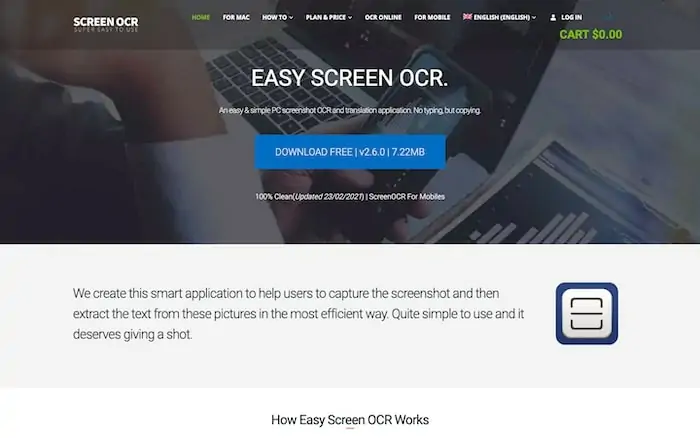 Features
Best Text Scanner- Easy Screen OCR supports copying text from screenshots. So you will not have to retype any text from images.
OCR Language Support- This tool recognizes over 100 languages worldwide and converts them into text.
Easy to Use- You don't need to upload an image to copy text from it necessarily. You can capture a part of the screen and convert it into text.
Supports Cross-Platform- It supports copying text from images and screenshots from multiple platforms like Mac/Win computers and Android/iOS mobile phones.
What do we like about it?
Supports Screenshot Translation- Easy Screen OCR can extract text from images and translate it into 20 different languages per your needs.
HotKeys Setting- For more convenience, you can set up custom hot keys on your keyboard to capture a screenshot and copy its text.
Free updates- Easy Screen OCR comes up with new updates frequently, and you can enjoy those
update services for totally free.
You can check it out Here.
5] Office Excel (Text from Picture option)
If you don't want to use any external tool to copy text from images, then you can use Office Excel. It provides you with an option to convert text from the Picture option, which will prevent additional efforts.
Features
Beginner Friendly- The copy text from the image feature in Office Excel is easy to use. So, every beginner uses it without any exceptional learning.
Free to Use- The copy text from images feature in Office Excel is free.
Instant Results- You can quickly results from it rather than waiting for it.
You can check it out here.
Also, check out the Snipping Tool and Microsoft PowerToys feature to extract and redact image text.
Conclusion
If you want to copy text from your magazines or textbook to do homework or note any important detail from anywhere else, click a picture, and these tools will give you accurate text. Whether you use it for professional or personal purposes, these tools save time and ensure you can work seamlessly.