All Windows users are very likely familiar with the Recent Files feature. Windows keeps track of all files modified on the PC and sorts them all. The Windows operating system records the file's name whenever you open a file in Windows Explorer or from the open and save dialog box. Few file names are saved in the Recent folder, while others are saved in the Registry. In this post, we will share how you can find all recent files list in Windows 11/10
How Are Recent Files Feature Useful?
The Recent Files feature reveals all the files you viewed last and helps to access the recent files quickly. If you have closed any files by accident, or files got erased during computer maintenance, or need to take up a pending piece of work again, you can easily find those files in the Recent Files feature and even the Windows 11 quick access.
This feature also helps organizations to keep a check on their employees. Executives can easily monitor when specific files are modified and keep an eye on employees who are actively working on projects.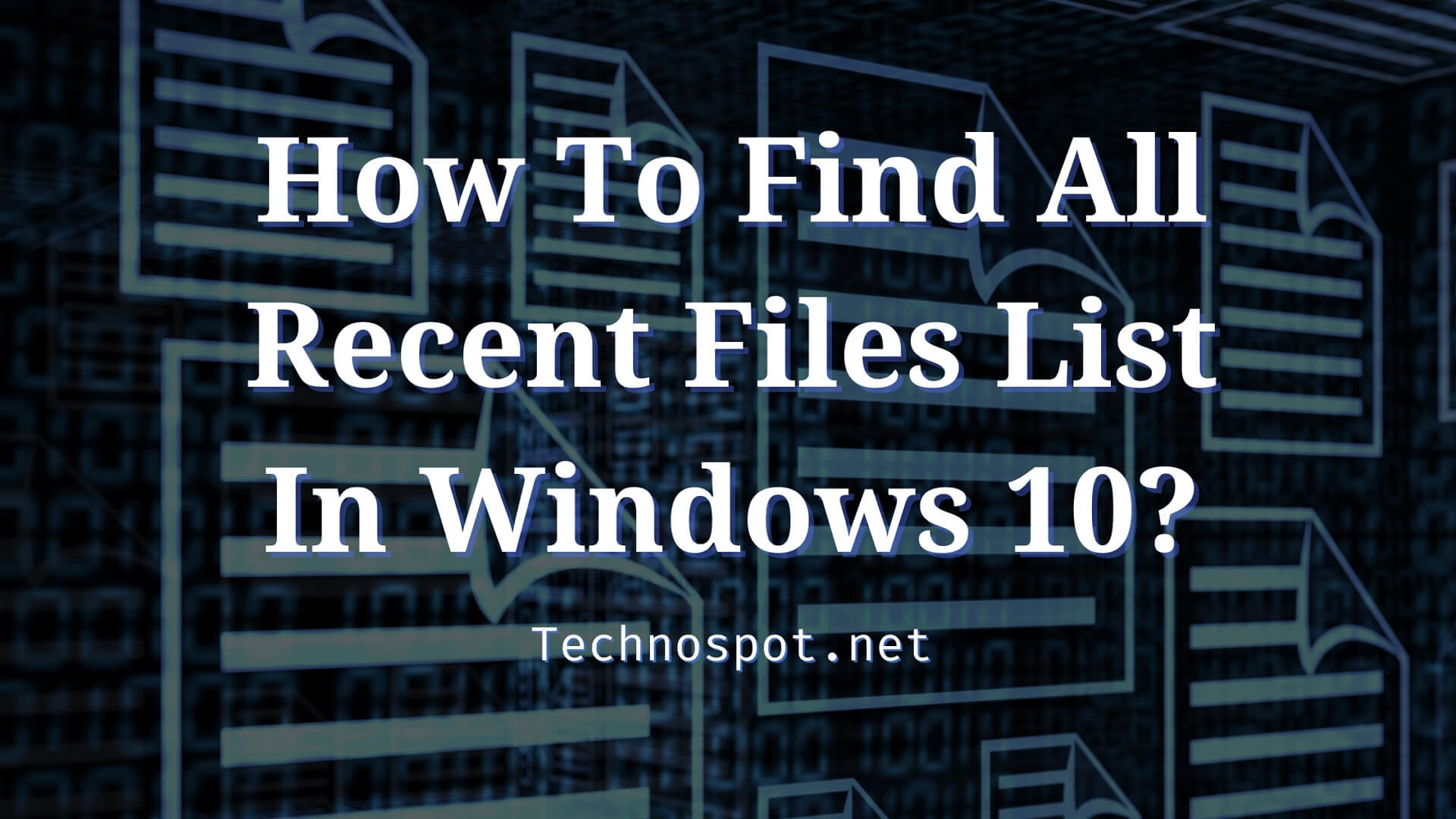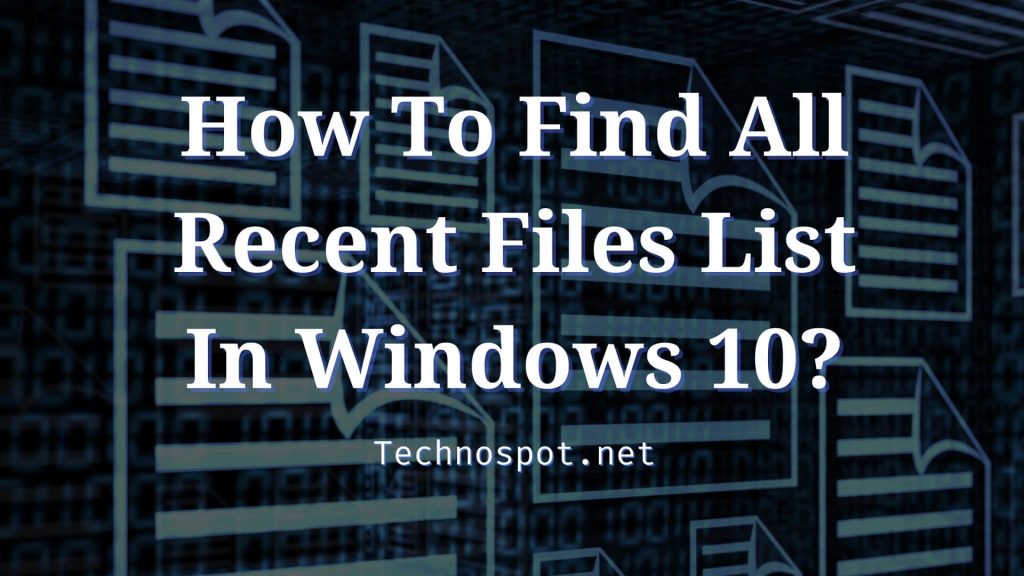 Find Recent Files List in Windows 11/10
There are different ways to open Recent Files in Windows 11/10. Be aware that Windows built-in features are limited, and that's where third-party software becomes useful.
Recent Files section
See Recent Items
Use third-party software
Let's discuss them now, one by one.
1] Find your latest files in the Recent Files section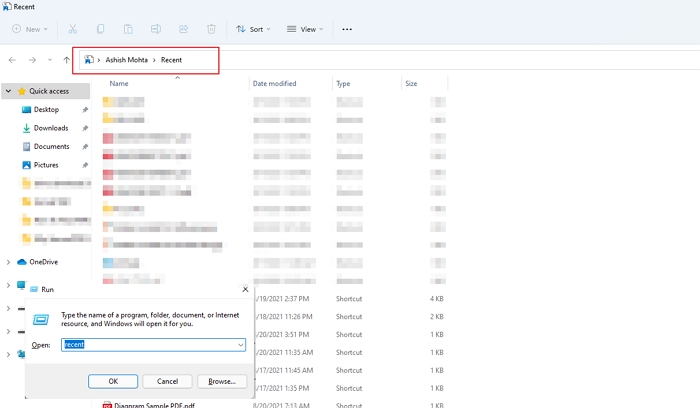 Windows keeps a complete record of recently opened files or folders under the 'Recent' folder. You can locate it through File Explorer > Quick access > Recent files.
One can easily access the Recent Files folder with a simple Run command. To open the Run dialog, press Windows + R and type Recent. Now press the Enter key. It will directly take you to the recent files folder.
This segment stores more than 100 recent items, a gamut of media, and documents. If you want to access more files, keep on reading.
2]

See Recent Items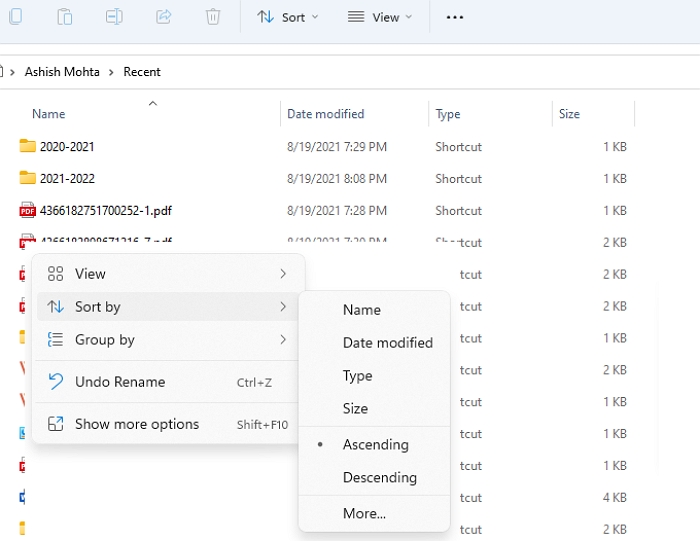 Recent Items store complete details of all activities, including folders, programs, and operating system functions.
To access Recent Items, launch File Explorer and press the Enter key
%AppData%\Microsoft\Windows\Recent\
Then sort the recent items by date to check the list of all recent files. You have to right-click on the empty area and Sort by > Date Modified to sort the list.
To access the recent items instantly from your desktop, you can create a shortcut to the Recent Files folder on your desktop. Moreover, you can add this Recent files shortcut to your quick access bar or taskbar.
3] Use Third-Party Software OpenSaveFilesView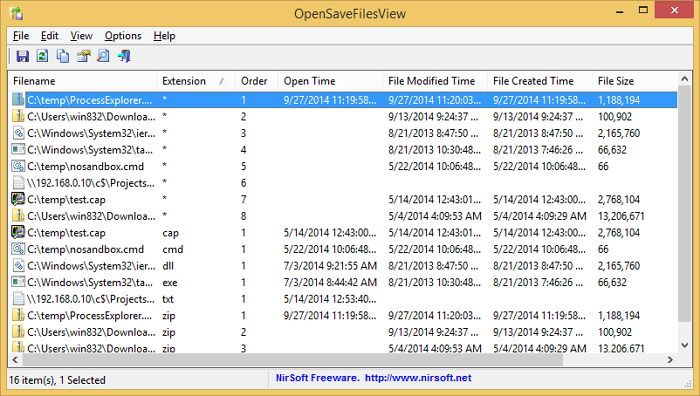 You can take the help of Nirsoft's free software—OpenSaveFilesView— to find the Recent Files list in Windows 11/10. It assists in displaying detailed information like the file's name, open time, last modified, created time, file size, and other attributes of the files. It processes data from Windows Registry and presents it in a simple and easy-to-understand form. Here is the list of features:
Find all File activity.
Know if any of your files got deleted.
Search in history.
Save as HTML.
No installation is required.
What are the features missing?
You can not track the list of the file which got recently created.
If it would have come with a backup solution, i.e., if somebody deletes a file, it gets backed up somewhere, it would be splendid.
Another fact is that some recently used files are saved in the registry, which is why you don't see all of them in recent usage. You can also see modified, created, and executed times with this. So now, if somebody deletes a file without telling you, Track it down. You can download the app from the official website.
We hope that this small guide to finding all recent files listed in Windows will be helpful to you in accessing recent files and folders on Windows 11/10.
How to Clear Your Recent Files in Windows?
First, open File Explorer on your computer to clear your Recent Files. Then click File  > Change folder, search options > Privacy > Clear, and click the OK button.
How To Create a Shortcut of the Recent Files Folder on Your Desktop?
To create a shortcut of the Recent Files folder on your desktop, right-click at any space on your computer desktop. Then click create a new shortcut. Type
 %AppData\Microsoft\Windows\Recent\
in the location of the item. Then give it a name you want and create it.
Does Windows 11/10 Have a Recent Folder?
Yes. In Windows 11/10, the Quick Access section of File Explorer has a new folder option called Recent Items.
How Do I Add Recent Folders to Quick Access?
Right-click the pinned Recent folders in File Explorer to add Recent Folders to Quick Access. Here select Unpin from Quick Access from the context menu.
How Do I Find Recently Copied Files?
To find recently copied files, you need to press Windows+V. The Clipboard panel displays the history of the copied items. However, it provides a history of the last 25 copied items only.