I have been using 7zip for the file compression and decompression needs; recently I found another application for the same, KGB Archiver.
KGB Archiver is simply awesome, and is probably the best. I tried compressing a folder with image files with folder size on disk 481Mbs, compressing it with 7zip, I got a 444Mbs file with .7z, whereas when compressed with KGB Archiver, 157Mbs with .kgb extension.
Features of KGB Archiver –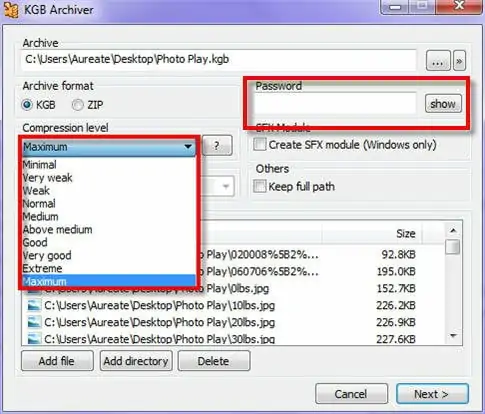 Password protected compressions can be done.
Two Choices for the compressed file format, .zip or .kgb.
10 compression levels to choose the one as per your needs, however choosing more compressed levels will require more resources, I chose Maximum and it made my system (Core 2 Duo 2.0 GHz with 3GBs RAM) damn slow while compression and decompression.
You can create SFX (Self Extracting) modules for Windows.
KGB Archiver is definitely a nice solution to all your file compression requirements, as far as the question of being a resource hog for high level compressions, you can choose to do such compressions while the system is idle, it also has an option so that your system can be scheduled to shut down after the compression process is over.
Try it and do share with us your views about KGB Archiver.