KidRex is a Google Custom Search engine, designed especially for kids. It uses Google's SafeSearch technology and for every keyword, it either doesn't return any results any content which can be harmful. It will present only the results (webpages and links) which are safe for kids.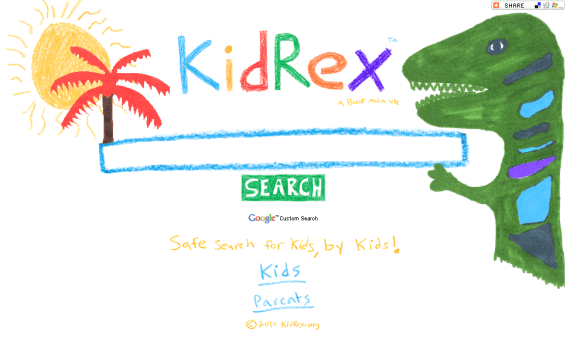 Kidrex brings Safer search engine with fun for Kids
KidRex works fine, I tried several keywords and the results returned are good enough. As mentioned on the Wikipedia page for KidRex, try searching 'NASA' in KidRex, and unlike the Google Search Results for the same keyword, it returns the results as shown below. It displays NASA Kid's Club in top position.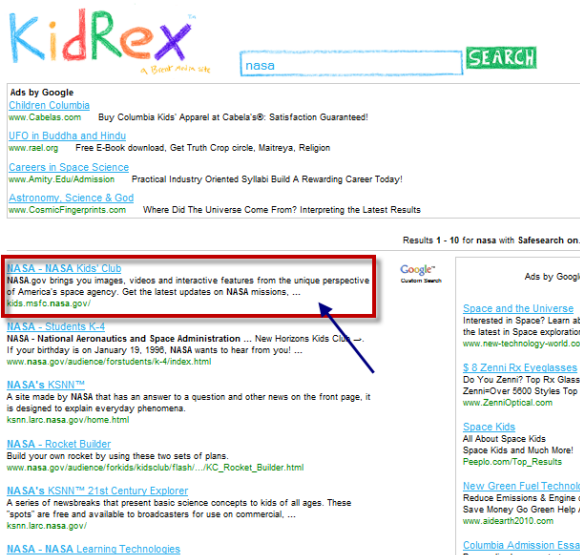 Google's filter uses advanced technology to check keywords, phrases, and URLs. No filter is 100 percent accurate, but SafeSearch™ should eliminate most inappropriate material.
On top of this, Kidrex manages their own database of words and websites which should be filtered out. They are manually tested to ensure children have the best web experience possible.
So, go ahead and tell your kids about this search engine, and let them learn the method of searching using this amazing search engine.
Kidrex also offers pro services that can be used to block those types of content easily.
Note: Team behind Kdrex work constantly to remove any material which is not appropriate for children. That said, if you find something that doesn't belong here, you can always report it.