Cancer, Diabetes, Osteoporosis, Heart Disease, etc. are the most common diseases of the current times. We all want to stay away from them; your lifestyle, working conditions, workplace environment, surroundings, feeding habits, etc. play an important role in your chances of being a victim to any of them. Here is an online tool which takes you through a questionnaire, and later tells you the level of disease risk for you.
'Your Disease Risk' is an online utility, which highlights on 5 most common diseases of current times, namely Cancer, Diabetes, Osteoporosis, Stroke, and Heart Disease.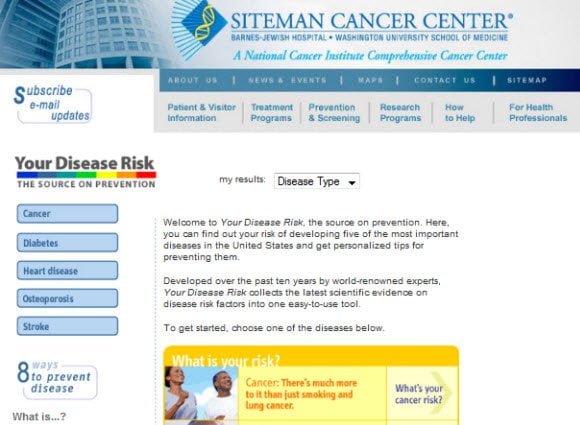 All you need to do is click on a disease name in the left panel, later it will take you through a set of questions, which talk about several things like any history of disease in your family, your workplace environment, your habits, etc. and will finally tell you the level of risk, i.e. your chances of being affected by the disease, also it suggests you some ways to prevent and minimize the risk.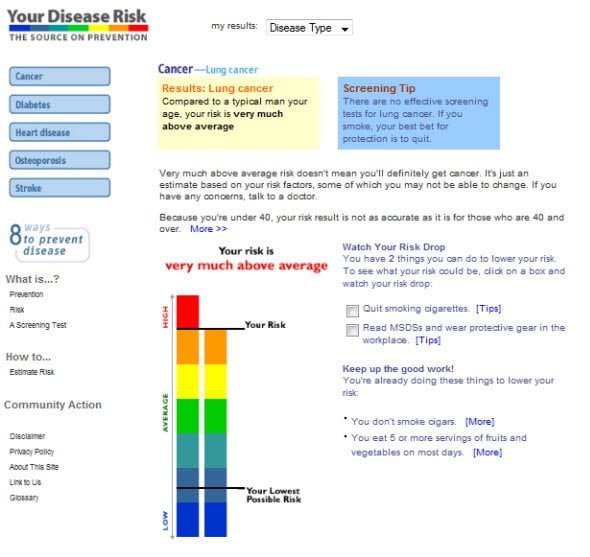 Give 'Your Disease Risk' a try, and find out your risk level, try the suggestions in order to minimize your risk level. All the best, have a healthy life.
Here are some other posts which talk about some simple exercises to beat the stress caused due to long working hours, consider going through them as well –