Windows 7 Language Packs are great way to get the Windows 7 Ultimate or Windows 7 Enterprise Interface in your preferred Language. However, there are only 34 Language Packs available as of now for Windows 7, and if the language in which you want your interface isn't available in the list, don't worry, keep your hopes high and alive, Language Interface Packs (LIPs not Lips 🙂 ) are here.
I wanted to try Internet Explorer 9 in Hindi (My Mother-tongue), and when I tried looking at the Windows 7 Language Packs, I found that the Hindi Language Pack isn't available, so I had to install the Language Interface Pack.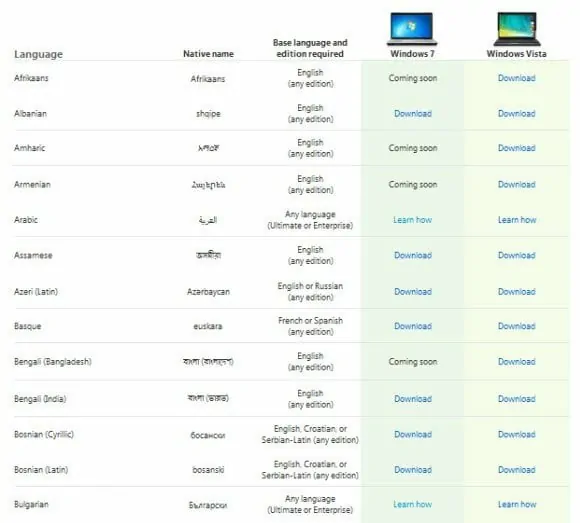 What is Language Interface Pack –
Here is the difference between the Language Packs and Language Interface Packs, as described on the official Language Interface Packs download Page –
Language Packs. If you're running the Ultimate or Enterprise edition of Windows Vista or Windows 7, you can download any of the 33 (now 34) available language packs by using Windows Update. Language packs provide a translated version of Windows dialog boxes, menu items, and help content.
Language Interface Packs (LIPs). LIPs can be installed over any edition of Windows Vista and Windows 7, providing a translated version of only the most widely used dialog boxes, menu items, and help content. You can download LIPs from the Microsoft Download Center by using the links below. To install a LIP, you will need to have the required parent language installed on your PC. If your language is listed as "coming soon," it's on the way—check back here for updates.
Language Packs for Vista and Windows 7 are available in following Languages –
Afrikaans, Albanian,  Amharic, Armenian, Arabic, Assamese, Azeri (Latin), Basque, Bengali (Bangladesh), Bengali (India), Bosnian (Cyrillic), Bosnian (Latin), Bulgarian Catalan,  Chinese (Simplified), Chinese (Traditional), Croatian, Czech, Dutch,  Danish,  Estonian,  Finnish,  Filipino,  French,  Galician,  Georgian,  German,  Greek,  Gujarati,  Hausa (Latin),  Hausa, Hebrew,  Hindi,  Hungarian,   Icelandic,  Igbo,  Indonesian,  Inuktitut (Latin),  Irish,  isiXhosa, isiZulu,  Italian,  Japanese,  Kannada,  Kazakh,   Khmer,  Kiswahili,  Konkani,  Korean,  Kyrgyz, Lao, Latvian, Lithuanian, Luxembourgish, Macedonian, Malay (Brunei Darussalam),  Malay (Malaysia),  Malayalam,  Maltese,  Maori,  Marathi,  Mongolian (Cyrillic),  Nepali,  Norwegian (Bokmål),  Norwegian (Nynorsk),  Oriya,  Persian,  Polish,  Portuguese (Brazil),  Portuguese (Portugal),  Punjabi,  Quechua,  Romanian,  Russian,  Serbian (Cyrillic),  Serbian (Latin),  Sesotho sa Leboa,  Setswana (South Africa),  Sinhala,  Slovak,  Slovenian,  Spanish,  Swedish,  Tamil,  Tatar,  Telugu,  Thai,  Turkish,  Turkmen,  Ukrainian,  Urdu,  Uzbek (Latin),  Vietnamese,  Welsh,  Yoruba
You will find unavailability of either Vista or Windows 7 Language Interface Packs for some of the above languages and for some languages you don't get the download LIP link directly, rather you will be directed to a page where you can get help on this.
If the LIP is available for the language you are looking for, it is a damn easy process, you will be redirected to the download page, there select the 32-bit or 64-bit option, and download. Once downloaded, the process is damn, simple, just follow the instruction, and restart your system to get the effects.
Here is a snapshot taken on my system, after installing the Hindi Language Interface Pack on my Windows 7 Ultimate.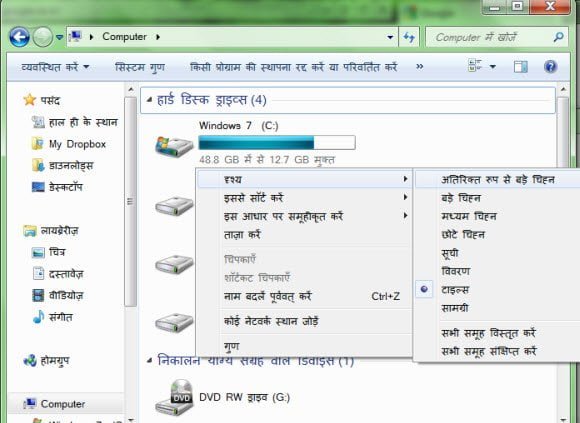 So, if you too want something of this sort, go to the Microsoft's Language Interface Pack download page, and enjoy.