Finally a good news for Windows RT users who been missing the LastPass for Windows 8 as there is no support for browser plugin.  The company behind lastpass has finally rolled in the app which can be used with the IE App for Windows 8. Since Windows 8 has contract sharing feature, this app makes use of it to connect with IE.
So what does the App do (apart from storing passwords)? Nothing magical if you are an old user but it has a heavy integration with Windows 8. You can use the Windows Search to look into the App for any data which is stored in the app. Then you can launch to open the websites and automatically login.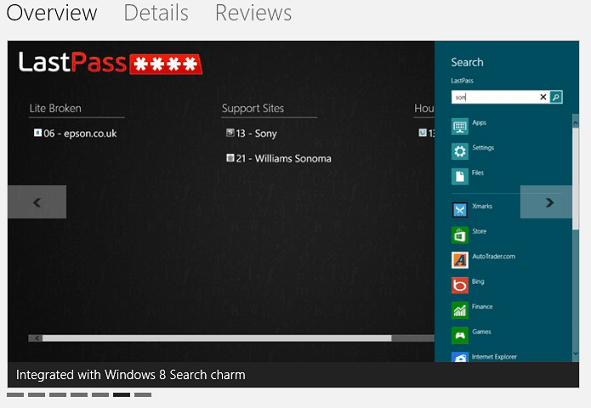 However as of now it seems to a bit broken because successful login is being shown as failed login but still you can access your vault and use to launch websites. However I am still not able to use it properly as I cannot find the LastPass on the IE App. Let me know if you found it. The above screenshot is from the app store.
For those who are not aware, LastPass is a password manager which stores your password locally, wherever you install it. This means if you have installed the application, it simply encrypts the password on your devices and stores it. As a matter of fact, the password recovery also works locally.
The service is free to use and without any charges but if you want to use it over mobile devices, you need to pay a very low price of 12$ a year.