We got the review unit around 2 weeks back and after using it around for 7 days and by 2 users we have mixed view of the handset but keeping in mind the price range and overall experience of the phone, we will recommend this phone to a particular set of users who are not very geeky and with regular phone and app usage. Read on the detailed view :
PS  : I am skipping the hardware details which will not entertain regular users instead I am putting more of user experience. You can find the details here | Thanks to Kuntal for the photographs
How does it feel when you hold it ?
This is one of the first thing any user will look in a new mobile. Both in terms of look and feel and type of quality, Lava does well. The handset screen size is 3.2 inch which makes it comfortable for any hand and with the curved front and back it will be easy both while holding and keeping in your pocket.
I was pretty satisfied with the built quality which is not like any other plastic handset but rather it is sturdy and firm, you can feel that when you tap on it. The battery cover is bit weak so you make sure you are careful for it but again it is not like you will break it easily.
Even Accessories quality are good which includes Charger, USB Cable, Headphones. Along with this you will get two booklets which guides you how to use it.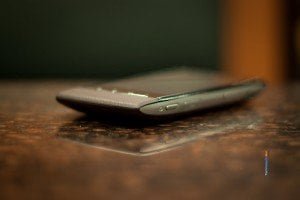 How does it feel when you use it ?
User Interface
Overall I was happy with the interface and did not find it unresponsive here unless you run loads of app  where it gets slow. I tested it for 20 Apps and response degraded.  I will give it 7 of 10 with the interface it has. Though not very slow its not very fast either and the only possible reason is the 3D UI that comes along with the phone which I find is bit slow. But again keeping in mind that regular users will not have many apps running all the time, it can survive it easily.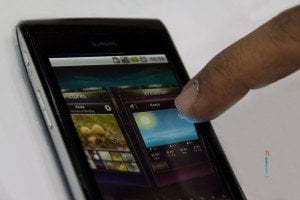 When asked on this, I had this reply :
Though the 3D Ui Is very nice but it makes things a bit slow.Any plan to make it even more smoother.

We are in regular touch with our partner to improve the 3D UI..As you know this version of 3D UI is customized for LAVA experience and is different from the standard offering. We will keep improving this experience in the near future.
Menu Buttons :
There are four menu buttons with back lit icons. The buttons work fine with very good response  but for users who have already used a touch based handset on similar lines might get confused thinking the backlit icons can be touched like buttons. Regular phone features like calling, music and all is decent enough
Camera :
It comes along with 5MP cameras which works nicely in bright lights but auto focus is missing  along with flash which means you will get disappointed when taking pictures in dark or dim light.
Battery Life :
Battery life is decent enough if you are doing much on your mobile which was like 12 Hours but when I used it for more it dropped for 7 to 8 hours. I used apps like Camera, Music, Games and lot of surfing.
What about future updates for phone ?
Q ) Plans to release updates for Lava S12. As it is running Android 2.2 and there is already 2.3.6 available in market.

A) LAVA is working with our partners to bring updates and upgrades for our consumers. A few of the reported bugs have already been addressed and a new software version will be released after due testing.

We understand the requirement to support Gingerbread asap. We are also actively looking at helping our customers upgrade to Gingerbread platform. However, at this time, we can not commit a date on this.
Video Review :
Applications ( Apps )
If this is the first Android phone you are going to use , you will absolutely love it but if you already used it before, the android is not going to amaze you but what will amaze is set of apps that it comes along with which many people will love some apps installed
Slide IT Keyboard
Lava Service App to find the service center in your city.
Android Manager which connects with your computer and syncs all the files to your computer.
Surprisingly the phone comes with App Market also which I am told is missing in any low cost android devices, this means you can download many other apps which are free to your phone and can use it.
Any more apps coming for Lava S12 ?

We are providing guidance on apps that can work well with S12 on our website/twitter handle. We urge the readers to follow us on twitter/facebook to get latest news on S12 apps and updates.
Screenshots :