Ever wanted to delete your account from Digg, eBay, Facebook, Flickr, FriendFeed, Last.fm, Google, MySpace, WordPress, YouTube, Amazon etc. like sites?
Some services do provide an option, like a button somewhere on your profile page etc. but most of the sites don't seem to be providing a direct option to delete your account form their network.
Here is an online resource which has the information, and helps you by guiding the ways to delete your accounts from such sites; this resource is named as Delete Your Account.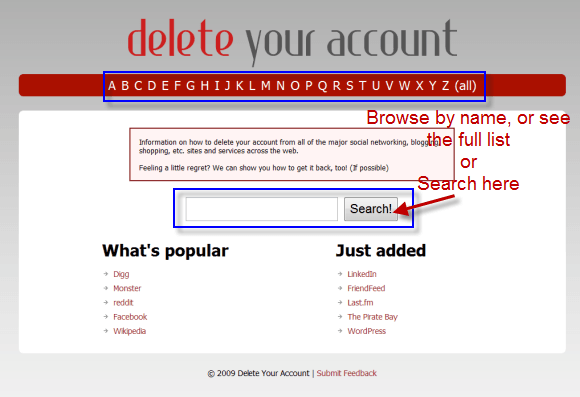 As shown above, to get the information on how to delete your account form particular site, you can either browse alphabetically, see the full list of sites for which the 'how to delete your account' guide is available, or simply search for it using the search box.
So, if you are fed up of using a particular social networking, or any other sites, and want to permanently remove your account, give it shot.
Visst Delete Your Account