Even if you know the syntax and vocabulary well and speak a foreign language with a strong foreign accent, you may have trouble understanding. In that case, along with having a good vocabulary, you also need to work on your pronunciation side by side. Improve your pronunciation, and you'll seem more likable to others as well as to yourself. Fortunately, applications can instantly offer you feedback on your speaking and pronunciation abilities, thanks to the technology. In this post, we will find out how to learn the proper pronunciation of names and surnames.
Why Should One Have A Good Pronunciation?
People may have trouble understanding you if you speak a foreign language with a strong foreign accent, even if you grasp the syntax and have a large vocabulary. The more accurate your pronunciation, the simpler it will be for others to understand you and for you to comprehend them.
Individual sounds, how words are put together, and how sentences are spoken all have a role in pronunciation. It has to do with stressing certain syllables and phrases, as well as changing your voice pitch during a sentence. In linguistics, this is referred to as prosody. To improve your pronunciation, you must pay attention to all of these factors.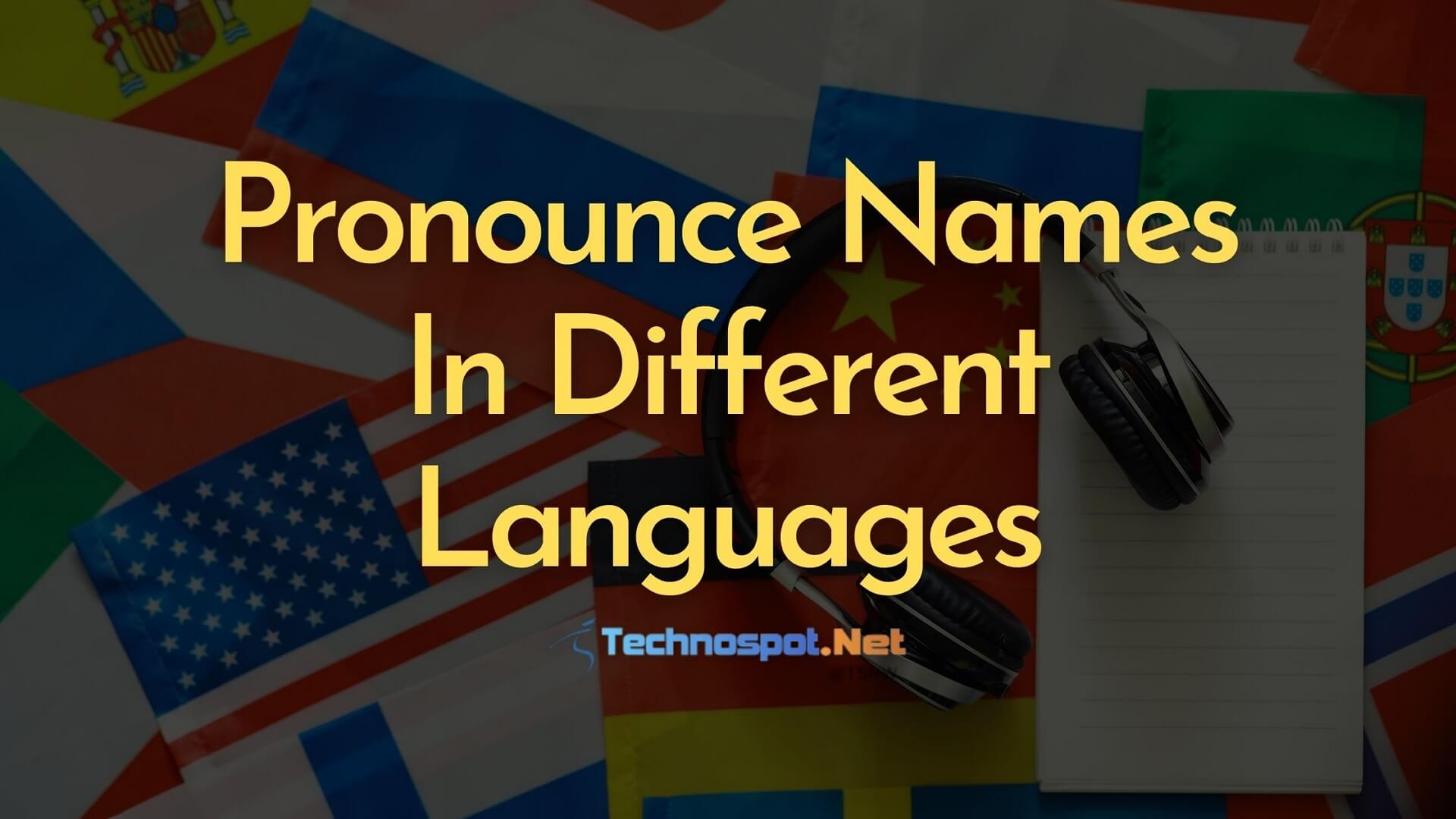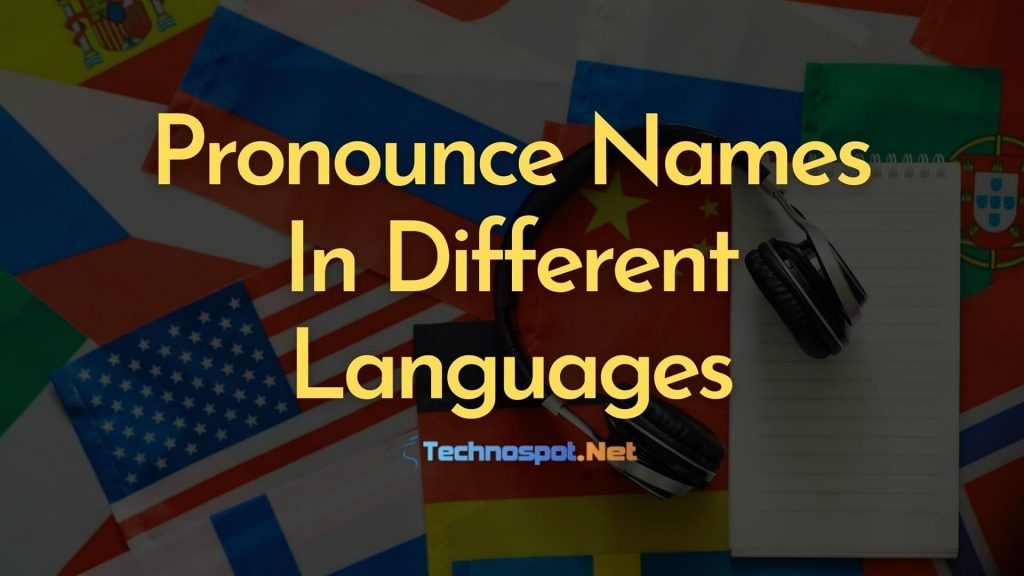 Best Apps To Learn Name Pronunciations In Different Languages
Learn how to pronounce names and surnames correctly in various languages with these seven great apps:
Mondly
Audionote
Busuu
Babbel
Rocket Languages
Rosetta Stone
Duolingo
Make sure to try all of them, and then make an informed decision.
1] Mondly- iOS, Android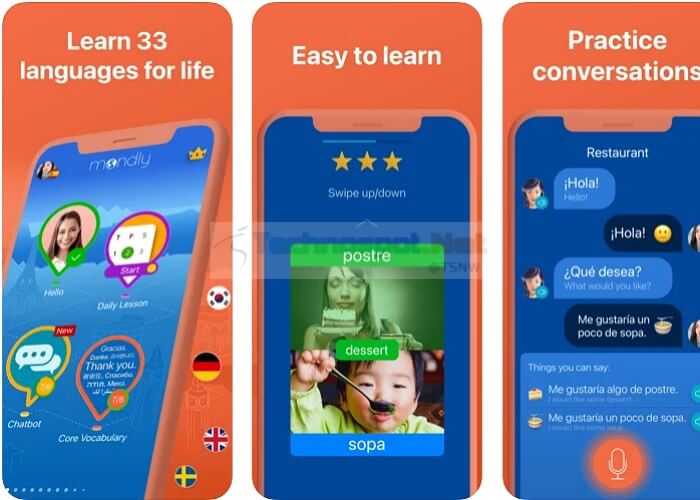 Depending on your needs, Mondly may be an excellent choice as a discussion companion. For the most part, Mondly's goal is to help you learn useful words and phrases that you can put to use in everyday life.
With the assistance of Mondly's tools, you will be able to recall essential vocabulary and begin piecing together sentences. You'll hear a native speaker give you a prompt. The words will be shown, along with their translations, on the screen. There are several choices for responses that you may speak into your smartphone from there on out.
Spelling correction is one of the goals of Mondly's voice recognition feature.
There are more than 30 languages available on Mondly, including well-known choices such as Arabic and Chinese and European and Asian languages like Japanese and Korean. There are many uncommon languages available on Mondly, including Afrikaans, Indonesian, Persian, and more.
2] AudioNote- iOS, Android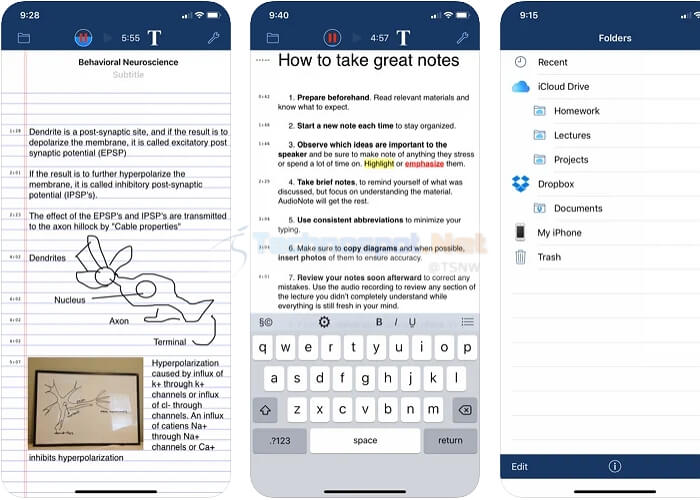 Even while AudioNote isn't intended for language learners, it may be an invaluable tool for improving your pronunciation.
Taking audio notes is the primary objective of AudioNote. In other words, you talk into your smartphone, and the software records what you say down.
It is a great tool for those learning a new language since it allows them to quickly check whether their pronunciation is clear enough for the app to comprehend. You may not be speaking loudly enough if the transcription is inaccurate.
The ability to connect audio and text is one of the most helpful tools for language learners. As you speak, the app will highlight the transcription to show you where you are in the recording. It makes it simple to identify the words you mispronounced if any do occur. If you want to hear certain words that you spoke, you may touch your notes.
English, French, German, Italian, and Spanish are all accessible as AudioNotes on the site.
3] Busuu- iOS, Android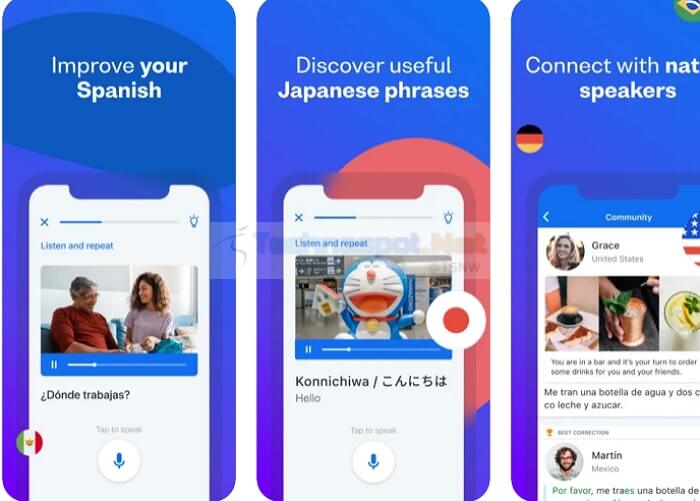 Not only will Busuu provide you the opportunity to converse with local speakers and practice your grammar and vocabulary, but it may also help you improve your accent via the use of voice recognition software.
These activities require you to mimic the speech of a native speaker. After that, the app will let you know whether you've properly spoken the commands.
From absolute beginner to proficient, there are many levels to choose from. While Arabic and Chinese are the two most popular languages on Busuu (along with English), the other languages are also available.
4] Babbel- iOS, Android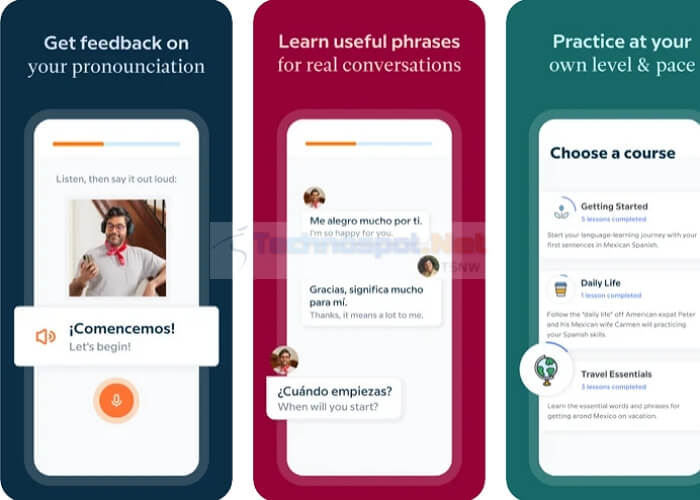 If you're short on time but yet want to study several languages, Babbel is a good option.
In 10 to 15-minute daily sessions, Babbel attempts to teach you a language. It covers popular subjects such as business, travel, shopping, eating, and transportation to guarantee that the skills you acquire are applicable in the real world.
During vocabulary practice, the voice recognition function of Babbel pops up. You'll be able to hear the pronunciation and view the written word and its English translation. You may then choose to pronounce the word aloud. Your objective is to sound exactly like the person who spoke before you.
A new term will be added to your vocabulary if you can pronounce it correctly. In such a case, you have four more opportunities before the program decides whether or not you pronounce anything correctly and proceeds to the next step.
Aside from English and Spanish, Babbel also provides 14 other languages.
5] Rocket Languages- iOS, Android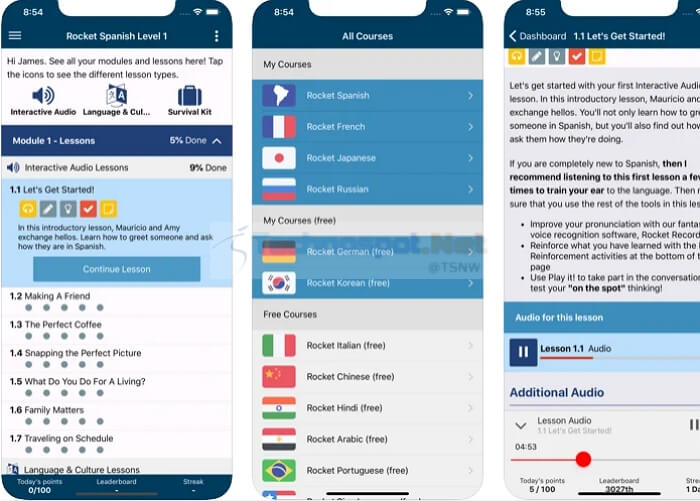 For sure, Rocket Languages provides an abundance of interactive resources to aid with language learning. This course is designed to be adaptable to study at your speed and in whichever timeframe works best for you.
Rocket Languages can recognize thousands of phrases. You'll get a written word or phrase, along with its English translation, to work with. There will also be a transliteration for languages that don't utilize the Latin alphabet to simplify things for you. Once you've said the sentence, the app will offer you feedback on how well you've spoken it.
With Rocket Languages, you can learn a foreign language quickly and easily in one of 12 different languages.
6] Rosetta Stone- iOS, Android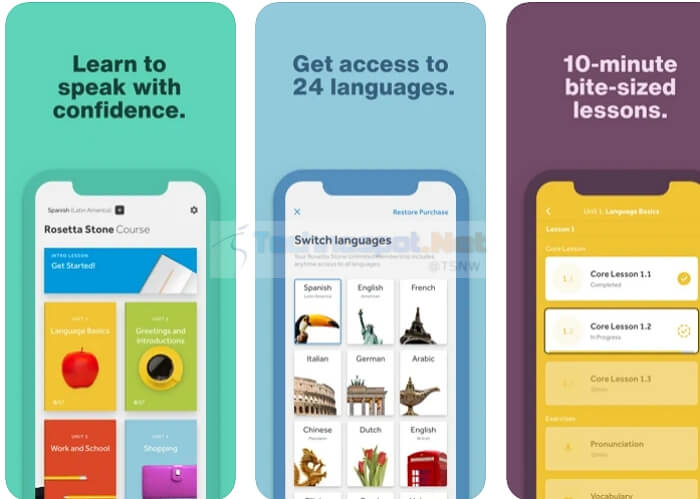 Rosetta Stone is probably familiar if you're into language learning applications. Most likely a significant number. But hang on to your hats because there's more to come!
Many language learners will be interested in Rosetta Stone's app because of its powerful voice recognition features. It is so good that it has its registered trademark name for voice recognition: "TruAccentTM."
Practicing common words and phrases as well as short tales aloud can help you improve your accent.
Additionally, it analyses your voice to a native speaker's to determine which words you spoke correctly and which ones need improvement.
For ultra-precise changes, you may even compare your audio's wavelengths to those of the original speaker. You'll be able to observe how much better your pronunciation has become over time, thanks to Rosetta Stone's progress tracking feature.
More than two dozen languages are available via Rosetta Stone's extensive language collection.
7] Duolingo- iOS, Android
If you've ever learned a language online or using language learning software, the term probably comes quickly to mind.
That's because Duolingo is one of the most popular language-learning apps on the market. The program supports over 30 distinct languages.
Through daily lessons and tests, the app promises to help you improve your vocabulary and grammar. Vocabulary identification, listening exercises, and even voice-enabled speaking practice are all covered in quizzes.
The application is free to download, but in-app purchases are offered.
Can I Learn New Languages From Mobile Apps?
Yes, you can learn new languages with the help of various mobile applications. These applications time and again have proven their accuracy and are in use by millions of people around the world. Some paid applications provide language tutors too.
How Much Time Does It Take To Learn New Language From Mobile Applications?
Depending upon your grasping ability, the learning time can vary anywhere from 1 month to several months. Some apps also let you control the learning speed with the help of several filters and choices.
To sum up everything, we can conclude that, as you link what you hear with what you read and speak, you strengthen the bonds between all aspects of the language. It makes terminology simpler to acquire, brings that word more quickly to your tongue, and encourages native speakers to continue speaking to you in the language rather than switching to English out of pity, despair, or irritation.
Learning proper pronunciation from the start means you won't waste years developing poor pronunciation habits only to attempt to unlearn them later – a tough job when your tongue has been mispronouncing things hundreds of times. I hope the apps were useful, and you were able to learn the proper pronunciation Of names and surnames in different languages.