Having an iPad at home is fun for everybody right from grandparents to kids because iPad is not just for productivity but can be Gaming device for Kids, Movie time for you and video chat for your parents. So the point is everybody can use it and when that happens the iPad is bit vulnerable as anybody who is smart enough can delete the apps, change settings, buy something from App store etc.
So how do you make your iPad secure ? iOS, the operating system running in your iPad comes along with Restriction access which helps you to secure your iPad from Kids or any other person whom you do not trust.
Instructions to Secure iPad :
Turn on Restrictions :

Go to Settings > General > Restrictions
By default it is disabled. Tap to enable which will followed by a prompt which asks to set up a password.
Once you do that, anybody who tries to access the restrictions sections will need a password to get inside.
Which apps can be used :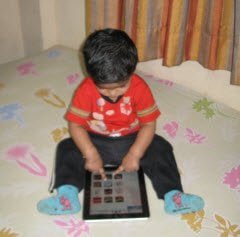 iPad allows you to disable some of the default apps. If you disable them, they will removed from the app screens complete and there is no way to access it. The list of apps which can be disabled are Safari, YouTube, iTunes, Ping. You can also make sure nobody is able to install a new app nor delete an existing app by turning on two actions Installing apps and Deleting Apps.
Control Allow Changes for Location, Mail, Calendar and Contacts
There are two kind of changes that can be controlled. First is location and second is Email Accounts.  Making sure nobody changes your location settings make sure that Find my iPad App works fine, because if somebody runs away with your iPad and turns of location there is no way to find your iPad.
Locations :
Here you can make sure nobody can change existing settings and also control which apps make use of your location service. If you turn location service completely, new apps will never be able to use Location.
Accounts :
This options makes sure nobody can change existing settings for all your email account and nobody can add new mail accounts. It also protects your entries in your Contact Book and Calendar.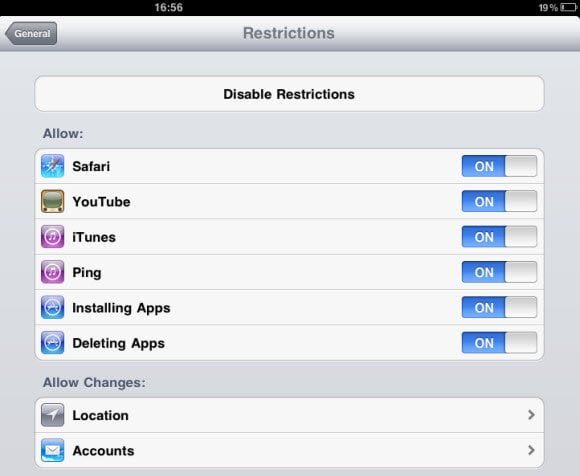 What kind of content  your kids can see and use ?
Disable the in App Purchase :
This option is not only very powerful but almost invisible. If you are signed in your iTunes Account on your iPad, there is a huge possibility that your kid can buy things which is sold from inside the app like Virtual Money or Weapons etc. Make sure you disable the In-App Purchase, at least to save your money.
The best is not to stay signed in your app Store Account all the time. Sign in when you need it and then sign out.
Ratings
To make sure your kids don't start using any app which is not suitable for them like apps which use a bit of adult language or anything similar you can control
Ratings for your country,
to allow Explicit music or not
What rated movies can be watched ( G, PG, PG-13, R, NC-17 )
Apps can be controlled according to age.
Game Center Control :
You do not want your Kids friend on your Game Center right ? Also you may not want any body to play Multiplayer game. Both the settings can be controlled right from here.