After a long time I saw an android phone with some innovation and that came from LG. Starting with the launch of LG G2, the company has made it clear that they are
Listening to the customers.
They want to innovate and thinking differently
and lastly they are taking India seriously by cutting the gap between the International launch and India launch.
Using the Index Finger:
LG G2 is a high-end Android phone which is different and you will notice that when you try to figure out that the buttons are no longer on the side. Keeping in mind the most of us have the index finger at the back when you are making a call or take a self-portrait or group of guys together.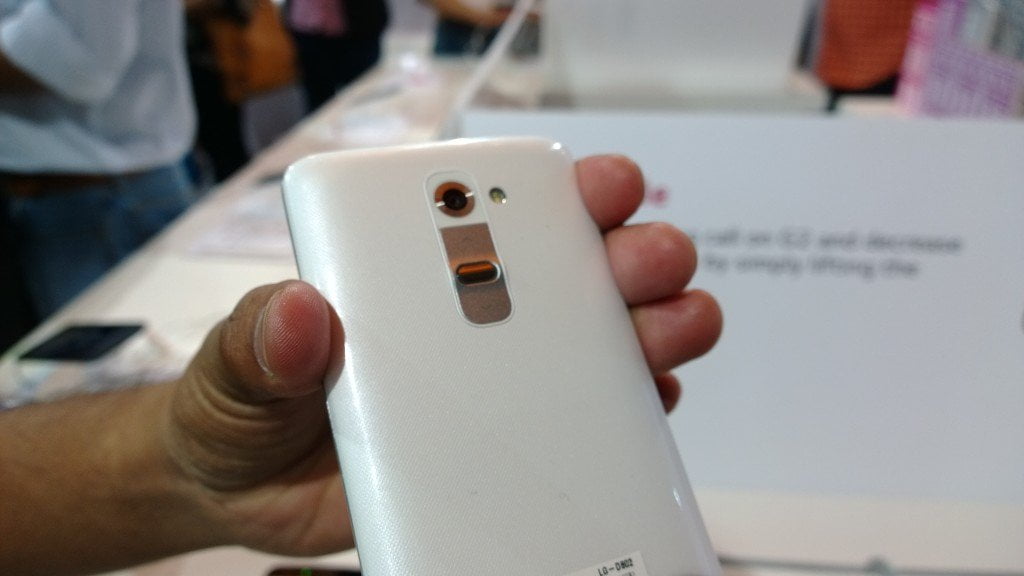 Since we are used to the side buttons, it's not easy to grab the idea on the first shot but we know that lock buttons are accidentally pressed when you are typing with both the hands, taking self-portrait with camera hardware button is almost impossible and most of the phones come with camera which get their fingerprints on it.
LG G2 came is scratch resistant, sapphire crystal glass, and they don't get finger prints either, making sure the camera is perfectly ready when you want it.
LG G2 Hands on:
More Space:
LG G2 Bezel Space or the area around the corners aren't take away from the black wrapping but they are only 2.65 mm which gives a 5 inch screen an extra .2 inch space making it 5.2 inch screen which means more data is visible.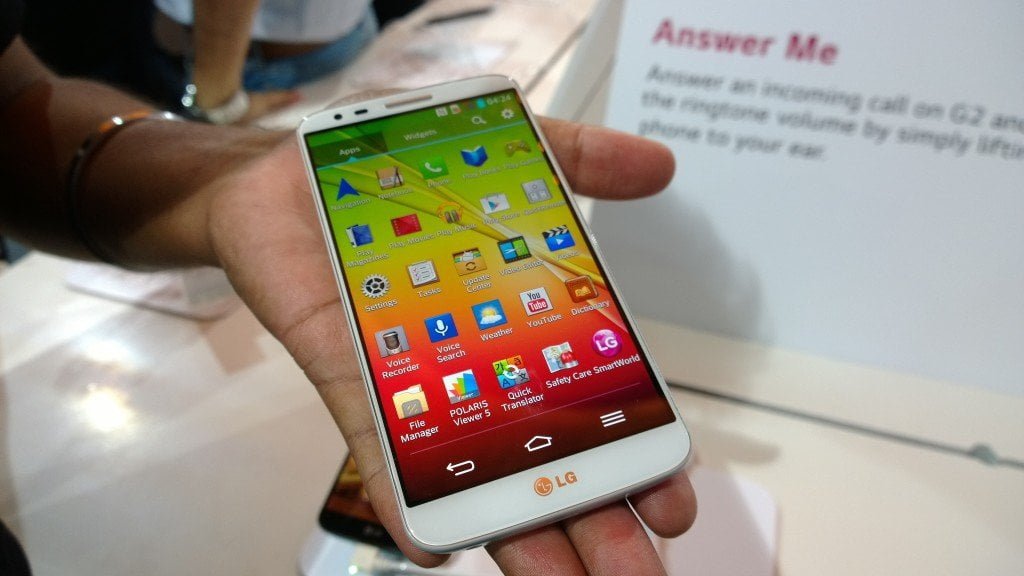 Snapdragon 800 and 3000 mAh Battery Power
Unlike many mobile makers, LG smartly picked up Snapdragon 800 which is one of the latest processor tested for its performance and positive impact on the battery life.  Now even though Snapdragon 800 helps phone live longer, LG added battery power of 3000 mAh which makes sure that you never complain about battery life. Though we will get the real battery life test only after using it but that processor and battery combination should not disappoint us.
The phone houses a 5.2 Inch,  1080 P Full HD, 423 PPI IPS LCD  screen with 2 GB of RAM. The rear camera is 13 MP Camera with OIS and recording rate is 60FPS. Though India 4G or LTE is no where but LG has made sure the phone is India LTE ready, so if you buy now, you will never have to switch phone just for 4G or LTE.
Taking India seriously:
Even though India is one of the markets which none of the mobile companies can avoid, launches are usually and definitely delayed in India. The delay is so huge that it also impacts the industry and the consumers sending off a negative thought.
LG made sure that the device was launched in India within a month of its international launch. This clearly sends out a signal to its consumers that they are taking Indian and its users very seriously. I really hope that they keep it that way.
Concluding:
Now with  LG G2 in place and LG G Pro already launched, LG has its high-end hardware in place, its time for LG to make some place in low-end market place keeping up their innovation along with those devices. Since last two launches, expectations have grown with LG and hope they keep up with that.