I have all my Google Plus Page managed by a single Google Account. Today when YouTube asked me to choose between existing username or choose something else, I saw there is an option to link the Google Plus Page of the website associated with it. However the option was not showing up. Problem is it only looks into the currently logged in Google Account i.e. YouTube Account in this case and find no page and hence shows up nothing.
If you are facing the same problem, here is the solution.
Add your YouTube Google Account to Page: Google Plus pages allow you to add Managers. These managers have restricted role but since this is your account, you don't have to worry much about adding it. A confirmation email is sent so make sure you do that.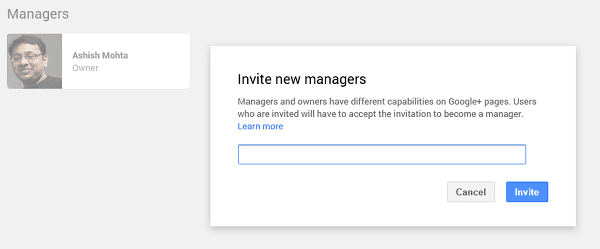 Switch to the Google Plus Page you plan to link to.
On The menu option on top right where you actually click to switch between pages, click that.
You will see Managers link right there.
Add the same email id which you are using in the YouTube Channel.
Link Google Plus Page:
Once you add it, login to YouTube Account. Go to Settings and look for an option which says Link channel with Google+. Hit that you will see a form showing up and now you will have the page listed .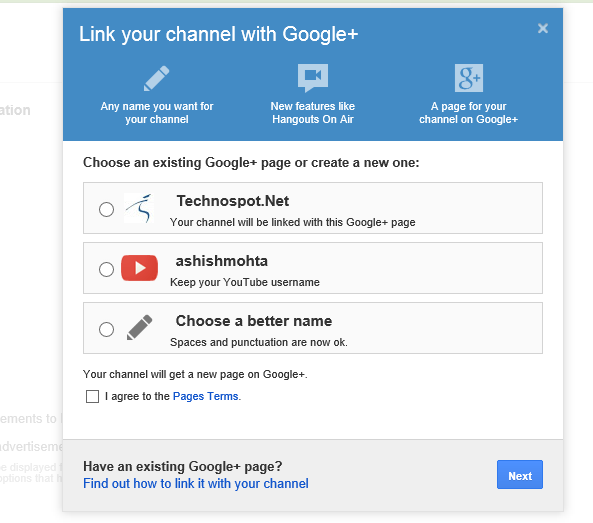 Done that, now your channel will pick the same name as your Page Name. So make sure you want that to happen. In case you don't want that name make sure to keep the YouTube Name itself.
How to remove Google Plus Association?
It seems Google also lets you remove the YouTube & Google Plus association for now. It seems to be temporary because it says "Temporarily disconnect Google+ page, and use your YouTube username". So give it a try if you don't like it, remove it because you might not get the chance later when this gets permanent.
What advantage you get by linking?
Apart from having a name of your choice (Like mine is fixed from ASHISHMOHTA to TECHNOSPOT.NET), A Google Plus page if you don't have one, you get to use the Hangouts on AIR on your channel. If you wish to Interact with your users, it's a great way to do so.