It's a common scenario that YouTube Accounts are managed by multiple users when the video makers separated geographically. Now YouTube itself does not allow to add multiple users to their channel and till date it was only possible if you share the account credential with the editors.
However, I recently discovered this has becomes possible after Google started rolling out an option where it was asking YouTube accounts to choose a name either by keeping the same name or choosing  a different name or even by linking to their Google Plus Page. The last part plays a crucial role to this "Multiple Users" scenario.
In my last post on "Link Existing Google Plus Page with YouTube Channel (Different Google Account)" explained how you can add managers to the page if they are using different Google account. This in turn also enabled sharing of YouTube Channel i.e. Managers who manage your Google+ Page can also access the YouTube Page linked with the Google Plus Page. They can upload videos, comments, check analytics and so on. A complete access to your YouTube Channel.
How to do this?
I have explained in the post I had mentioned above but here it is again:
First Connect your YouTube and Google Plus Page. If they are two different account, you need to add the account in YouTube to Google + Manager.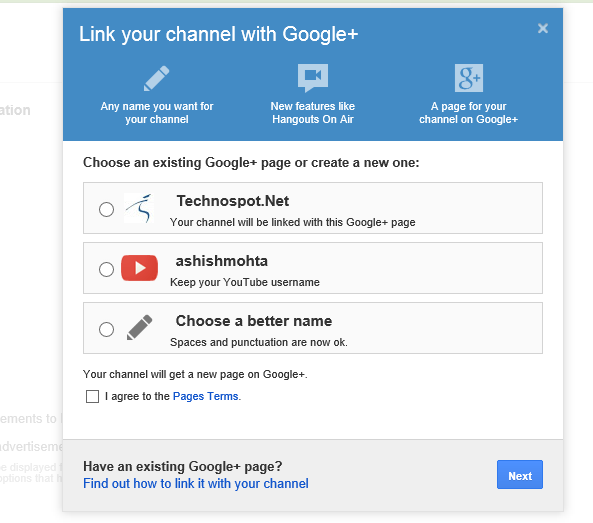 Once you have added it as Manager, confirm it and then sign-out from your Google account completely. It takes a while to reflect and because of cookies it might not show immediately.
Next, Login with the account which is a manager account.
Go to YouTube.com and either you will get immediate option to choose between The Page (YouTube Channel) or the email id you used to login with.
Choose the page and the manager will have complete access to the YouTube account.
So if you want to add multiple users to your YouTube Channel, add them as managers to your Google+ Page which is linked with YouTube Channel. Next time they visit the YouTube they can switch to the channel.
Like you can see in the image below, now I can switch to my Technospot.Net Channel or WPXBOX Channel when using a single account because I am manager at both the places.
That said here is my warning. Only add users whom you trust as you give them complete access to the channel including analytics. Also to note the notifications are only sent to the email that is related to the main account even if one of the managers upload the video. So this is not a complete multiple user account support but it does help your authors to upload videos with you giving them account details.