SoundCloud is an awesome service, providing several options like listening to music track online, downloading it, and share it with others; moreover it has options which can help you to receive music tracks from others.
It is probably the best platform for the artists or music creators, allowing them to easily showcase their creativity. Moreover, they define Sound Cloud by saying 'What Flickr is to Photo, SoundCloud is to Audio and Music'.
Here is a video, in which one of the founders of SoundCloud, Alex, talks about this awesome service.
You need to sign-up with SoundCloud, later if you want you can go pro, it has 3 paid (pro) options to choose from.
Once you are in, here is the list of things you can do –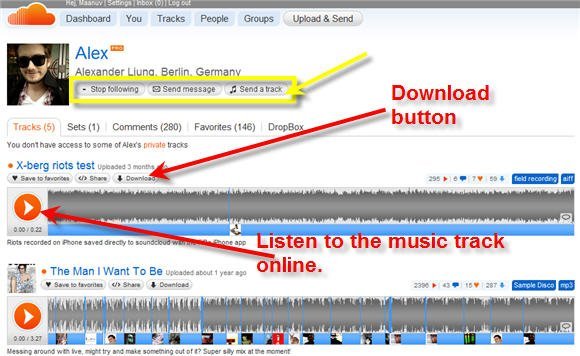 Follow other users, to get their updates and newly added music tracks.
Upload and send your tracks to others, if required you can impose restrictions upon who can listen to your music tracks and commenting as well.
You can send your music tracks in email as well directly from the SoundCloud interface if the recipient is not on SoundCloud.
A Drop Box widget is available, for which you can get the embed code, and hence you can get music tracks from anyone via your website, in other words anybody can send you the music tracks.
Search box to search a track, user or in comprehensive search for both on SoundCloud is available.
There several other settings and options which you can explore after your account creation, I am still on my way to get into finer details about this awesome service.
If you anyhow have a creative core for music in you, this is a service for you.
Moreover if you love music on the basis of its genre irrespective of band and artist, you should give it a try to get a variety in your collections.
If you are interested you can read more about SoundCloud at Wikipedia and Wired.