If you have an excellent music collection and want to listen to it without any interference- Astiga will be your ideal fit. Dropbox cloud storage stores your music and lets you access it whenever and wherever you want. So, you can leave the storage issues behind and listen to your awesome playlist without any second thoughts with Astiga. In this post, we will share how to stream Dropbox Music Files.
Stream Your Dropbox Music Files Anywhere, Anytime
Astiga is a reliable music player that allows you to stream music from Dropbox. However, you must authenticate with Dropbox to use this fantastic tool.
Multiple features make Astiga stand out from other music players. Moreover, premium users can take advantage of podcasting, browsing the music library, editing the library, and many more.
Features of Astiga
With Astiga, you can enhance your musical experience with Dropbox. Take a look at these remarkable features.
It lets you upload music in various ways, such as MP3, FLAC, AAC (MP4), ALAC(Apple Lossless), WAV, OGG, Opus, and WebM. The premium members get support for AIFF, APE, and AMA formats.
Uploaded files remain in the same condition during uploading. So, streaming music after years without ruining the quality is possible with Astiga Dropbox. Even for the hi-res music, the audio files remain in the best quality.
Astiga Dropbox Music features a play queue. Using this, playing music from Dropbox continuously is easy.
It lets you add your favorite track and can be repeated the music without interrupting the party mood.
Enables music uploading from anywhere, such as Google Drive, WebDAV, or your personal media server.

The Astiga Dropbox Music Player lets you hear music from anywhere, anytime. Now, you don't have to worry about not enjoying your favorite tracks when the mood strikes!
Dropbox is built on a Subsonic server, which supports Android, iOS, macOS, and Linux.
You can now generate your music library with Astiga. That way, you can easily access your favorite albums, singers, etc.
Mixing playlists has never been easier. You can now connect to different cloud providers and mix music from various sources.
How to Use Astiga with Dropbox Music Streaming
Using the Astiga Dropbox playlist is easier than you think. All you have to do is sign in using your digital device. You need to authorize the tool to access your Dropbox account. After signing in, you will get a basic version of this app, free for 7 days. After 7 days, you will need to choose the premium version.
You need to sign up, and once it is done, sign in, and you will see the below screen. Click on Let's Begin for the easy setup.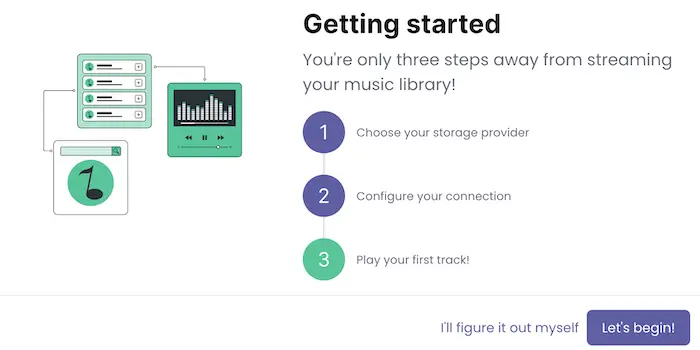 On the next screen, you will see the storage options to import the cloud library. You will also see Dropbox and various other services such as Amazon S3, Google Drive, etc.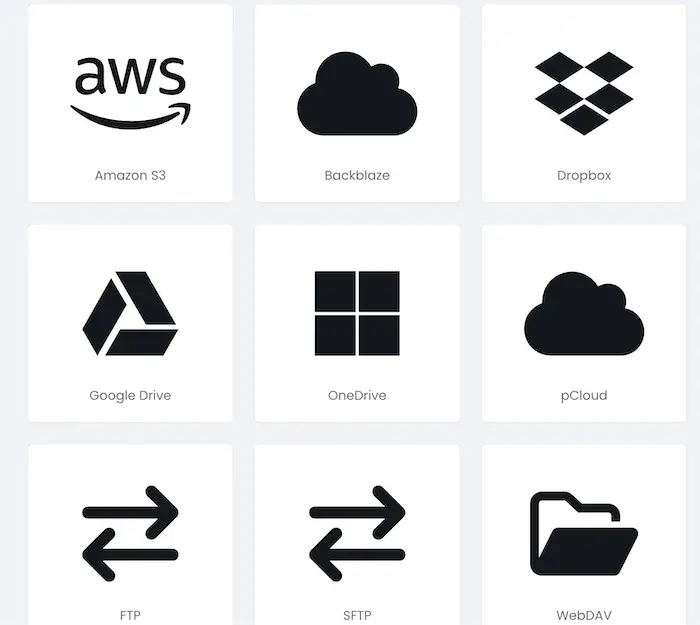 Once you click on the storage provider, you must Authorize a connection with Dropbox.
On the next screen, configure the storage by giving the name and suggesting the initial folder. The paid version lets you synchronize the library automatically from Dropbox.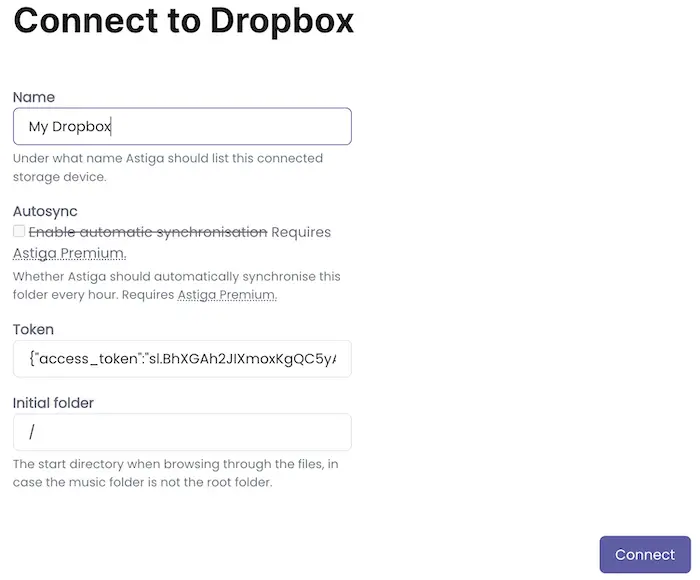 That is it, you can choose the music library folder from the next window, and voila, you are done. You can listen to your favorite songs from the Dropbox library anytime and anywhere.
The premium versions include both monthly and yearly plans. You can choose your convenient package and start uploading audio files. You can keep on adding music and play anytime from anywhere.
Pros of the Astiga
Easy to upload files
Accessible from anywhere
Supports all digital devices
Does not compress files
Suggests play queue.
Create Playlist
Cons of the Astiga
It needs a stable network connection
Requires premium subscription
Why Do We Like It?
What attracted us to the Astiga Dropbox is the Play queue feature. The feature makes us shuffle our music without worrying about manual changing. It keeps our party non-stop with a blasting playlist of our choice. It is a massive one-up over the native audio player of Dropbox.
Another thing about the Astiga Dropbox is the easy-to-access feature. This tool allows us to listen to our favorite music from anywhere with a stable network connection anytime. Astiga Dropbox lets us share our playlist among our friends' groups. So, we stay connected with each other and enjoy the music accordingly. The playlist is supported on all devices.
Even though the premium is a bit expensive, we can share it with our friends and share the charges. And the best part of the playlist is that it supports all devices and drives.

Conclusion
The Astiga Dropbox Music Playlist enhances the listening experience. With so many unique features, the player lets you build your own Spotify. Unlike other play systems, you can make your playlist by uploading high-quality audio.
No need to compromise the audio quality, as Astiga does not reduce the audio quality. And premium users have many new services that transform the music listening experience. Astiga music player is the best way to listen to music in Dropbox!