Ever found the password entry during login to your PC an irritating process? If yes, here is a nice app for you, which is actually a face recognition app, which allows you to login to your Windows without typing anything, just look at your monitor and leave the rest to this app called Luxand Blink.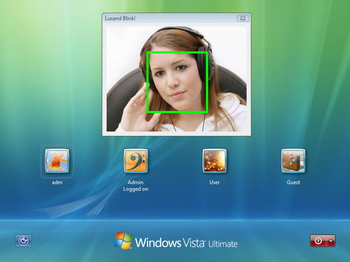 Simply install this app and setup by siting in front of your webcam and allow it to register your face. Also make sure to get the best result, slowly turn your head from left to right.
Soon it will finish with this step, later will ask for your Windows password, and the rest of the process is automated. Now whenever you start your PC, as soon as login screen is launched, the camera is started automatically, and it matches the face of the person sitting in front of the camera (or monitor) and matches it, and if the match is found, it will automatically allow you to login, without any password. It can recognize a face, even if you have changed your hairstyle etc.
Luxand Blink is very smart. If somebody tries to login to your system, in your absence, it also saves the photos so that you can know who tried to get into your system while you were away, and you can see these photos by accessing the 'History' from the system tray icon for Luxand Blink.
So, go ahead and give it a try, I am sure you will love using it on your Laptop, apart from other things the best part of Luxand Blink is, its damn easy to install and setup.