Storage devices have grown from 20 GB harddisk to  terabytes which makes users to have huge collection of songs or movies. This also means the users are more indulgded into copying this huge amount of data but how many are you really satsified with Copy or move options availble in Windows.
Its not like Windows Copy is not efficient, if you do have efficient combination of RAM and Har disk  you will never complain about copying, but thats not the point.
Take can example of downloading files from internet.
Lets say you plan to download something from internet the first thing you look for resume support. So in case if your network connect gets interrupted or you just want to download it later you can pause the download and do it next day.
But if its windows you never have any option to put a pause and say I will check it out later. Its do it now or just dont start. I wonder why Windows have never thought of adding this kind of support to Copy or Move.
So whats the alternative ?
There are many software which can be used for this particular options.  Lets have a look at them one by one :
TeraCopy :
This software is compact and does what it says. Faster copy by using buffer technique ( I am sure current versions of windows are already doing ) and you get resume /pause service here. This is very useful when it comes to scenario of  big file copying from Network.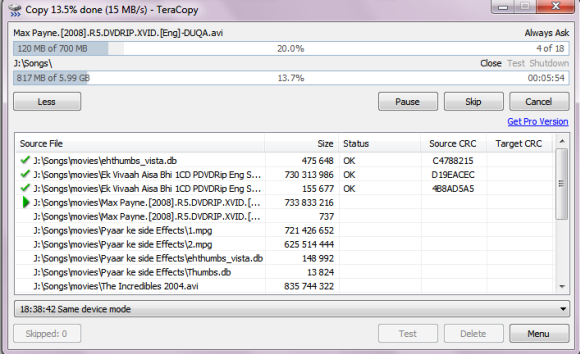 Moreover in case any of the files give problem during copy it just skips that particular file copy instead of terminating the whole process. Get Tera Copy
Rich Copy :
This is another alternative  software which gives you more control when it comes to copy files. It uses options of  multiple threads and multiple copy can be handled simultaneously.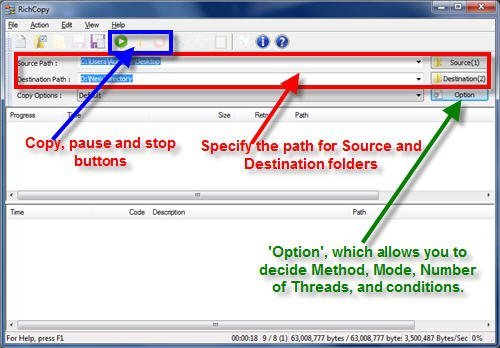 Read more on Rich Copy : Pause and Resume while copying files with RichCopy