In a scenario where your laptop or computer is connected to multiple network, lets say Lan ( Wired ) and WiFi, it may happen that your computer choose WiFi as the main network hence looks for every network transfer first through WiFi and then to LAN. This results in various issues like you might be connected to Internet but the OS is not able to resolve and even connecting to computer which are over Wired Network is an issue.
As a summary you want your computer to switch network from Wired to Wireless when at Home but use Wired Network when at Office where you are always hooked to a fixed network.
Windows does have a feature which lets you prioritize so when network services want to connect they do it in the same order. But this should be configured manually and there is no automated process for this.
How to change Network Priority in Windows ?
Go to Control Panel > Network and Sharing Center > Click on Change Adapter Settings which is on the left sidebar.
Press Alt to Bring the Menu on top. Select Advanced >  Advance Settings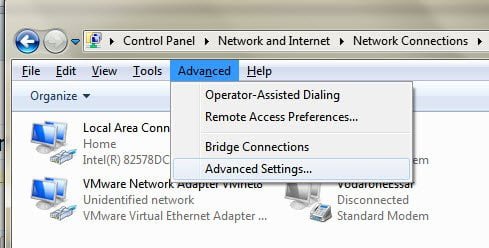 Here you will see all the network adapter attached to your computer, Make sure your WiFi is turned on to see in the list. In case you cannot find any of the network in the list, check if they are disabled.
Now to change the order, just use the Up and Down arrow keys and Click ok when you are done.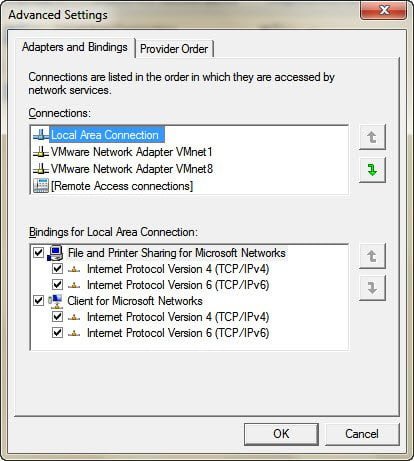 Done that all your network services will follow the priority list from here. If you do not use WiFi at Office, you can very well move it Up and keep it turned off. Now when you turn it on at home, the Wireless Adapter has its priority.
Switch Network On Demand :
Now the above solution works only in one kind of scenario and its manual which many users might not be comfortable with fearing of doing something wrong. So here is a solution from NirSoft which allows you to switch to another network with just one click.
What it does is exchange the Metric Value of the desired network with the default so Windows uses that network. This is useful when you are connected to two network of which one has high Internet speed but you need other to connect with network devices.
Download this software from here ( Scroll Down a bit to find the link ) and double-click to launch.
By Default it shows a lot of columns which you will not understand. What you need is the name of the adapter which is exactly what you see in your windows machine.
Scroll Right to find the column which says Interface Name. Drag to left and make it as first column.
Now select the two network which you want to switch between.
Right click and select Switch Metric Value.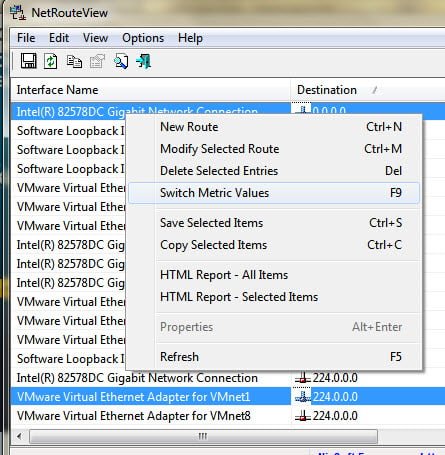 Manually Change Metric of Network Adapters
Now if you are geeky enough, You can also change the settings manually for each adapter but trust me nothing is more comfortable than what I have shown above.
Select any Network adapter, right-click properties.
Select Internet Protocol Version 4 or Internet protocol Version 6 and then Properties.
Click Advance Button on next screen.
Now you will have option to change metric value here which you can set anything between 1 to 9999.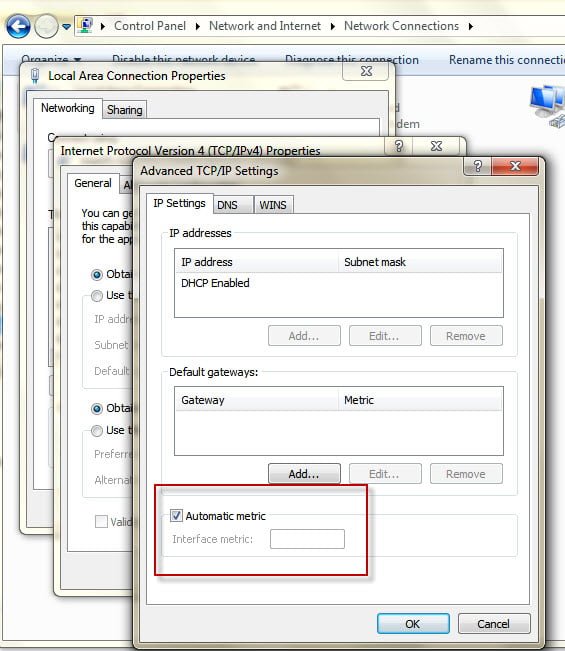 Summary :
Using all these steps and software you can quickly switch between networks but remember you can just use one at a time and not both.