Effective task management and organization ensure productivity and success in today's fast-paced world. Swift To-Do List is a powerful tool designed to help users manage their daily tasks and memos seamlessly. With the increasing demands of life, finding a reliable and effective task management tool is essential to help you stay organized and focused. Swift To-Do List has emerged as a solution offering a comprehensive platform to manage your daily tasks, memos, and projects.
This review explores this software's different features and functions, guiding how it can transform productivity and workflow.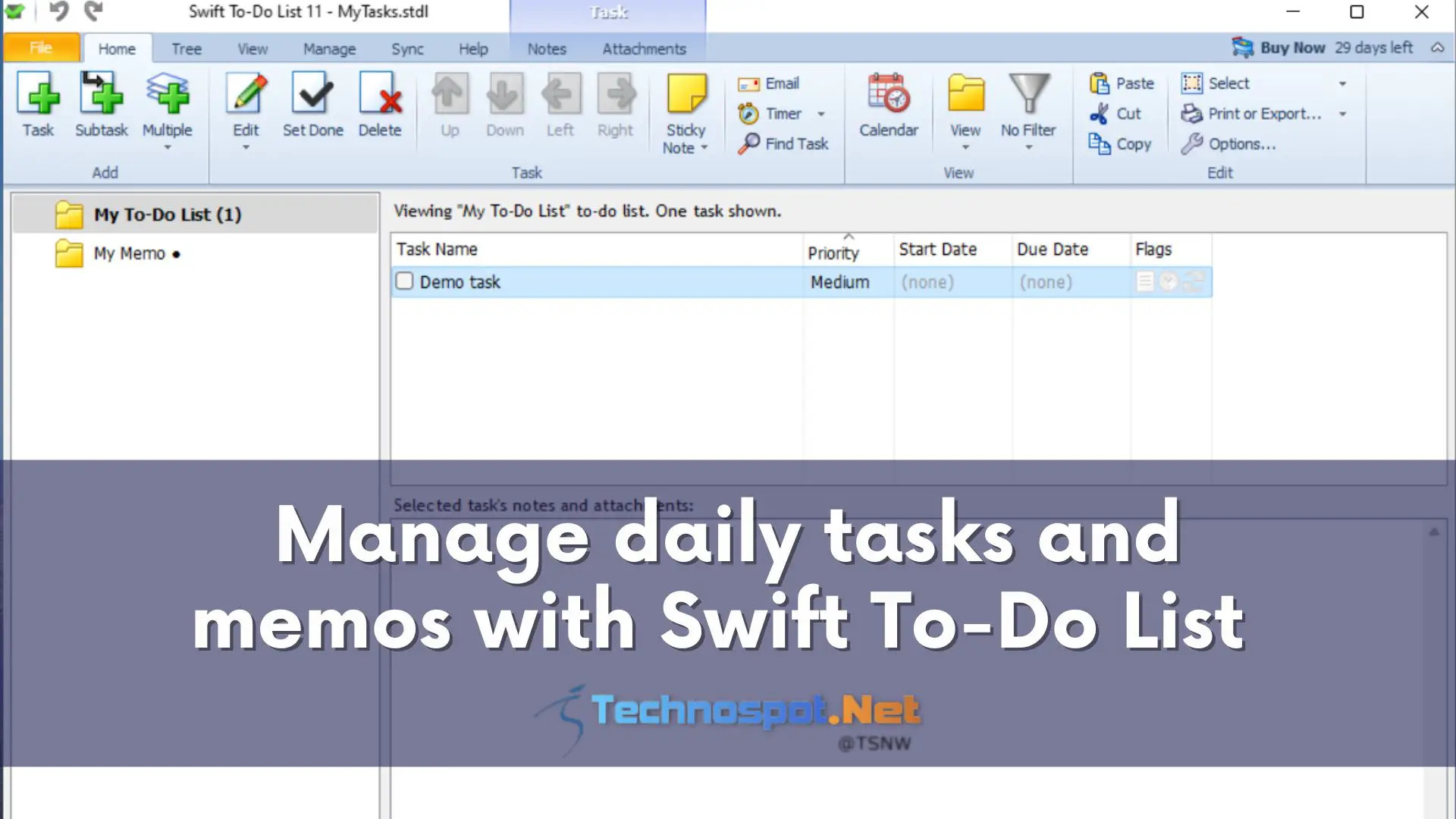 Manage daily tasks and memos with Swift To-Do List
Swift To-Do List is an easy-to-use and comprehensive software. The software offers a plethora of features. Let's explore them in this section.
Getting Started with Swift To-Do List
Creating and Managing Tasks
Using Memos and Notes
Collaboration and Sharing
Advanced Features
Swift To-Do List is an exceptional task management tool that caters to the diverse needs of both individuals and teams. Users can effortlessly organize and manage their daily tasks, memos, and projects with its comprehensive features, customizability, and collaboration support. The user-friendly interface and powerful functions like recurring tasks, subtasks, and reminders ensure a seamless task management experience.
Note: This software was earlier known as Task List Guru.
1] Getting Started with Swift To-Do List
Here's how to get started with Swift To-do list:
Download and install the app from the official website.
Familiarise yourself with the interface comprising different sections and features, such as task lists, memos, calendars, and more.
Customize the interface and appearance of the app to suit your preferences, including themes, fonts, and colors.
Learn to use various tools like filters, search, and batch actions to manage and manipulate tasks efficiently.
2] Creating and Managing Tasks
Follow these steps to create and manage tasks in the Swift To-Do list:
Create a new task by clicking the '+' button and entering the task details, including the name, due date, priority level, category, and tags.
View tasks in different modes like list, tree, and calendar, depending on personal preferences.
Edit or delete tasks by right-clicking on the task and selecting the appropriate option.
Track the progress of tasks by updating their completion percentage, status, and comments.
Filter tasks by parameters like priority, due date, or category to focus on the most critical tasks.
3] Using Memos and Notes
You can also create memos and notes to avoid missing important details and things in your routine. Here's how to use them:
Create a new memo or note by clicking the 'Memo +' button in the Tree tab.
Once a memo is created, you can give it a name and then proceed with inputting relevant information in the memo.
Organise and search memos and notes using categories and filters.
Attach files and links to memos and notes for easy access to related information.
Use the built-in text editor to create rich-text memos with formatting, images, and tables.
4] Collaboration and Sharing
Share tasks and memos via the Swift to-do list Android, iOS or web app. You can do so by logging in with the same account on the respective platforms and then syncing tasks manually from the desktop app.
Incorporate Swift To-Do List in collaborative projects for efficient project management.
Improve communication and collaboration within the team by using real-time notifications and task comments.
Benefit from the security features like password protection and backups to ensure your data remains safe and accessible.
5] Advanced Features
Swift To-Do List offers several advanced features designed to help users maintain productivity and stay organized. Here they are:
Recurring tasks: Set tasks to repeat daily, weekly, monthly, or yearly as needed.
Subtasks: Break down complex tasks into smaller, manageable subtasks to ensure progress.
Reminders: Set up custom reminders for essential tasks to ensure timely completion.
Custom fields: Add additional information to tasks using custom fields like text, number, date, or list options.
Task templates: Create and use task templates for frequently recurring tasks, saving time and maintaining consistency.
Time tracking: Monitor the time spent on tasks and use this data for performance analysis and planning.
Conclusion
Swift To-Do List is a valuable tool for improving how you organize your tasks and work more efficiently at home and work. It has many valuable features that can be customized for your needs. It works with other apps, providing a flexible solution for helping you get things done each day.
The app offers a free trial version which should be good enough to explore all the features and see how much it helps you stay on top of your daily tasks. Later, you can buy the software, which costs $99 for one year of license. It also includes secure cloud sync and backup, companion mobile apps for Android and iOS, and a companion web app.