Every day we come across several articles and we comment on many of them. Generally every comment form has couple of fields like Name, Email, Website and a Captcha (word verification or arithmetic problem) ,out of these Website filed is the only optional one, so this leads to manually fill out every field while commenting.
Now Firefox by default remembers what values you had added to the forms and since the comment fields are similar on all the sites it starts suggesting filling up as soon as you type in. But what if you  use some email id when you comment here and some other id when you go to CNBC.
Idea is users have their own way of handling comment forms depending from one site to other. The approach can be totally different when it comes to top notch sites than comment at new ones.
I found one FireFox Addon which solves this problem by letting you creating commenting profiles i.e. It remembers what you typed in when you commented at Site A and remembers differently what you filled in for Type B.  This plugin is  named as easyComment  and it does the job what it says.
Handle multiple commenting profiles, i.e. if you comment on different sites with different identities.
Manage Fields for every comment form which can be filled in in the options.
All you need is switch between profiles whenever you want to fill in.
Once installed, appears as a button on the bottom of your Firefox window as shown below.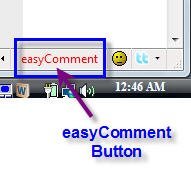 Right click and using the Manage Profiles buttons to add/delete/edit the profiles, check out this animation.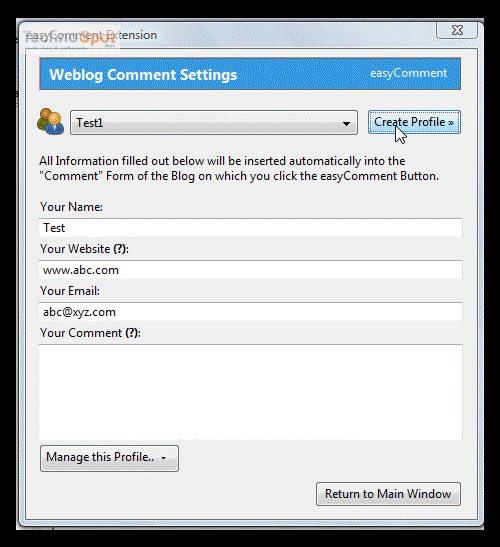 Only one commenting profile is active at a time, to change the active profile you need to Right-click the easyComment button and choose another profile.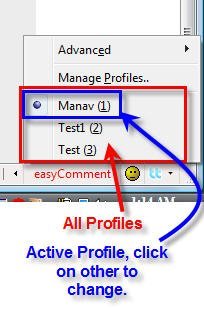 This is really a very useful add-on, especially for people who comment a lot, handling multiple profiles is another added advantage, try it and share with us how do you feel about it.  Install easyComment (Needs a log-in)