The smooth functioning of your Windows computer depends on many components, not just the hardware and the visible software. A lot goes behind the scenes; one such thing is the Windows services that govern different components and features on your Windows computer.  In case some component of your computer is not working in the intended way, the chances are that the service is malfunctioning and might need to be restarted or stopped temporarily. This article will share details on how to manage Windows services from Task Manager.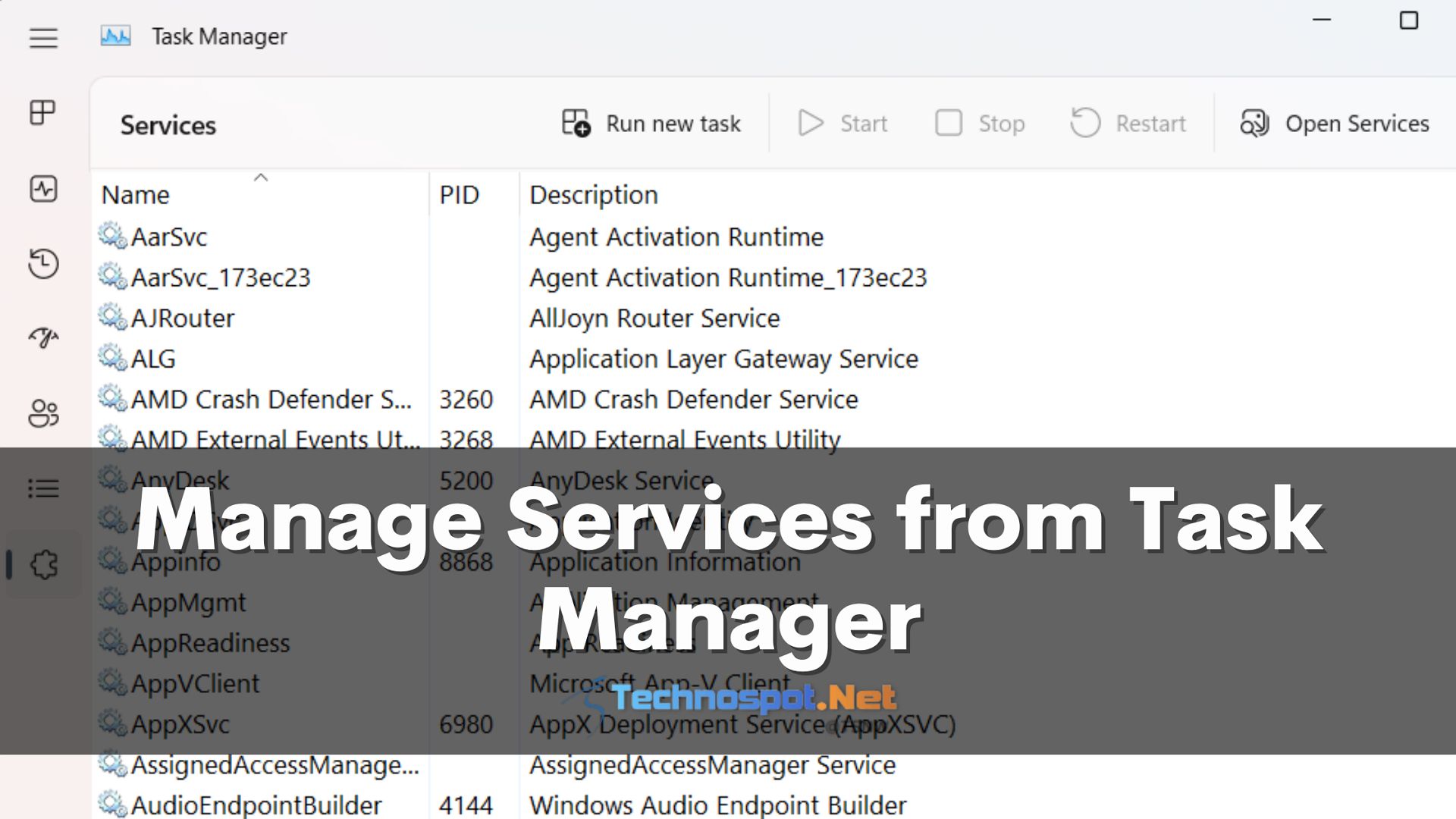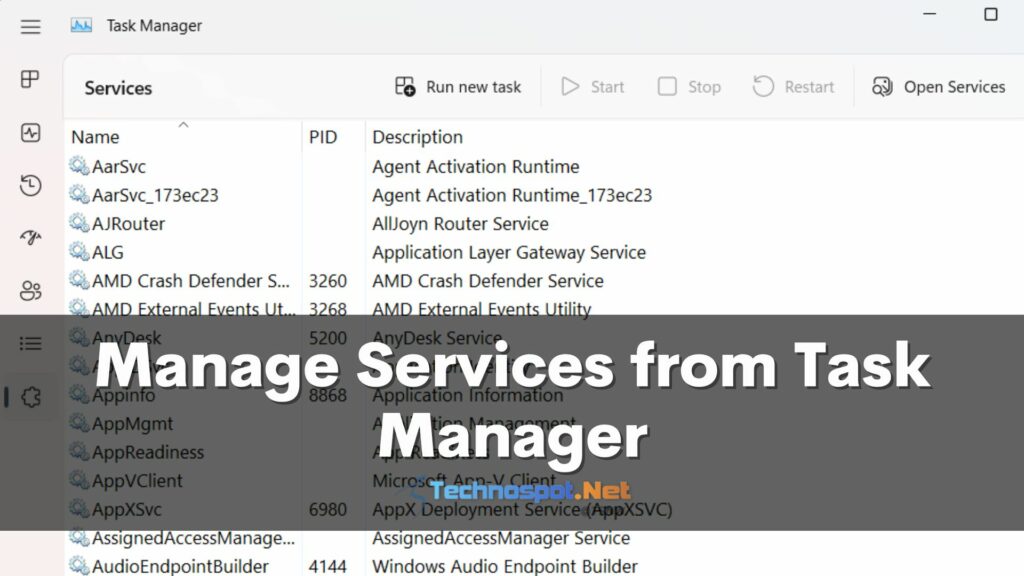 How to Manage Services from Task Manager
There isn't much managing you can do for Services in Windows, some services can be uninstalled when installed externally, but the essential ones can only be Started, stopped, and restarted. Here's all that's covered in this article:
Starting And Stopping Services From Task Manager
Restarting Services From Task Manager
You will need an admin account to manage services.
1] Starting And Stopping Services From Task Manager
You can start and stop services. The prime reason for stopping a service can be some system component malfunctioning or the service being unrecognized. Here's how to start and stop service from Task Manager:
Launch Task Manager by pressing the Ctrl+Shift+Esc keys on your keyboard. You can alternatively launch it by searching in the Start and the Ctrl+Alt+Del menu.
Once opened, head over to the services tab by clicking on the puzzle block icon in the left pane of the Task manager window.
Now, right-click any service, select from the start and stop accordingly.
Alternatively, you can click on a service to select it and then head over to the top-right corner to do the same.
2] Restarting Services From Task Manager
One of the ways to fix a PC component not working properly is by restarting the services attached to it. Here's how you can restart services from Task Manager:
Launch Task Manager by using the Ctrl+Shift+Esc shortcut keys or Ctrl+Alt+Del shortcut keys.
Once opened, head to the services tab and right-click a service over there.
Now, click on the Restart option from the context menu, and the respective service will be restarted. You can do the same by selecting the service and reaching the top right corner.
Conclusion: 
Task Manager is a handy utility for Windows users, and many other things can be controlled with the utility. We hope you found the article insightful and helpful and that you know how to manage Windows Services from Task Manager.
What Are Services In Windows?
Services function the same way as applications, but key differences differentiate them. Services don't typically have an interface where you can modify their settings. They have a predefined way to link them to certain components like Printing, Bluetooth, Network, RAM management, and many others.
Also, typical applications only work when users launch or log in. In contrast to this, Services work system-wide and apply to all users. Services will keep running and working in the background until the administrator user stops them.
How To Open Task Manager When My Computer Screen Is Frozen?
To open task manager when your computer screen is frozen because of an application and there is no proper way to get out of it, simply press Ctrl+Alt+Del on your keyboard. This will take you to the menu, where you can click on the Task Manager to open it. Upon opening, you can then End the frozen task from there.
Is It Safe To Stop Any Services From Task Manager In Windows?
It is generally safe to stop any services from Task Manager in Windows. However, some PC components are linked to these services and may temporarily stop working. Please make sure that you don't stop any essential service.