Are you looking for a way to ease your fleet business-related tasks? If yes, fleet management software can be all you need. Fleet owners and managers find difficulty in managing complex tasks like shipping and tracking numerous fleets, communicating with drivers, and ensuring vehicles are used appropriately.
Moreover, fleet businesses involve 24*7 work. From truck operators offering shipping assistance and logistic service providers to the eCommerce business and food delivery operators, all have to work round the clock. Due to this, these businesses involve fair chances of mistakes, stressful workloads, and pending tasks. But don't worry; there are fleet management software available that can make your entire work a breeze. This article will provide you with the best Fleet Management software you can use as a business owner or manager for quick and error-free business operations.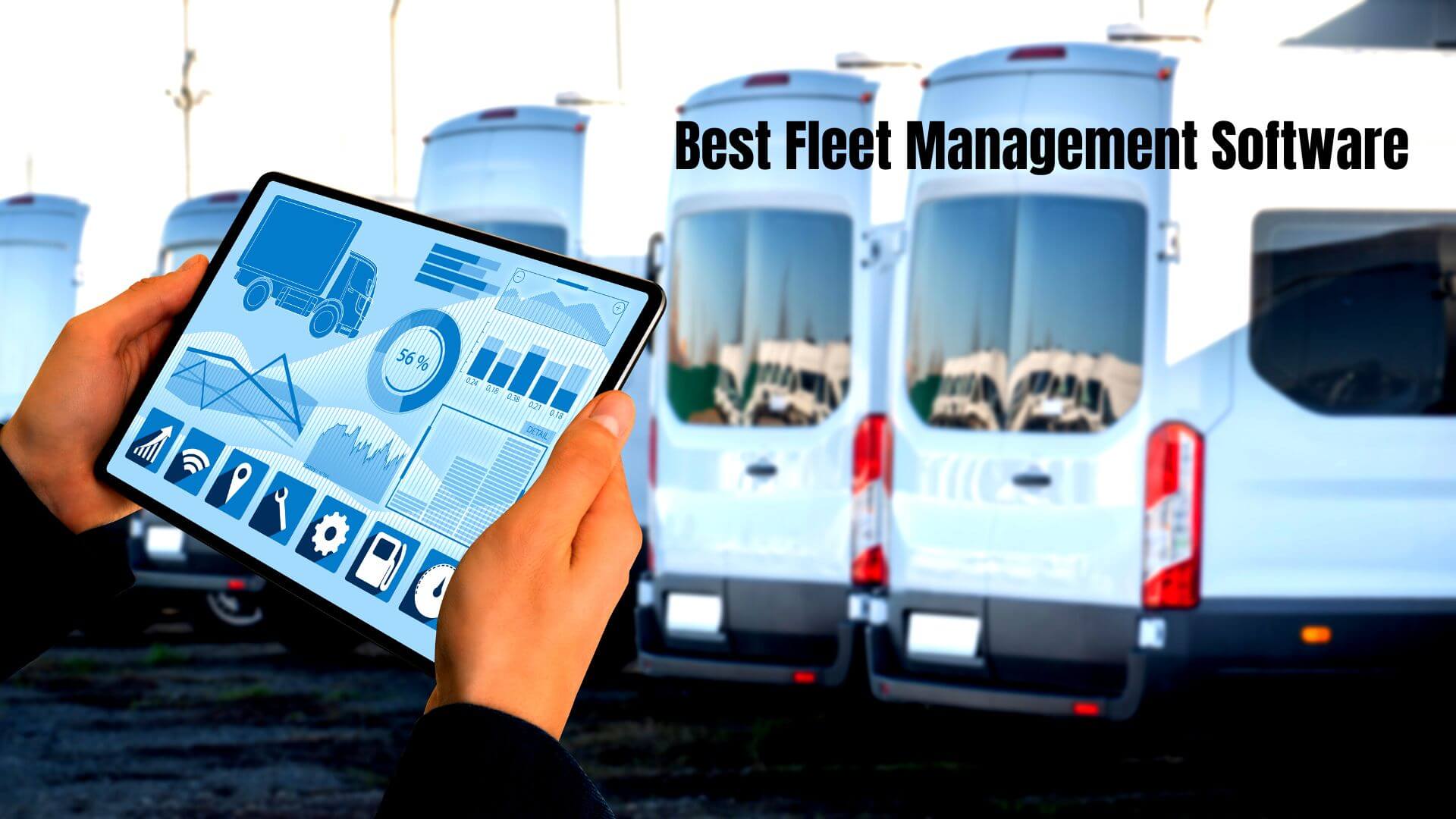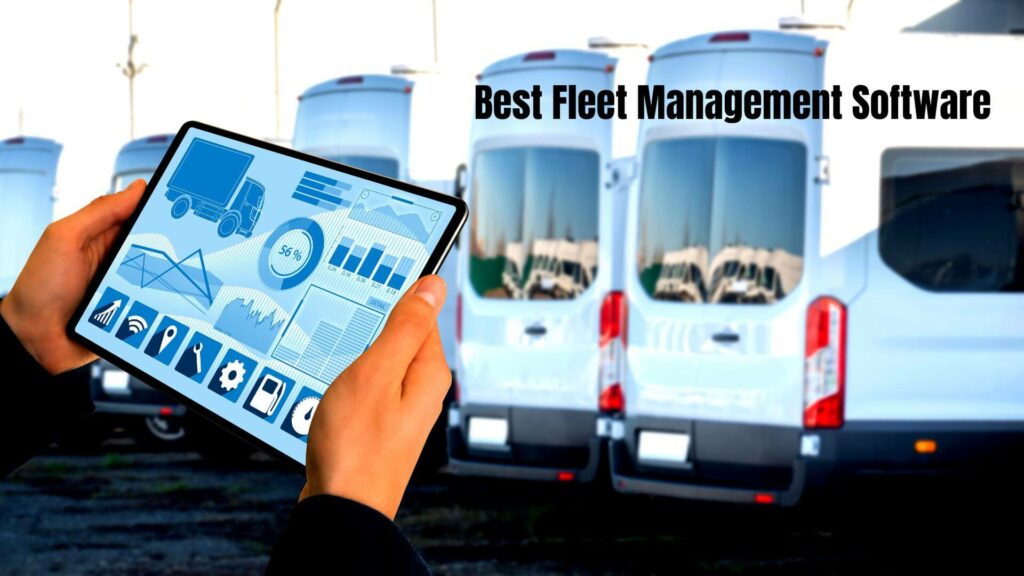 Top 5 Fleet Management Software
Selecting the right Fleet Management Software for your business can be challenging. With plenty of free and open-source software options available in the market, it has become crucial to compare the solutions on different parameters before picking one.
To streamline your task, we have handpicked the top five Fleet Management Software solutions for you, which are budget-friendly, and reliable.
Fleetable
Motive
Odoo
AUTOsist
IntelliShift
So, let's discuss each of them one by one.
1] Fleetable
Fleetable is one of the best cloud-based fleet management software. It lets you track everything, from simple repairs and maintenance to vehicles and drivers, in one place. With this tool, organizations can easily manage all aspects of their fleet, including the fleet's cost of running and downtime.
This software can help you save cost on tires, fuel, and spare parts within every fleet. You can even enhance your efficiency within minor functionalities while identifying the pain points. You can get critical benefits with Fleetable: Inventory Management, Driver Settlement, Fuel Management, Fleet Maintenance, and even Tyre Management.
Besides this, Fleetable's transport management system comes packed with Packers & Movers Management, Freight Broker System, Part Truckload system, Full Truckload system, and Online GR Tracking System. Plus, Fleetable's Load Board lets the shipper and fleet owner connect for negotiating and booking loads to move the shipment.
Apart from this, Fleetable Finance connects Fleet Management Expenses and Transport Business into one bookkeeping platform, which can automate 80 percent of vouchers. So, you can operate your balance sheet and profit & loss with Agile reporting, an integrated platform, and collaborative and end-to-end accounting.
2] Motive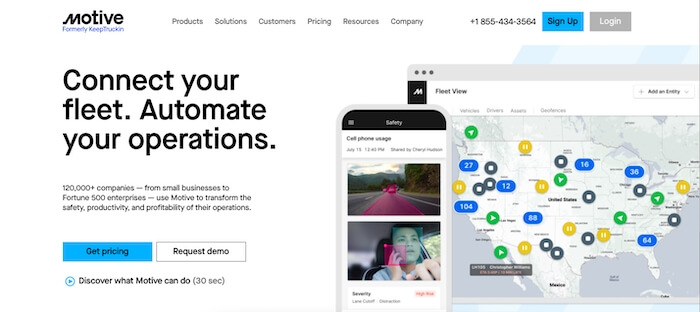 Motive is a popular Fleet management software trusted and used by over one million companies to revamp their operations' profitability, productivity, and safety. The top-performing fleets use Motive's fuel insights to enhance efficiency while enabling fuel saving.
This tool can also check your equipment, vehicles, and assets' real-time utilization, location, and health. It also provides compliance tools for routine automation and driver-friendly ELD to reduce risk and streamline complex regulations.
The no-fee Motive card can help you save at the pump while driving profitability with the help of Fleet Dashboard notifications. In addition, Motive's outstanding Al Dashcam and automated driver coaching can help keep your drivers safe while preventing accidents.
3] Odoo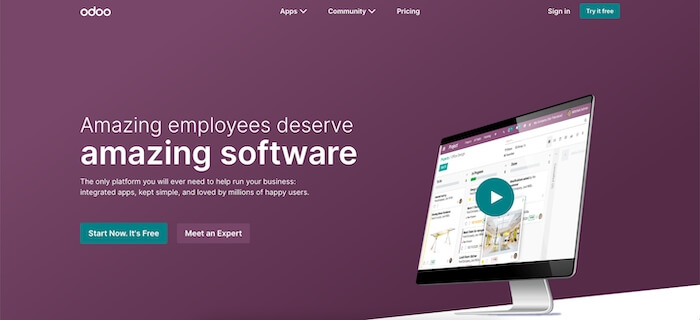 With around 7 million users, Odoo can be your business's right and reliable open-source software. However, to use its fleet management solutions, you need to register on its website. This fleet tool lets you save service contracts, records, vehicle tags, build, and model in the fleets. You can also use a graphical representation to monitor all these details with the help of a reporting module.
Fleet managers can easily manage dispatches with the help of Odoo's GPS tracking, which automatically records entire vehicle movements during fleet operation. Whether you are an Android user or use iOS, Oddo has an app.
Moreover, you can access Odoo's cloud-based deployments if you are a free user. Otherwise, this tool also offers on-premise deployment to paid users. An FAQ section, a knowledge center, an email service, and round-the-clock phone support make Odoo's website user-friendly and valuable.
4] AUTOsist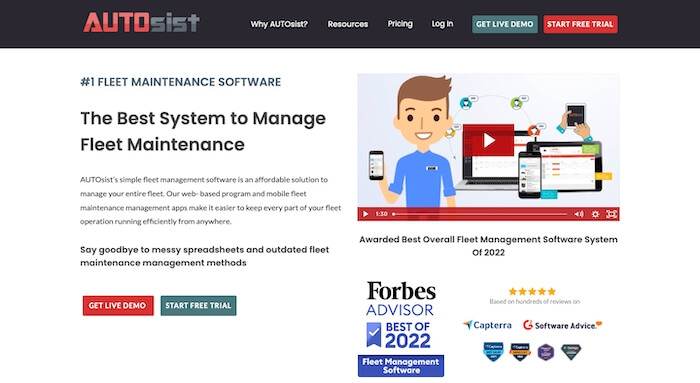 With Autosist, you can welcome an easy and efficient way of fleet management that is accessible from everywhere. This affordable solution lets you manage every part of your fleet operation, so you no longer need to waste your time and energy on messy spreadsheets.

This web-based program is easy to use and has been awarded the title of 2022's Best Overall fleet management tool. It lets you quickly observe and receive reminders, fuel, service history, comprehensive inspections, and more. Its Android and iOS apps can work with almost every device type.
This tool provides you with the benefits of Service History Tracking and Fuel Management, making tracking work orders easier. You can also set up push notifications and email reminders. In addition, you can conduct digital inspections with custom checklists and track things with GPS and safety cameras.
5] IntelliShift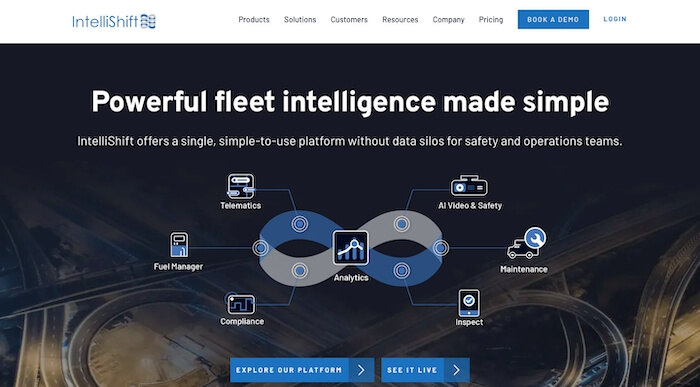 IntelliShift provides you with intelligent fleet management software. This connected Fleet Intelligence Platform is a single, easy-to-use platform for safe operations. This tool empowers its users to catch and address various issues early while reducing maintenance costs by more than 35%. IntelliShift can help prevent accidents while fostering good driving behavior owing to its robust-in-cab video and safety management system.
Moreover, this tool makes your fleet management job more manageable and time-efficient. It provides consolidated services by offering Inspection technology, maintenance, AI Video, and telematics in a single tool. Unbeatable customer support and safety operations add significant value to this tool.
Benefits of Fleet Management Software
Fleet management software can help make your entire business system more efficient while automating complicated business processes. These software solutions can help you with the following tasks.
Fuel management
Vehicle maintenance
Route optimization
GPS-based vehicle tracking
Dispatch management
Built-in analytics
The GPS-based fleet tracking software can help determine vehicle speed, direction, and location for quick tracking.
Conclusion 
While choosing a free software solution, you should carefully review its features to see if they can fulfill your requirements. Plus, you can check if its training and support costs are in your budget. For regret-free decisions, you can also read customer reviews and compare the user limit.
In this write-up, we have tried to include everything you need to know as a fleet business owner and hope you will find it helpful. In case of any further queries regarding fleet management software, feel free to comment below.