Virtual Desktops are useful when you have large number of programs to work on and you dont have enough space on the normal desktop. Virtual Desktops are created by duplicating your current default desktop and you can manage and run programs like on any default desktops. 
Windows Pager is one such program which allows you to create Virtual Desktops and has tight integration with into the panel. This is similar to Linux where Virtaul Desktops come with integration with the operating system. As a matter of fact Windows Pager program tries to simulate the same.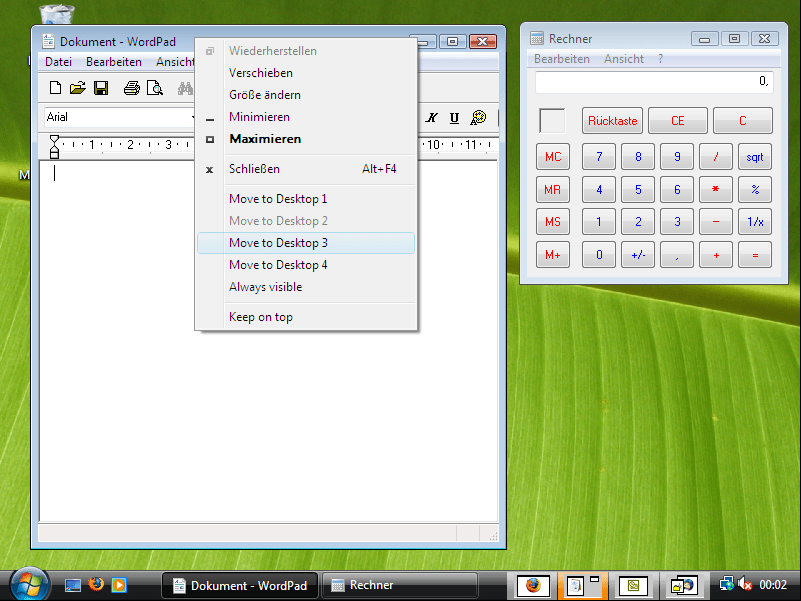 This porgram is a stand alone program which does nto require any administrator rights to run it. 
Here is the comeplete list of features :
Virtual Desktops, Workspaces for Windows Vista/XP/2000
Integration into the panel
Move windows between the Desktops by drag 'n drop or by using the windows menu
Optional Keyboard Shortcuts for switching the Desktop
Set a window "sticky": always visible
"Mini-Windows"  give an overview from each Desktop
Automatic Desktop switching  if a window from another Desktop is requested
Support for "Flashing-Windows" (notify for new messages in Mirc for example)
Keep a window above all others by selecting "Always on top" from the windows-menu
Drag `n drop between Desktops
Automatic Window restore even on crash by use of two seperate processes.
However if you are looking for an Advanced Virtual Dektops with More configurations and rules , Check out DexPot but it will need some some understanding to actually use it completely else you can go ahead with Windows Pager which is like Plug and Play.