Control panel is an extremely important area of Windows and for many reasons you would like to control the way control panel items are displayed and modified by other users who also use the computer. Windows right from Windows 200 edition allows administrator to configure the behaviour of Control panel and its item.  Like you can see below :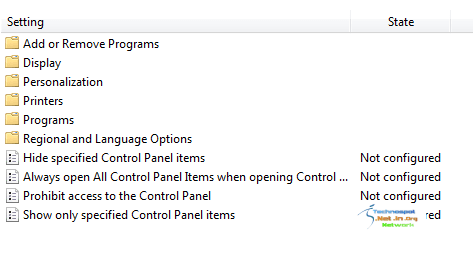 This configuration can be reached by using Group Policy Editor > User Configuration > Administrative Templates > Control panel.
What are the things you can control ?
In General :
Hide or Show specific control panel items or completely restrict the access.
Change the way control panel displays the items.
It also gives you option to change the behaviour of certain important control panel items like Add / Remove Program, Printer, Programs, Personalization etc.
Add or Remove Programs :
This gives you power to restrict the user how they install a particular program and if they are allowed to remove it. You can specify default group, set program access and remove the support information if required.omponents page 
Display :
You can disable only the settings tab or this control panel item itself.
Personalization :
Here you can take control of the users can change a theme or colour scheme, make use of screen saver, sounds or not or even force users to use a particular kind of theme, screen saver etc. This is useful in scenarios where you want to impress a client with their logo or screen saver.
Printers :
This is one device which always gives trouble and many IT companies do not allow you to connect to every printer. Administrators can make use of this setting to control if the users can add a new printer or add a printer on network and also configure active directory path for it.
More can be controled by using Programs restriction and Regional and Language options if required.
Some Tools which can used for Control Panel :
Windows Control Panel made easy