Many users commonly organize files and folders in Windows so they can be quickly accessed. Everyone wants to access their important documents, images, music, or other files without having to search through multiple screens of navigation menus every time. This article will discuss how you can easily organize your most frequently used file and folder locations into Quick Access on the left side of File Explorer with just one click.
We'll also look at third-party software that makes managing those favorite items easier. After reading this guide, you should have no trouble locating any files stored away in Window's jumble.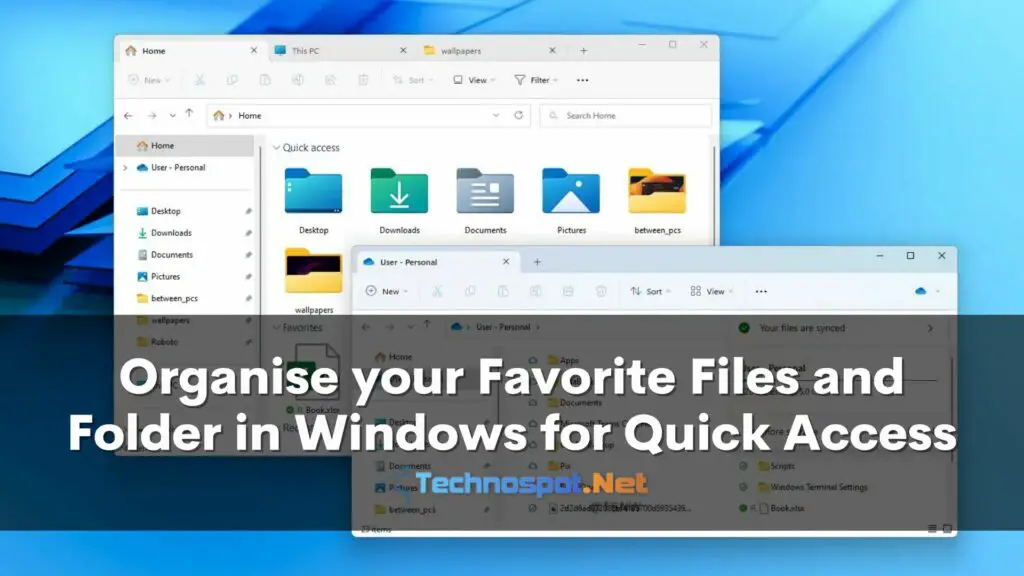 What Is Quick Access In Windows?
Quick Access in Windows is a valuable feature that allows users to quickly access their most frequently used files and folders without navigating the entire file system. The Quick Access view automatically keeps track of your recently accessed items, making it easy to save time and be more productive when looking up essential documents or photos.
Furthermore, you can manually PIN any file or folder directly onto this list by right-clicking on its icon from within File Explorer – allowing even quicker navigation between essential data points deep down in the directory structure. By utilizing this handy feature, organizational chaos will no longer exist, making everyone's life much easier!
Organize Files and Folders in Windows for Quick Access
In this section, we will talk about organizing files and folders for quick access in Windows. We have covered the widely used and easiest methods.
Built-in Method of Windows
Tagging Files and Folders
Third-Party Software
Let's have a look.
1] Organize Files and Folder in Windows using Built-in Methods
Pinning folders to quick access in Windows is a relatively straightforward process. Windows file explorer, by default, pins specific frequently visited folders for quick access. However, you can choose whether to allow Windows to add the most frequently visited folders to the quick access panel. Follow these steps to organize files and folders for quick access in Windows:
First, open Windows file explorer. You can do so by looking it up in the start menu or accessing the pinned icon in the taskbar.
Now, in the file explorer, head over to the location where the folder is stored and right-click the folder.
Now, select the Pin to Quick Access option from the context menu.
That's it! The folder is now pinned to the Quick access pane on the left.
Windows do not allow you to pin a file to the left pane of File explorer. But, you can pin the file to the quick access view, which opens by default whenever you open the Windows File explorer. Here are the steps to do it:
First, head over to where the file is stored in File explorer.
In the context menu, click Add to Favorites. This will pin the file to Quick access.
2] Adding Tags To Photographs To Organize Them For Quick Access In Windows
If you work with many photographs, adding tags will allow you to organize and access them better. Here's how to add tags to photographs in Windows file explorer:
Open the folder in Windows file explorer where the file is stored.
Now, right-click the file and select properties from the context menu.
In the properties window, head to the Details tab and double-click the Tags section to add tags to the file.
3] Using 3rd Party Software To Organise Files And Folders For Quick Access In Windows
Third-party file explorers can be great alternatives to the existing Windows file explorer, which has less customizability and may not provide all the features you want. There are many famous third-party file explorers, but some of the most popular ones are:
Fences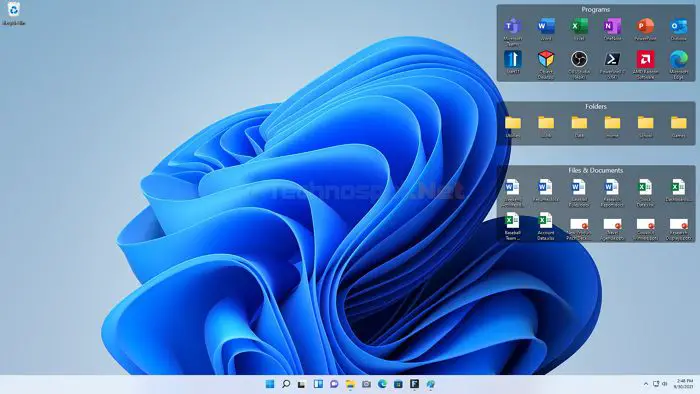 It is a third-party alternative to Windows File Explorer that helps users organize their favorite files and folders for quick access. It enables application users to create shaded, movable, and sizable icon containers which can be customized according to user preferences. Fences also allow users to define rules to better manage the desktop icons in an organized manner with ease of accessibility when needed.
The features offered by Fences are:
Create a desktop portal from any folder: This allows you quickly navigate through your preferred or frequently used softwares
Create shaded areas: Helps keep related items together & make it easier for faster navigation
Define Rules: Customize how each fence behaves on your PC screen
Double click the Desktop: Hide/show all fences at once without having manually move them around one by one
Multiple Pages of Fence: Easily switch between multiple pages allowing more space on a single page while keeping everything well managed
Pros:
Easy customization options are available to help arrange desktops easily
Offers excellent flexibility enabling easy management over a large number of shortcuts
Cons: 
The single-install version of Fences costs $26, which can be very expensive for some users.
Download from the official page.
2. Xyplorer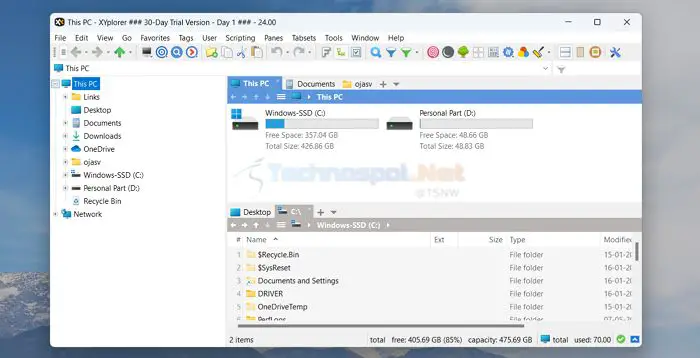 XYplorer is an advanced Windows file manager that offers its users multiple ways to organize files and folders according to their specific requirements. It offers a tabbed-browsing experience, dual panes for faster navigation, and six key navigational elements such as queued filed operations, zip support batch rename, etc. Additionally, this third-party alternative software has a highly customizable interface & optional Dual Panes mode, making it easier for multitaskers to organize large amounts of data and files.
The striking features XYplorer offers are:
Tabbed Browsing: Improved convenience by allowing one to switch between open windows easily.
Six Key Navigation: Allows 6 separate move selections while moving around inside folder structures.
Queue File Operation: Increases efficiency when dealing with heavy workloads likely present during multitasking
Zip Support: Enables compressing/decompressing capabilities which might not be available through generic file explorers.
Pros : 
Lightweight program helping overcome system slowdown issues. Offers full customization due to versatile preview options.
Feature Packed
Cons : 
It costs $34.95, which is expensive considering the kind of change Microsoft is rolling out for File Explorer.
Download from the official page
Conclusion: 
Organizing your files and folders better will allow you to access them in less time, boosting your productivity. To prevent your files and folders from getting unorganized, delete unnecessary files at regular intervals and sort new files accordingly. We hope you found the article to be helpful. Please make sure you share it with everyone.
How Do I Favorite a Folder in Windows?
Unlike files, File Explorer offers no option to add folders to favorites. However, you can Pin a folder to Quick Access, which is directly available on the sidebar of the File Explorer view. It's better than the Favorites option, as they will always be available on the sidebar.