Outlook is one of the most widely used email clients on Windows computers and provides a host of other, slightly more advanced features on top of different email clients. One of those features is the ability to store emails, data, and accounts offline for the users to access them even without an internet connection. The Outlook PST file facilitates the feature.
An Outlook data file stores messages, emails, task data, calendars, and contacts offline and can also be used to back up and export the same data. If there are issues with the (.pst) file, it can hamper the workflow and render much of Outlook's functions useless.
In business or corporate world email plays an important role, in facilitating communication. However when your Outlook PST files become corrupt you require a PST repair tool to repair them and retrieve any lost data. This is where ScanPST.exe and Stellar Repair for Outlook come into play. Both of these tools are designed to assist with PST file problems. This article will examine two approaches to recovering Outlook data files and determine which is better.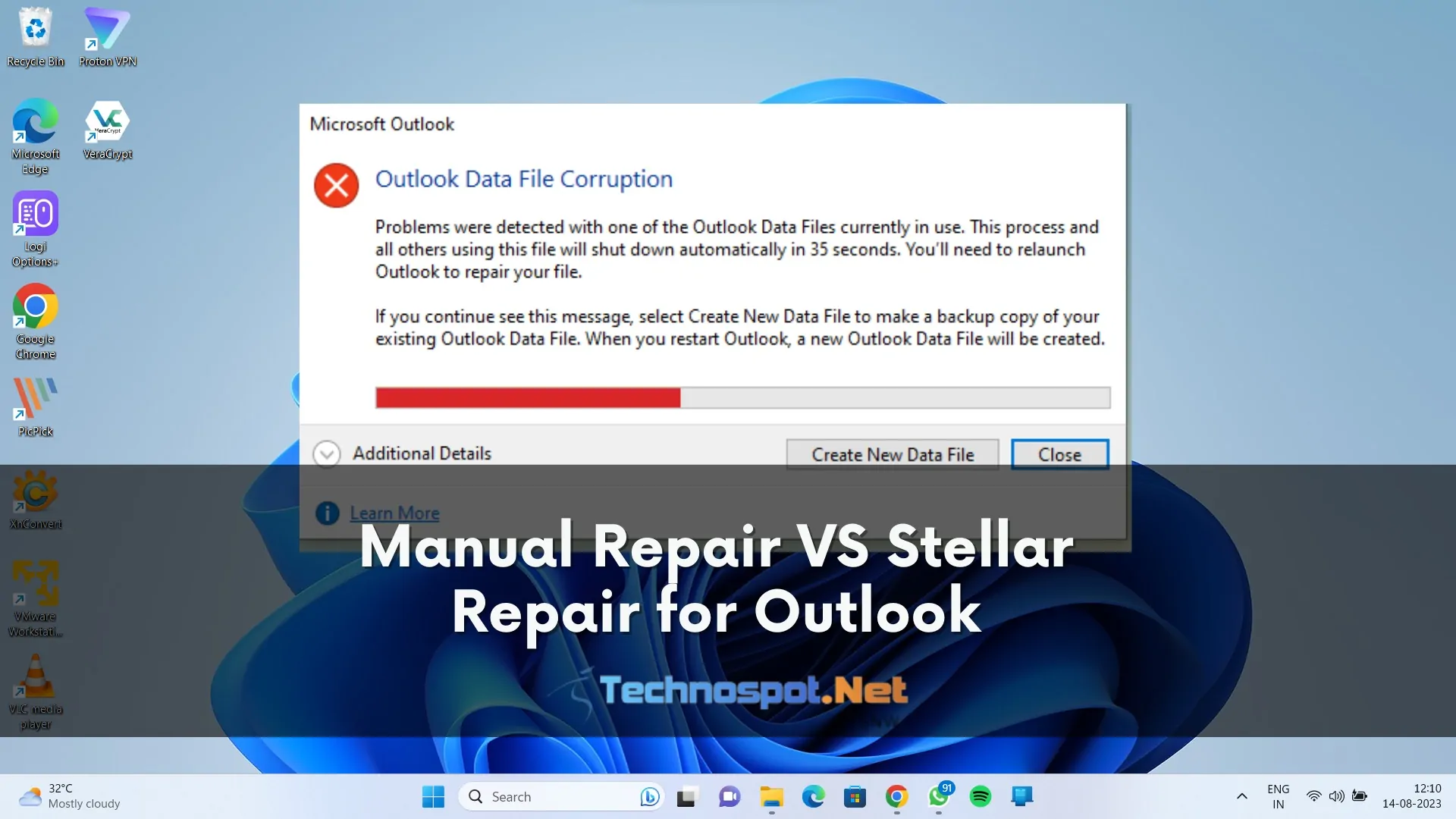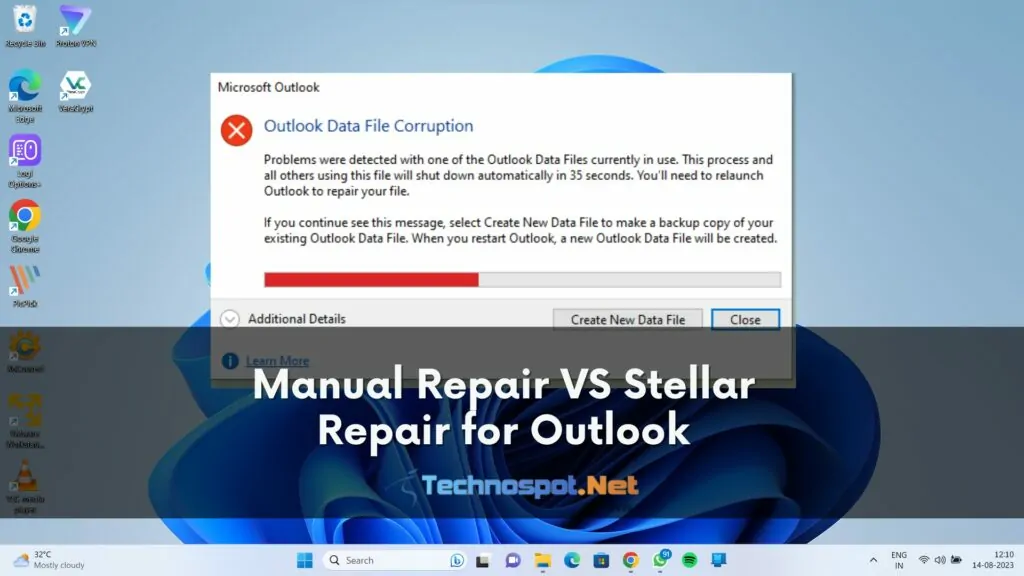 Scenarios of Corruption: When Outlook Data is at Risk
In today's digital landscape, Outlook is a vital tool for communication and productivity. However, there are situations where your Outlook data can be at risk of corruption. Let's explore some common scenarios:
Mailbox Size Limit Exceeds: Outlook PST files can become corrupted if they get too large. To prevent this, manage your emails, archive old ones, and split or compact your PST file when it approaches its size limit.
Malfunctioning Add-Ons: Outlook add-ons can help you send better emails and do more with less effort. But if they start slowing down Outlook, crashing, flashing errors, destroying your data, or creating security risks, to avoid these issues regularly update them, remove the bad actors.
Improper Shutdown: If you shut down your PC when Outlook is still working or in between sending an email, you risk quickly corrupting your files. To prevent this from happening, make sure that Outlook is closed adequately before shutting down your PC.
Hardware Failures: Hard drive or storage device failures can corrupt PST files if they are stored on the damaged hardware.
Now that you know enough about how your Outlook data file may have been corrupted, let's work towards fixing the issue for you.
Repair Outlook PST file Using ScanPST.exe tool
Scanpst.exe is a built-in utility by Microsoft, which helps in repairing Outlook PST files or any kind of Outlook related problems. This tool scans and fixes problems in your PST file, ensuring smooth operation of Outlook. It's a useful tool for addressing issues like email corruption or data file errors.  Here's how to perform a manual method to repair Outlook data file (.pst) ?:
Open File Explorer and head to the following path to find the location of Scanpst.exe

C:\Program Files (x86)\Microsoft Office\root\Office16\
In the path, please scroll down to find a file named SCANPST.exe and open it.
Upon opening the application, click the Browse button and select the corrupted Outlook data file.
After selecting the file, click the start button on the window. The SCANPST will automatically scan the respective PST File and recover its contents.
Challenges with ScanPST.Exe
While the use of ScanPST.exe is a feasible way to fix Outlook data file corruption, but it has some limitations that can make this process challenging. ScanPST.exe can only repair minor corruption in PST files. If the corruption is severe, ScanPST.exe may not be able to fix it. This tool cannot handle large PST files, which could lead to data loss. Well, there are still many ways you can repair Outlook data files. One is to use a third-party file recovery software. Let's have a look at one of those.
Use Stellar Repair for Outlook to Fix Corrupted Outlook Data File
Manual method (ScanPST.exe) for PST file repair may not provide more advanced features to recover corrupted files effectively. And that's where the Stellar repair for Outlook comes in. The software comes from a developer with decades of experience in data recovery. With many valuable and advanced features, it is the best method to fix corrupted PST file.
While the SCANPST.exe fails to repair the Outlook data file or severely corrupted PST files, Stellar Repair for Outlook runs that flawlessly. The software scans and recovers Outlook data files and can save them to new PST, EML, MSG, RTF, HTML, or PDF File. You can also split large and bulky PST files into smaller ones for better functioning. By using this software you can repair a corrupted Outlook data file with a few simple steps,
Check out here some other features:
Maintains Data integrity
User-friendly interface.
Shows preview before recovery with trial version.
Recovers deleted emails
Export to multiple file formats.
Split large PST files.
Export to Microsoft 365 & Live Exchange (Technician Version).
Steps to Repair Outlook Data Using Stellar Repair for Outlook
Download, install, and open the software.
In the Home tab of the application, click on the "Select Outlook Data file" from the top bar and click on "List Profiles" to select the PST files.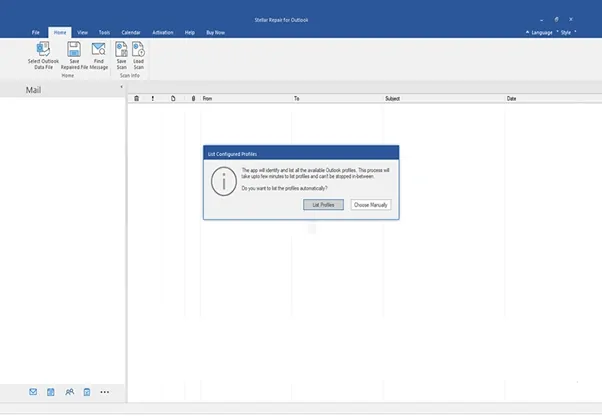 If you know the location of PST file then click on "Choose Manually" to add the PST files and select "Browse".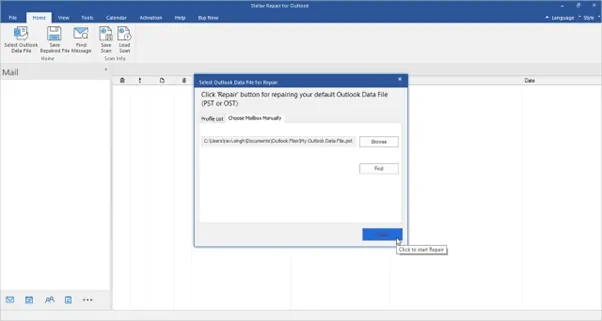 A new window will open. The app can automatically discover the available profile and its data file. You can also proceed with manually loading one into it. After that, click Repair.
Once the file is repaired, you can preview the data recovered from the file and export the file as is or to various formats like HTML, EML, or MSG.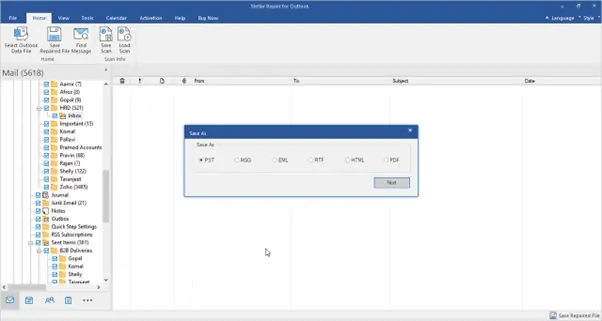 Conclusion: 
ScanPST.exe and Stellar Repair for Outlook are both the tools used to fix corrupted PST files, however they differ significantly in some important ways. While Stellar Repair for Outlook is more powerful solution that can handle severe corruption and includes other functions like email and attachment recovery, ScanPST.exe is a free, basic application that is adequate for small damage. The decision you make is based on how serious your problem is. ScanPST.exe could be sufficient for simple issues, however Stellar Repair for Outlook is the better choice for serious corruption or complex recovery.