Medpedia is a Wiki for health, medicine and other medical knowledge. Medpedia gives you the information of several diseases, physical disorders, medicines and other health related issues, if you are related to medical profession or somehow you have some interest in such things, this is a perfect place for you on the web.
You can browse the articles alphabetically. Medipedia also claims –
This repository of up-to-date, unbiased medical information will be freely available to everyone, and you can add to it. If you are a physician or PhD, learn how to edit. If you are anyone else, learn how to Suggest Changes. See a list of the ways to receive recognition for your knowledge.
You start browsing the articles on category basis from the right section of the homepage, or you can see what is already available and how you can add to it.
Pages look a lot like the Wikipedia pages, and are presented in simple English, no high tech medical terms or jargons are used, simple enough and understandable by anyone.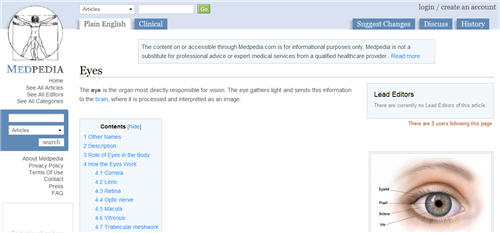 You can browse without any sign-up, however if you want to be a active member of this repository an account creation can be opted.
The search option is also their which allows you to search for Articles, Members, Groups, Committees, and Communities.
I like reading about medical terms and disorders, something which has been inherited by me from my family members, as I have loads of doctors in my family, if you too have such kind of passion, go ahead and Try Medpedia