Windows 8 Live Tiles is one of those features which I just love to use and cant live without, mainly because of the tile update. However, these things vanish when you switch to desktop, and Windows 8 does not allow any Metro App to get pinned to Taskbar  & they aren't allowed to have shortcuts on the Desktop either.  This clearly means that you cannot launch the Metro Apps from Taskbar unless you get to the awesome Start Screen.
Introducing Metro App Link which bridges this gap by allowing you create shortcuts and ability to pin those untouchable metro apps to your taskbar, so you can lunch it as you had launched in the previous version of Windows.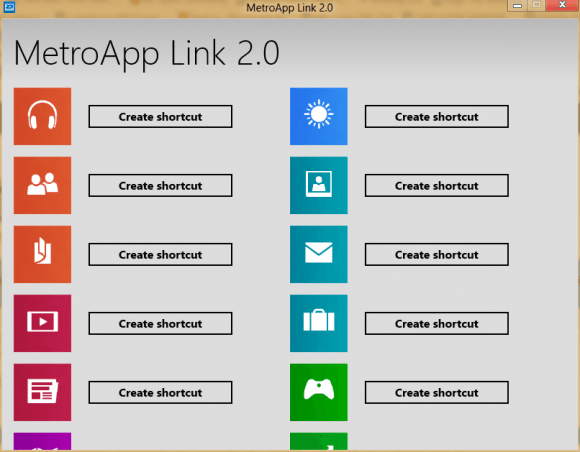 So like, you can see in the screenshot, there is no browse, select and pin option, but it comes with a predefined list of Metro Apps, which is already, available with Windows 8. Right next to every Metro app, you have the option to create shortcuts on the Desktop. Now done that, you can just drag and drop it to your Task-bar and it will pin this automatically there. ( Pin to Taskbar Option )
The application does not need any Administrator permission, but you might check if the software is blocked after downloading and since its a standalone application it does not require any installation.
As a current limitation, it does not list any of the third party apps as it cannot find the GUID or the unique ID associated with those metro apps.  Since the GUID of the per-installed metro apps is fixed, it was easy to pull them. Hopefully in the next version, we might see third part listing also or some manual way to create such shortcuts.
This reminds me of the Homebrew Folder App which was released for Windows Phone which had the same problem of not able to find the installed application and needed root access to add them to folder.
Download from here | Via XDA Forums