Micromax today unveiled its much awaited Canvas 4 at a very decent price factor of Rs 17,900 with some funny features like Blow to Unlock!!! The phone houses 5 inch True HD IPS Screen ( 720P Resolution) with 1.2Ghz quad core processor and 1Gb Ram (phew!!). Apart from having a decent amount of RAM the phone also has the latest Android 4.2.1 which makes sure you get the multiple user feature if you think you need to share this with your kid if not somebody else.
The device has 16GB of internal memory with 2000 mAH Li-On battery. This should be decent enough to survive one day. We will only figure it out when someone actually shares the battery performance when using Quad Core and 1Gb ram.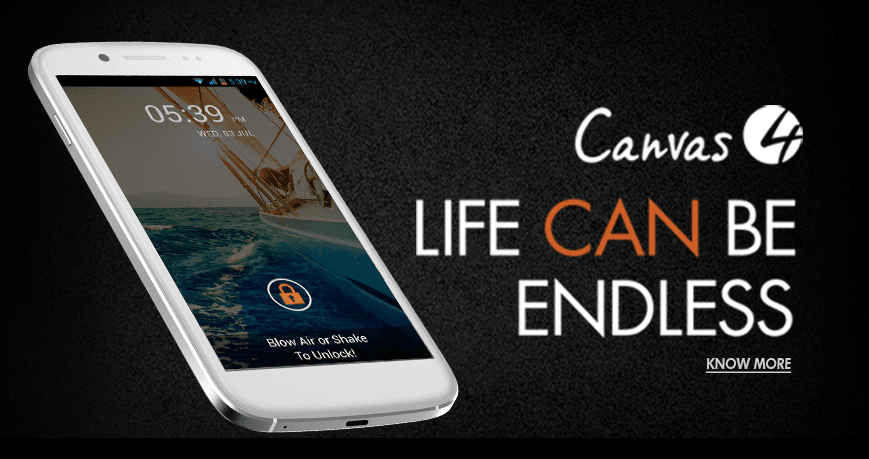 When it comes to camera, the phone has a 13MP camera with a 5-lens stack. Catching up with the recent technology advancements, the phone also promises Image stabilization, multiple-face recognition, smart pause like features which is already there in Samsung and Lumia Phones.  The phone also has 5MP of front camera.
One of the interesting camera feature is the ability to take vertical panorama which is not available in any of the smartphones as far as I know. This allows to capture tall building like Burj Khalifas and others. The phone camera is also capable of taking 99 shots in 15 secs in burst mode.
Now even though some of the features are available in other brands but none of those features like Samsung's smart stay, flip to mute & pop up play, Nokia's Image Stabilization,  are available on cheaper price range devices. Looks like Micromax wants to change the game and bring powerful features into low end phones as well.
Keeping the price factor mind, this phone can become popular among dual SIM users who are looking for a decent touch phone in this range of budget.
During the press event Micromax also declared that they had record booking of 11,000 phones during pre order which talking about features and specification of the phone.