Microsoft offered a backup tool for Outlook. It allowed anyone to back up the PST file, which stores all the emails and contacts. While that tool is not available to download anymore, it works on Outlook 2002-2010 by using a DLL available within Outlook. That said, the tool doesn't work with Office 365 anymore, and hence you need to look for a different solution. In this post, we will share how you can use the official Microsoft Outlook Backup tool in an earlier version of Office, and which tool you can use for Office Outlook 2013 / 2016 / 2019 / Office 365
How to use Microsoft Outlook Backup tool Office Outlook 2002, 2012, 2013, 2016, 2019, Office 365
It takes the back up of all PST files where the mails are actually stored. The best part is that this tool gets integrated right in the Outlook.  It can run the backup every time you exit the application.
Enable Outlook Backup tool in Office 2002-2010
How to use Outlook Backup tool in Office 2002-2010
Backup in Office Outlook 2013, 2016, 2019, Office 365
We have also shared a manual method of taking backup.
1] Enable Outlook Backup tool in Office 2002-2010
The tool is available in DLL format at the following location. You need to use Outlook to locate the DLL and enable it.
32-bit version of Windows
C:\Program Files\Microsoft Office\OFFICE12\ADDINS\outbak.dll
64-bit version of Windows
C:\Program Files (x86)\Microsoft Office\OFFICE12\ADDINS\outbak.dll
In Outlook 2007
Open Outlook 2007
Navigate to Tools-> Trust Center > Add-ins
Click on the Add button and then navigate to the folder containing that DLL and add it.
In Outlook 2010
Open Outlook 2010
Go to File > options > add-ins
and click on the Add button to find the DLL and add it.
Enable Backup prompt
Open Run prompt and type regedit followed by the Enter key to open Registry Editor.
Navigate to HKEY_CURRENT_USER\Software\Microsoft\Office\Outlook\Addins\Microsoft.OutlookBackup.1
Locate a string with nameRequireShutdownNotification
Double click to edit, and enter the value as 1.
Save and Exit
2]How to take a backup of the Outlook PST in Office 2002-2010
After you have enabled, you can find a backup menu right under the File menu of Outlook.  But before you start using it, configuring is very important as you will need to set up a location where the files will be stored.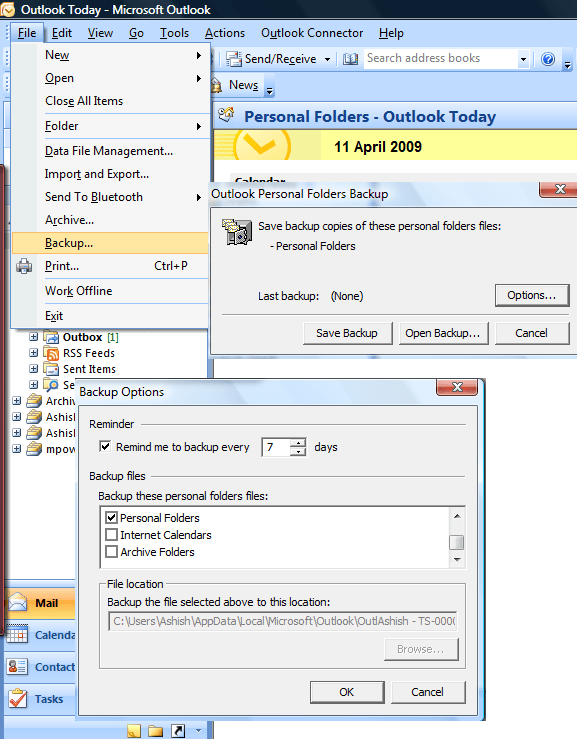 Configure the backup tool
By default, the files are stored in the same drive where windows is installed. I would highly recommend you to change the location to a network, or if you are using sync application like Dropbox, you can even create a backup on the server directly. This would be the best way to do it.
After you have configured this option, you should also configure which Folders need to be backed up. Like in my case, I have a personal folder which should be the same for you. In case you have more folders, this is the right place to decide.  Just uncheck the folders you don't need. This will also help you to keep the size at the low end.
How to take a backup of the Outlook PST or OST file?
After this, you can click on save the backup. As soon as you do this, you get an alert message, which says the Outlook has to be closed. This is required as the files are in a locked state when the Outlook is open. So next time you exit Outlook, the backup will be performed.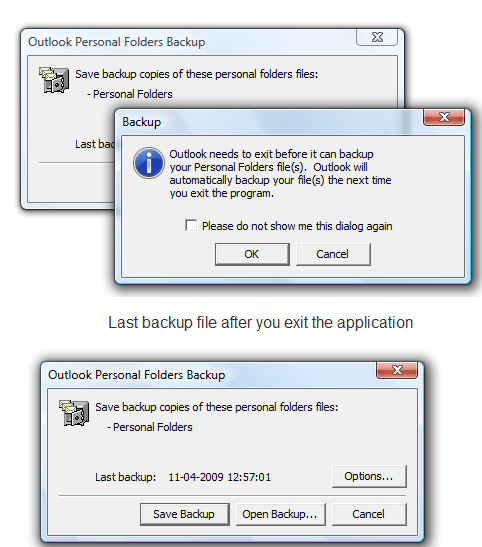 Anytime you want to open the back, just use the open backup option. This tool is a must if you use Outlook. Just remember to save your backup in a place which is outside your PC. Best would be to use the OneDrive. Also, when you go for a complete re-installation, don't forget to use my 2-second outlook settings backup tip. These two-posts is more than enough for backup your mail as well as account settings.
3] Backup in Office Outlook 2013, 2016, 2019, Office 365
Starting with Outlook 2013, and then followed to Office 365 now, the Outlook profile has changed. The tools are not available, and you can not forcefully run them either. So the solution for these versions of the Office is using a custom script or take it manually. Also,  emails starting from Outlook 2013 is stored in OST file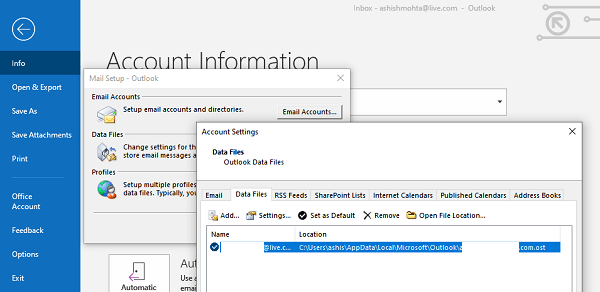 The funny thing about taking a backup of Outlook PST or OST files that it is darn simple. Here is how to locate the PST file in Office 365:
Open Outlook > File > Account Settings >Manage Profiles > Click on Data Files button
Select the email account for which You want to take a backup, and click on Open File location
Copy that file and save it anywhere safely
When you set up again, replace the existing file with this one
You will be prompted to verify your account
We hope you were able to use the Outlook Backup tool, and take a backup of PST or OST file.