If you are planning to upgrade or migrate  from Windows Xp to Windows 7,  You will need the the User State Migration Tool (USMT) to migrate user files and settings from Windows XP to Windows 7 using a default installation.
Technet as come up with a video on this which will help you on working on this easily. They used 26Gb user account in this vide and its pretty fast.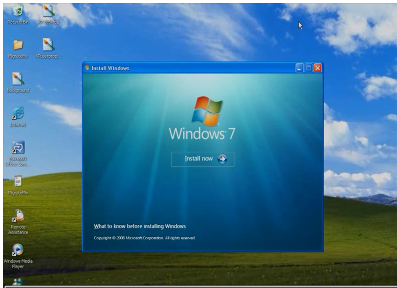 Why do you need to migrate and not upgrade ?
With Windows XP its not possible to upgrade ( at least that what the video says ), When you install you will need to go for clean install.
What is USMT ?
Talking on USMT, this tool migrates user files and settings during large deployments of Microsoft Windows XP and Microsoft Windows Vista operating systems.
So if your company has planned to migrate to Windows 7, this is the tool you would need.  However it can be used by anybody who is migrating from Windows XP.
Its a part of Windows Automated Installation Kit. It can capture captures desktop, and application settings, user accounts and their files before migrating to Windows 7.
Supports migrating from 32 bit os to 64 bit os