Mini Paint ( Beta ) developed by BB4 Software is an Image editing software for BlackBerry which lets you do some basic stuff which is not available with your BlackBerry and like I said its gets you on Fun side of image editing than professional work.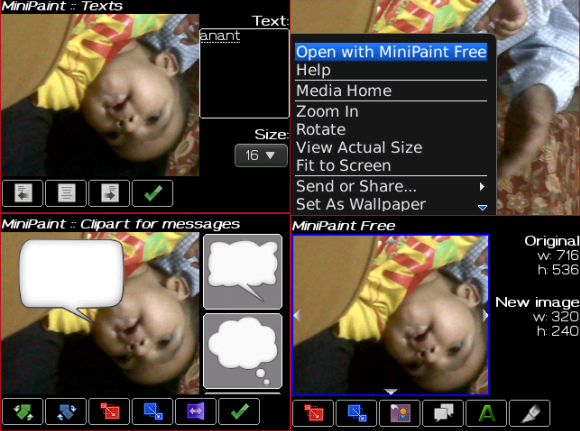 Features :
Supports ClipArt i.e. putting a turban or glasses on your kids face is easy now.
Add bubble text to your images.
Add text to your images.
Lets you zoom in and out for better accuracy.
Crop Images.
I played around for an hour with this software and it is still little buggy to be used in full fledge. BB4 still need to work around on how controls should work like when I tried putting a clip art rotating was damn difficult.Minimum requirements are: OS 4.5 and a display of 320×240. For example, BlackBerry® 8800, BlackBerry® Curve™ 8300, BlackBerry® Bold 9000, BlackBerry® Curve™ 8900.
Download Mini Paint for BlackBerry from here or follow the mobile link and read more details on how to get started from here