Calls are the most primary task when it comes to mobile phones. None of the Android mobile makers have come with a customization which makes this task secondary but then these days mobiles aren't just used for calls, it's mostly used for everything else and call has become a featured.
So what happens now, doesn't matter what you are doing, when a call pops in, you cannot ignore it and the screen is hijacked by a big accept or reject call button. Now what if you can actually reduce this or can change this into notification without it disrupting you from what you are doing e.g. Playing a game, checking notifications or even replying to an SMS.
Small Call is a brilliant app which does this job beautifully. It turns your incoming call screen into a small notification with full option to accept, reject or reply with text without overtaking the screen. Below is a video demo: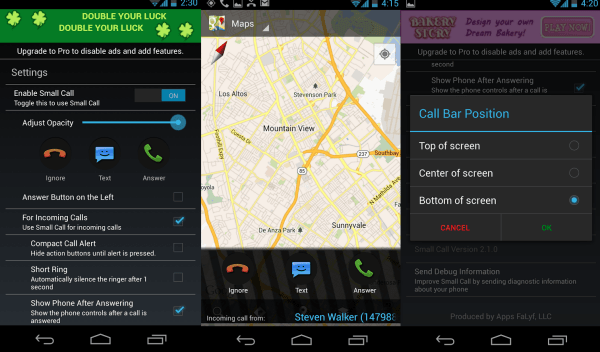 Features of Small Call:
Change transparency.
Change answer button to appear on left or right.
Instead of small notification, turn it into a pure alert. The action button only appear, still in small window, when you tap on it.
Automatically silence the ringer after 1 second.
Display phone controls when you have answered it. This is useful when you need to input the dial keys.
When you choose to decline, you have option to silence, send to voice mail and if the person hasn't stopped calling you, just pickup and reject the call.
You may also choose to send a text message reply.
Change call bar position to appear on top, center or bottom of the screen.
Download:
There is a free and a paid version of the app. The paid or the pro version removes ads and unlock all features; such as scrolling incoming text messages, a one second ring tone option, and more.
[appbox googleplay com.rocksauce.smallcall]
[appbox googleplay com.rocksauce.smallcall.free]