The importance of backing up data is no secret and is general housekeeping stuff for modern PC's. There's no deficiency of software available out there, be it either free or paid ones. Maintaining a backup assures that your data is safe and secure and can always be reached back from the secondary backup source if the original data is lost. We did come across a free software; that seems to check all the important checkboxes required for a good backup application. MiniTool ShadowMaker is new software out there, and In this post, I will let you know everything about the MiniTool ShadowMaker.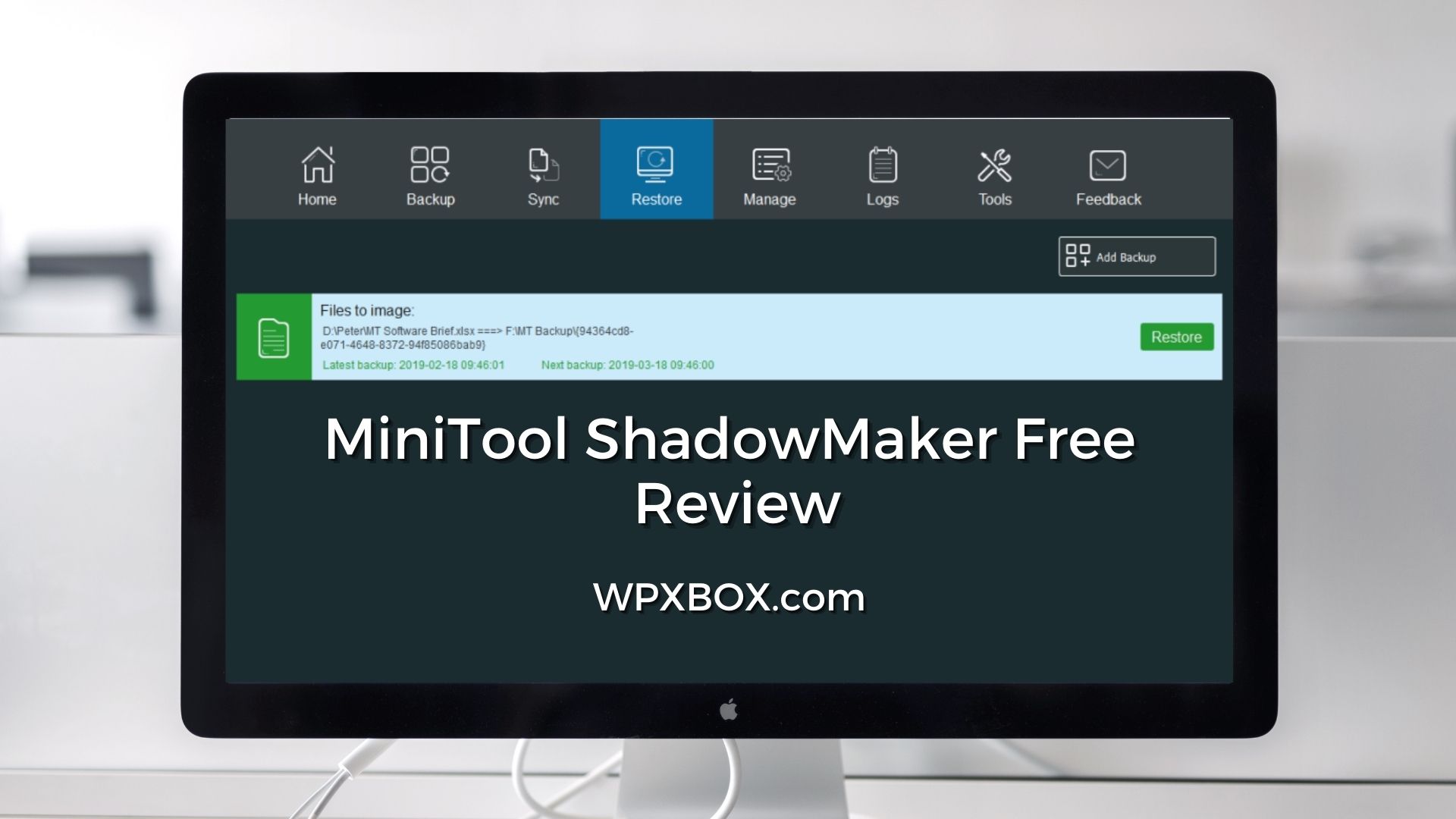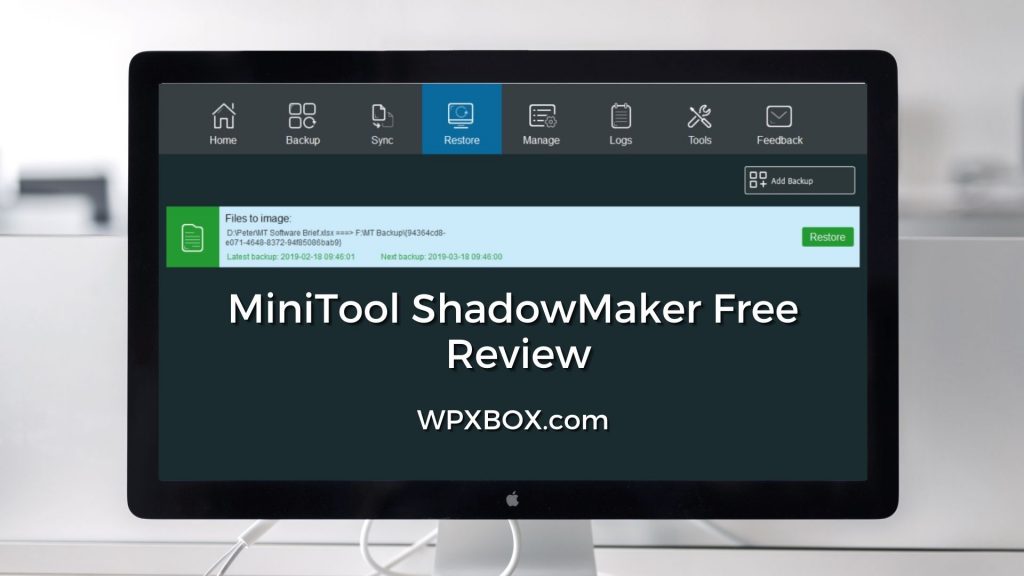 MiniTool ShadowMaker Free Review
Before starting with the review, here's what one should expect from a basic backup tool:
Have capabilities to take a backup of all files, folders, disks, and partitions and clone them.
Support task scheduling and carry out tasks automatically.
Either be free or basically cheap.
MiniTool ShadowMaker is one such platform that tackles all of the above issues and helps users schedule total device backup and replicate their drives. Much more importantly, for private use, this program is free to use. It also helps customers to view the disc space and configure the schedule for the backup.
Compatible with the Windows operating system, MiniTool Shadowmaker could archive the entire OS, individual files, directories, disks, partitions to any internal or external storage device. The software is sized at 70 MB and loads its scheduling process with only one process running in the background. The GUI of Shadowmaker is tidy, logical but not unappealing.
Backing up and Restoring Files with Minitool ShadowMaker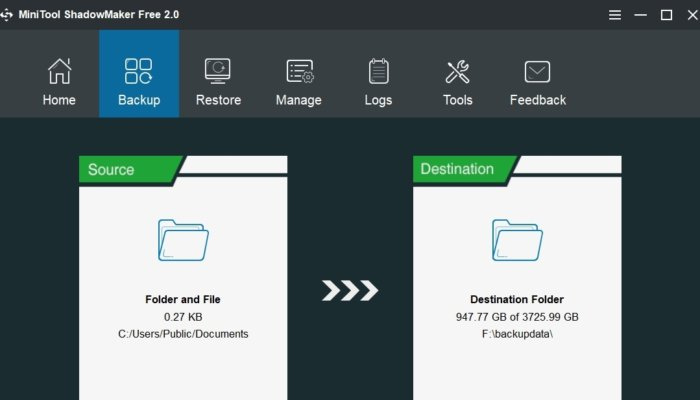 The MiniTool ShadowMaker has a delightfully simple process to build backups. One can easily choose which disk or partition to back up or pick individual files and folders by clicking 'Set up backup.' The application offers a range of absolute, incremental, or differential backup schemes, but only one option available for free users. Yes, there are a few other applications out there that offer multiple other modes, but this could get the job done.
One can choose to encrypt their backups, which will, in turn, need an update, which might be a dealbreaker for someone trying to back up confidential data. However, there are several other free downloadable backup software available out there, which will encrypt your backups and provide you with algorithms to choose from.
Restoring files is as easy as: picking the files to be recovered, choosing the date of the backup to be reestablished, then choose a destination to save them. In case there's really a lot to restore, the app also has functions to shut down the PC once it's done automatically.
Additional Features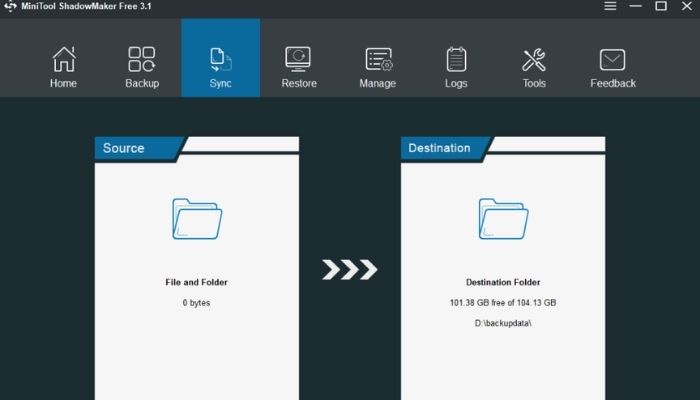 Additionally, there's the folder synchronization feature that could come in handy; allows two different files to be kept in contact with each other, likely over a network. Adding to it, there's the Disk cloning functionality using which ShadowMaker can quickly clone your drives and allow users to configure the new drive ready for use; in case you ever plan to upgrade your hard drive for your PCs.
The excellent recovery media console enables the development and booting of a WinPE-based recovery disc or a flash drive if your PC does not boot for any reason. However, do note that one needs to have an image backup done first to use this recovery media.
Finally, MiniTool ShadowMaker Free may be a good option for users who don't really need precise control over their backups; but its lack of some features and control over the backup encryption algorithm makes it difficult to recommend; considering other software which provides so much more.
That said, how often do you prefer to backup your data? Do let us know by dropping a comment down below.