Planning to send bulk emails from your personal Gmail Account? Did you know users report emails from the same email account as spam? When you go through such a situation, Google will likely ban your account for known reasons. This post will attempt to answer if sending bulk emails from Gmail can get your account banned. We will also let you know the services you cannot access and how to stay safe against an account ban!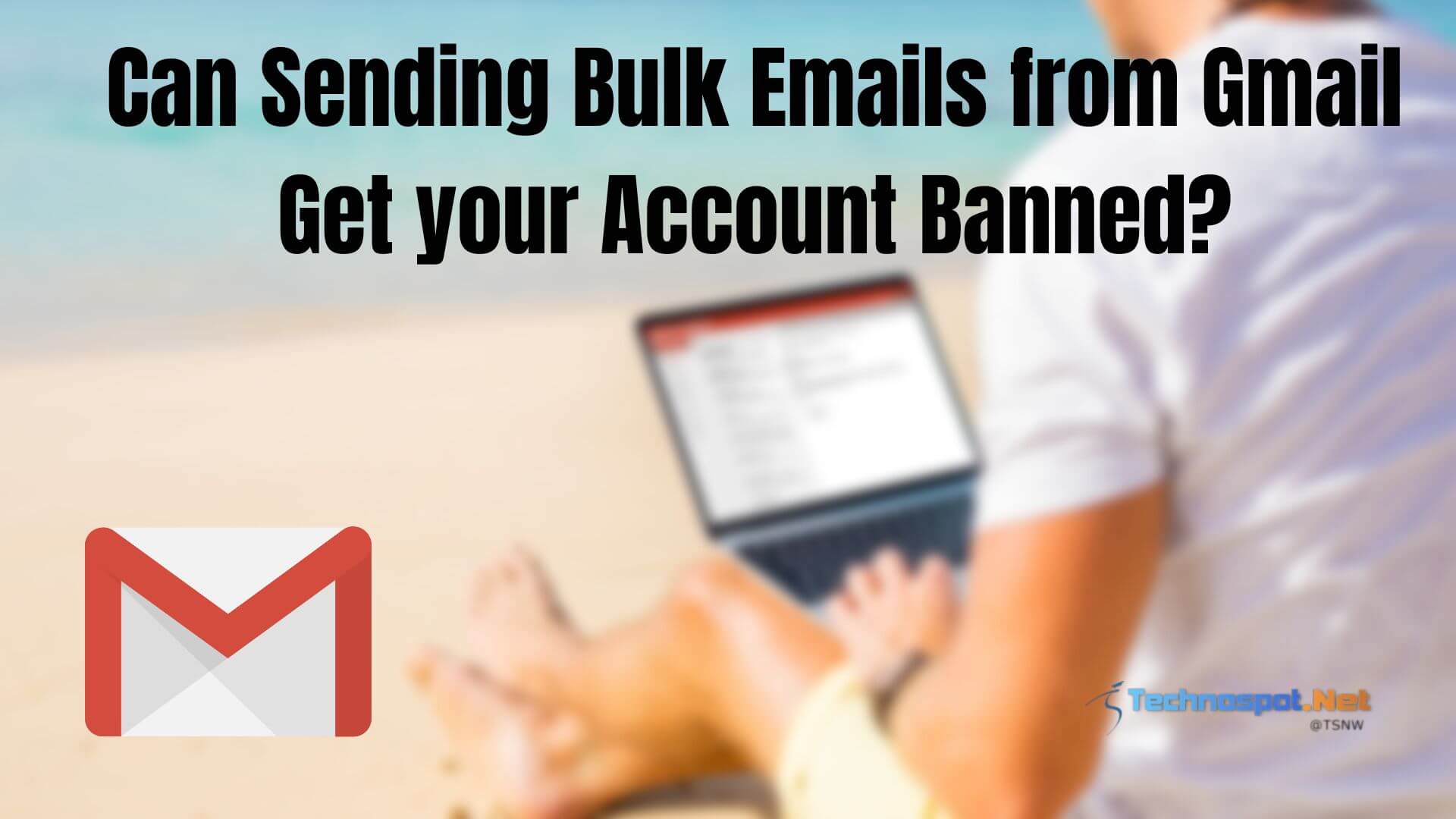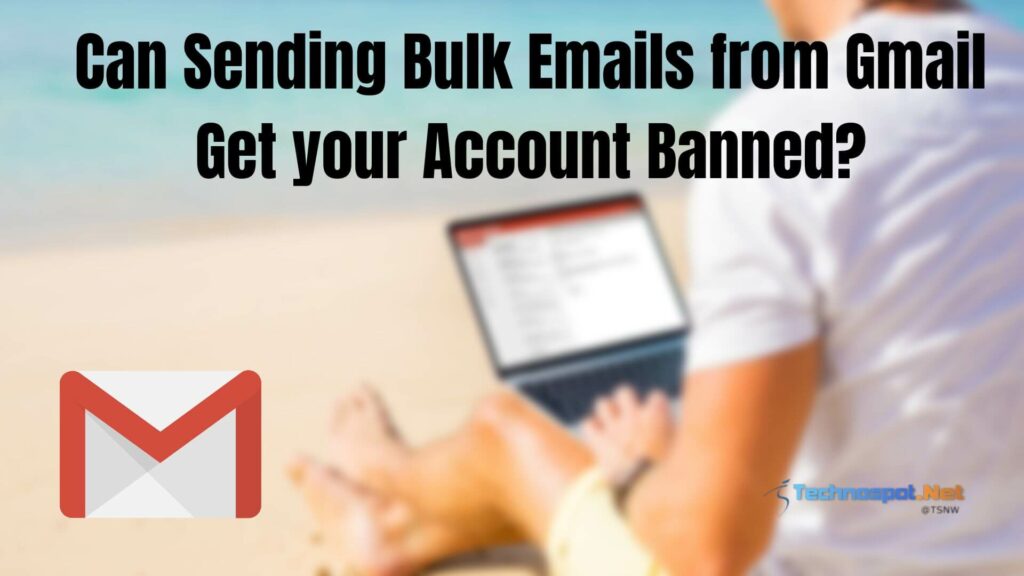 Can Misusing Gmail Get Your Account Banned?
Yes, there are several reasons why Misusing Gmail bans your Google account. If you have spammed someone's inbox, sent irrelevant promotional messages, or attempted sending bulk emails from Gmail, your account is Susceptible to ban. Even if you use it for having, sending malicious files, or trying to hack someone's account, then you would exclude your account. 
Further, if you try to harass someone in other ways, then Google notifies it. You cannot use Gmail for illegal activities. Thus, Misusing Gmail would lead to an account ban. 
Apart from that, what other reasons are you likely to suffer a ban? Let's roll onto the next section to find out!
What Is Gmail's Daily Limit on Sending Email?
Error message: Gmail Lockdown in Section 4
When you send over 100 emails using an app such as Outlook or anything connected through includes email sent through smtp-relay.gmail.com or smtp.gmail.com servers. Your account will deactivate for 24 hours. 
Error message: 550 5.4.5 Daily sending quota exceeded
If you send emails to 500+ users using the Gmail website, then Google will disable your account for up to 72 hours. This limit is 10000 email recipients daily for Google Apps or Workspace users.
When using  Gmail Mail Merge, the upper limit is 100 recipients per day for the usual Gmail accounts and 500 per day for paid Google, i.e., Google Workspace.
Further, if you use extensions to bypass Google's security features and install a bot from accessing Gmail, you will likely suffer a Google Account Ban. 
No, if Google has banned your account for Misusing Gmail, you should know what to do next! More details are here.
What to Do When Google Bans Your Account?
If you are stressed out with a Google account ban, the coolest part is that you can recover your Gmail account. Here's how you can restore your Google account:
After logging in, there's a probability of recovering your account when you press the Try to Restore Button. You will be prompted to follow a full-fledged process that will help restore your account. But if you can still do so, you can connect with Google Support to tackle the issue. Later, you have to follow an online form about the same, and Google will get back to you in a few days. 
As a precaution, downloading files from photos, Drive, and Google Workspace at regular intervals is a good idea and also avoids mishaps.  If none of the ways work out for you, and you feel that you have done nothing inappropriate, then you can try again or take it over social media for Google to change its decision. 
But what consequences will you suffer after a Google account ban?
Consequences of Getting your Google Account Banned
Waking up to a Google Account ban is one of the most terrible experiences ever. Things become more complicated if you own an Android device like a smartphone or if you are a Chromebook user. This is because Android and Chrome OS rely upon Google Accounts for most of their functions. In case of an account ban, you cannot use most device features. So, be it syncing contacts and emails, having media or files, or downloading apps, everything is complicated.
So, you will have to create a new account in such a scenario. However, you will not be able to retrieve your data. This is because Google has several services, so an account is needed to access them! So if you use Chrome, Drive, Photos, Gmail, Keep, Docs, Slides, Sheets, or even YouTube, then you cannot use them.
Yes, you heard that right! Even if you are an Android user, you cannot download apps. Besides, even if you have a UPI, Google Pay would be unavailable! Things become worse if you have an AdSense account, and you will suffer financial losses.
Tips to Avoid Google Account Ban
You never know if Google Bans Your Account. However, you will likely be devoid of its services, and to keep yourself safe, you can take some precautionary measures. 
Method 1: Multiple Google Accounts
There is no limitation to the number of Google accounts a person can have. So, having multiple Google accounts works best. For example, if you have AdSense on one account, you can avoid using those Google accounts for Misusing email. Instead, you can set up multiple accounts and carry on with your promotional emails through a secondary account. Further, you can use Google Services through another account if it gets banned.
Securing your data is of utmost importance!
Method 2: Backup Your Data
If you think Google might ban your account, then you need to back up your data! You can backup all your files from Drive, media from Photos, and similar lyrics backup all your data to Dropbox, OneDrive, or a secondary storage device. If that's not possible, you can set up another Google Account and back up your data.
Conclusion
If you thought Can Misusing Gmail Get your Account Banned, you would have got your answer. When you execute any activity from your Google account that violates its terms of service, your account is bound to a ban. Even if you use Incognito Mode, that will not keep you safe. If your account is blocked, you cannot access Google's services. In such a scenario, you can set up another Google account. Doing so in advance protects you against a ban, and you can back up your data in advance to stay safe against a ban.
How Can I Prevent My Gmail Address From Being Misused?
You can prevent your Gmail account from being misused by not signing in to someone else's device. Besides, you should create a strong password and not disclose it to anyone. Finger, make sure not to save the password with a browser. You should even timely change the password to avoid its misuse. Securing your account with two-factor authentication helps further. 
Why Was My Google Account Suspended for No Reason?
When you do anything that violates Google's Terms of Service, it will ban your account. You can check under what cases your account would get banned to determine the cause. If you still feel that you have not done anything, someone will have misused your account.