Vogue Tyre and Rubber Company is one the oldest companies, and has been rendering services to the automobile world. This company has come-up with an online tool, which is said to be their online showroom and is known as EnTyre 360°.
EnTyre 360° currently showcases two cars, 2010 Cadillac CTS and Lexus RX350, and you can modify them for the Tires, Wheels, Grilles, etc. You can actually modify and test ride the accessories depending upon the color of the car, option to choose color is also there.
You can also view the car from all angles, with the feature which allows you to rotate it. Have a look at the animation shown below.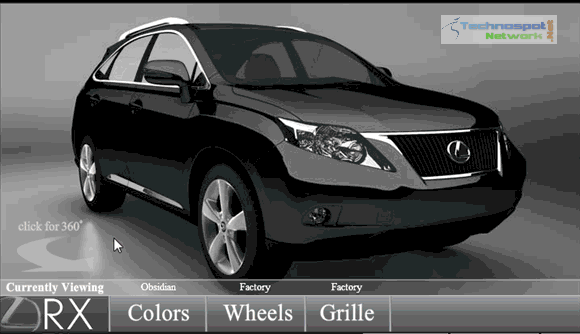 Company has planned to display more car models in this online showroom soon.
The tool is definitely a great way of test riding the looks of your car after the modification, online showroom looks more like a virtual car modification garage. So, if you are palnning to change the looks of your car, go ahead and enjoy this tool, and even if don't have a car (like me L) enjoy this tool as a toy, what say? Visit EnTyre 360°.
Related – Design your own bike with Urban Outfitters Bike Shop