Seems like Motorola is all set to compete with all the low end Android devices with its recent unveil of the price for MotoG announced today at Flipkart. Moto G is a budget Android phone which not only has better quality but also comes with decent specs and its the same price people in US are paying right now. Not sure how they do it but it will definitely have a great impact in this segment.
The deal comes via Flipkart which has got an exclusive deal to sell this via their online portal, making it even better for Flipkart in future to gain trust and market share.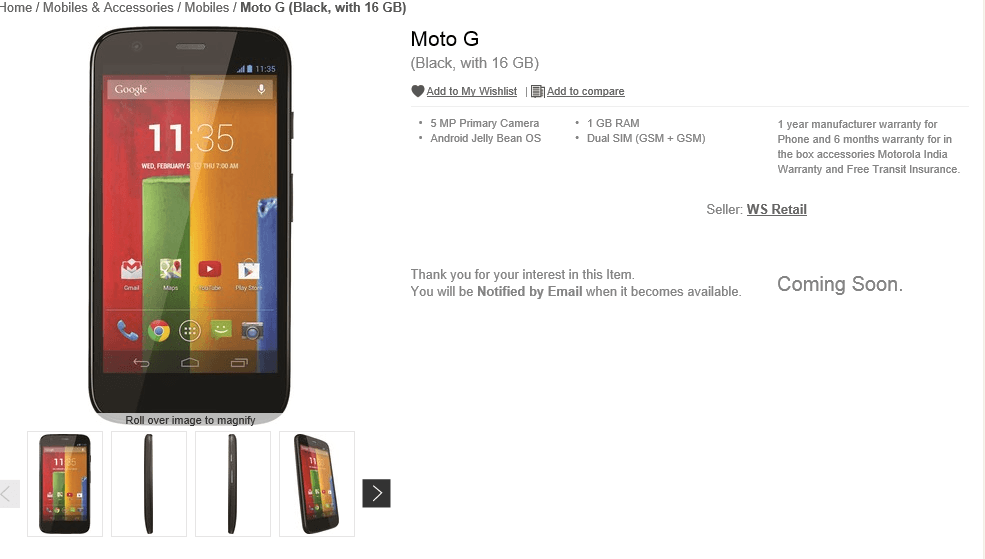 That said, lets take a quick look at the Moto G specs:
The phone comes with 720 P s4.5 inch screen with Corning Gorilla glass to make sure you get less scratches. The best part of the phone is that its a dual sim phone which generates a great interest in the Indian mobile segment. The phone is powered by .2 GHz quad-core Qualcomm Snapdragon 400 processor which also houses Adreno 305 GPU. 1 GB RAM on board makes sure you can play most of the games and apps.
It runs 4.3 Jelly Bean with option to upgrade to the latest version of Android i.e. 4.4. aka KITKAT, beating all the phones in this segment of which updates might never come.
When it coms to camera, there is a 5 MP rear camera with LED flash which an record at 720P, satisfying most of the users. 1.3MP front camera makes sure that no body complains on the video call feature.  The phone comes with 8 GB or 16GB internal memory assuring all the users to have enough space for large games and updates.
The latest Bluetooth 4.0 also made its way to Moto G making sure the 2070 mAH battery lasts longer.
Deals:
Flipkart has Day 1 deal for Moto G buyers who will be able to make its purchase through the portal but we don't have any details on that. We have even heard of 100% cashback in terms of discounts and offers. Will keep you updated once we see something in real as Flipkart has taken down the offer page.
Update : It seems the device will be available from tomorrow aka Feb 6th.
Sources
The Moto G being launched in India is a dual-SIM model, unlike the one sold in the US. Comes with Android 4.3 and upgradable to 4.4 soon.

— full-stack enthusiast (@krazyfrog) February 5, 2014
The price gets better. 12499 and 13999 for the Moto G!

— Rajat Agrawal (@rajatagr) February 5, 2014