By default all the windows users data are located in C:\users\ directory if C is the directory where windows is installed. Many a times what happens is when any kid of upgrade fails resulting in files or system which is unusable you loose all the customization and the data.
Profile Locater is a small program which gives a smart solution to this problem by relocating all your user profile to another folder making sure you dont loose your settings and windows is still usable.
You can duplicate your existing profile.
You can relocate your windows users directory some where else.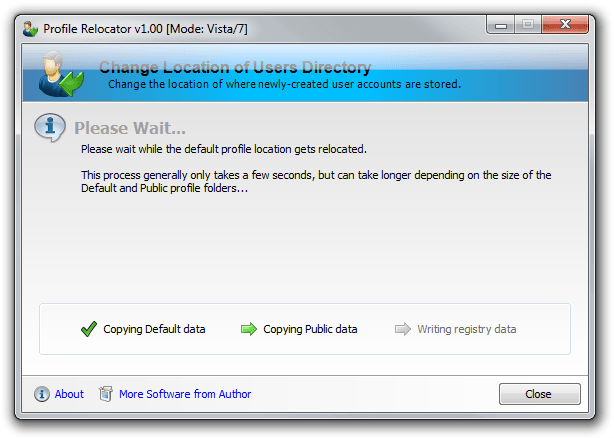 Here are the steps:
The  application contains the required information on how it works, but below is
a  brief  recap  on  what  you should do. Please note that if the "re-installing
Windows"  step  doesn't  apply  to you, you can just create the new account from
your  current  account.  Unfortunately this means you will not be able to create
the new account using your current acount's name.

If  you're  just  about to re-install Windows, you should create an account when
prompted  by  Windows  during  the  Windows installation phase using a temporary
name.  Do  not  use  the name you would like your permanent account to have. For
example, use an account name of Test.

Once  you've been logged into your temporary account (or main account if you did
not       re-install       Windows),      do      not      install      anything
except  for  Profile  Relocator. Run PR, read and agree to the the disclaimer in
the   first  step, then  select  the  location you would like all future-created
Windows profiles to be located in and click Start.

Once the relocation process has finished, click Finish.

Restart  your PC and log  back  into  your  temporary  account  and  create your
new  profile  using  the  User Accounts control panel applet, using the original
account   name   that  you  wanted.  Check  the  profile destination you entered
in PR above and you should see the newly created account in that location.

Log  out  of  your  current  temporary  account  and then into the newly created
account.  Once  you  have  ensured the account is working as intended (no errors
being  reported  by  Windows  upon  login),  feel  free  to delete the temporary
account (eg. Temp) that you just logged out of as it is no longer required.

Profile Relocator does  not support  the location change of existing profiles as
is much more risky due to the required number of steps and their complexity.