An average computer user has tones of movies on his laptop or over a network drive which results in one simple issue for a Movie Enthusiastic, How do you search for a Movie where a certain person is an actor or how do you find if the movie has a good rating or How do you which category the movie falls into ?
So the real question is how to stay organized with those gigabytes of Movies you have ? So today we thought of introducing you a couple of movie software which can help you find, stay organized with all these.
How do these Software work ?
They read files from your folder and pull all meta data which help them comparing with online databases like IMDB and then bring in all details in presentable way to you. There can be mismatches because of wrong info in the file itself but you can fix it.
So before you start using any of these applications, I will suggest you to do a bit of background work by bringing all your movies in one location or keep them into dedicated folders though it's not mandatory but it's for your help but if you cannot, don't worry all these can pull data from any number of folders.
Movie Monkey :
The most advanced of all the software here because it has a lot of automation and zero configuration but the best part of using this is you can set what you have already watched and what is still left, very useful if you have just got some movies from your friend and copied it to your Movies Folder.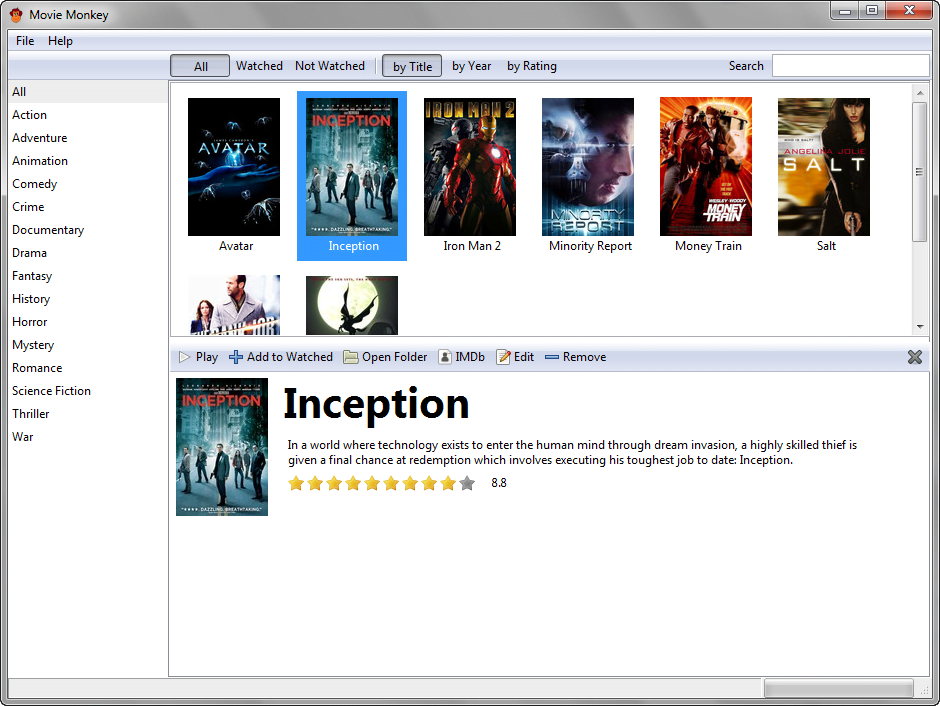 There are few more things I really liked about it.
Displays all the movies in Album format with cover image which takes lot less view space
Automatically categorizes them making and lastly the inbuilt filters  ( Sort by Year, Title, Rating etc ) is a big time boon for heavy movie fans.
Lets you launch the movie in your default player right from there.
Edit Movie details in case its wrong.
This installs in your computer like any other software and does not comes with export option so you cannot restore in case you format which in my view is a drawback for users who have huge movie collection. Download from here
Movie Explorer :
This application is simplest of all. Once you configure in option the path where your movies are stored, it automatically pulls in data from IMDB and fills in all details about the movie right from Actor to Director etc. Then when you want to search all you need is type in the name of the movie or actor or director etc and it does a live filtering for you.
If you are looking for more control on how your movies are organized, this app is just for you. Here you create categories etc manually and for each group you can have different set of folders. So if you are bit organized here and have categorized your movie already in some way, this app is just for you.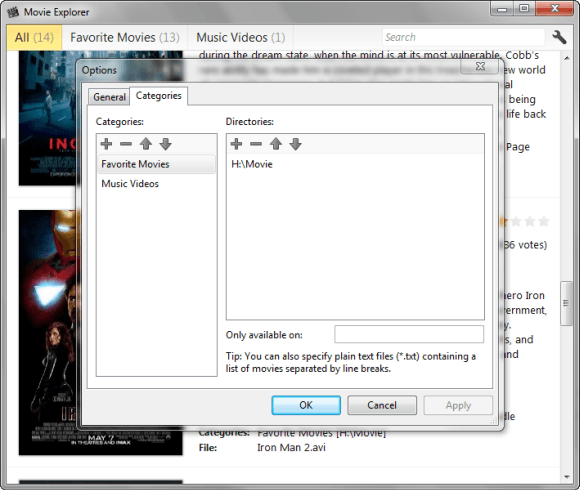 This application is portable and creates set of file to store all your movie details, So I will suggest you to create a folder and keep it in that so all the files if needs to be moved will be easy.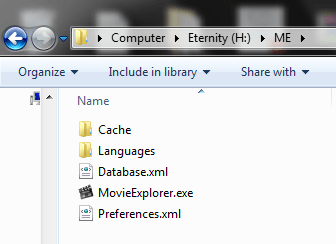 This software is in beta now so you might find some bug but this the fastest of all three and is really simple though I would expect it to let users launch the movie at least to make it even smoother. Download from here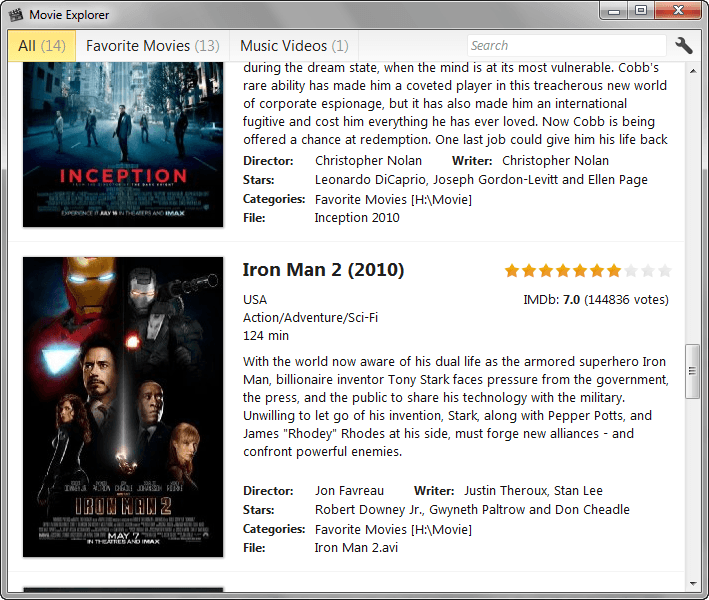 PS : I am looking for more apps which are free and works nicely. So if you have any recommendations, add in comments