Connecting remotely to another machine by SSH or RDP or similar protocols is a common action which we do in an IT industry. However managing so many protocols is not easy. You might be using RDP of Windows or use SSH via free softwares like putty but you need different software for different protocols.
Keeping the above scenario in mind mRemoteNG is an advanced remote connection session manager which lets you manage all theses sessions using one single application under tabbed interface. It supports :
RDP (Remote Desktop/Terminal Server)
VNC (Virtual Network Computing)
ICA (Citrix Independent Computing Architecture)
SSH (Secure Shell)
Telnet (TELecommunication NETwork)
HTTP/HTTPS (Hypertext Transfer Protocol)
rlogin
Raw Socket Connections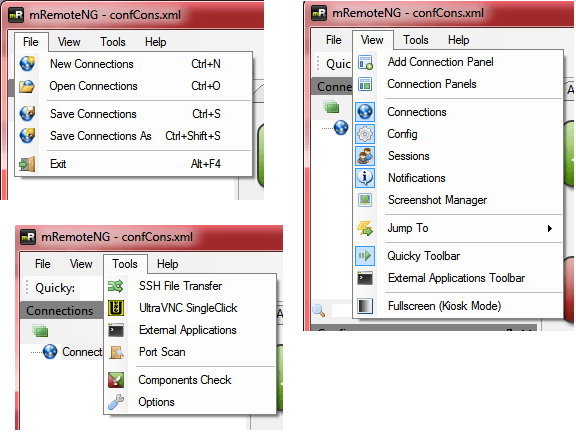 More Features :
Connection settings are stored in XML format.
Perform a port scan.
Take Screenshots
Manage Sessions.
SSH File Transfer and more.
You can download this application for free from here.