We all remember Device Manager, Devices and Printers Windows where all devices were used to be listed and then can be configured by finding the settings option for each of these devices. This had never been an issues, at least in Windows 7, but starting with Windows 8, you get a brand new interface or application called as Microsoft Device Center which will make two things lot easier fro you :
Configuring the device with very simple and interactive interface.
And secondly allowing you configure special commands or macros etc from here.
Configuring any device ? How its made easy :
Taking advantage of the fluid metro interface of Windows 8, the device center gives you direct option to change settings instead of taking you through a tour of tabbed interface with a lot of settings in it.  So when you want to change settings for a device, you get all the basic option right when you select the device. For example if you have the  Touch Mouse, you get the option to Change gestures, scroll speed etc.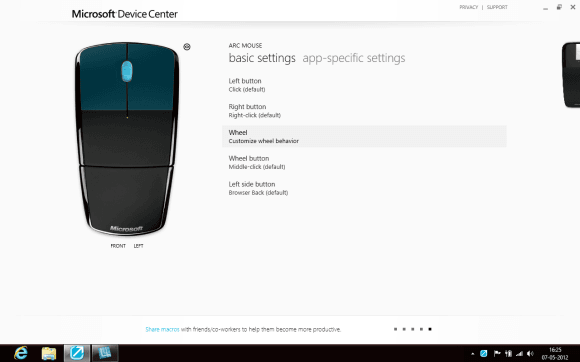 For every device, the exact image is loaded, and you can view which part of the device is configurable. This makes it easy for you to understand and map it to the real device.
App Specific settings :
This is a brilliant configuration for power users. If you want to assign mouse buttons to perform different commands in different programs, for example, you can assign the same button to activate digital ink when in PowerPoint, run a macro when in a game and open the magnifier when in any other application, you can do this here.
In this screen, you have the option to Add New > Select App. Then, For e.g. Arc Mouse, you get the option to configure what Left, Right, Wheel and Left side button will do. Also, I can configure the left side button of the arc mouse for certain key combination like Print Screen, or a Macro. You can even configure it to disable it.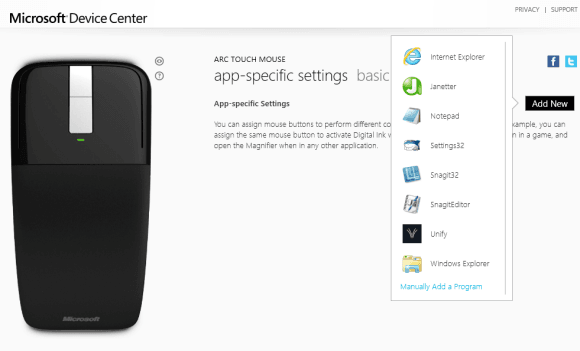 Nice thing about adding a Macro is, Windows 8 Device Center comes with a built in Macro Editor which allows you to set a name, insert special keys, allow to use it for once or all the time. This also means you will be able to add multiple macros and use whichever you want to use for that particular job.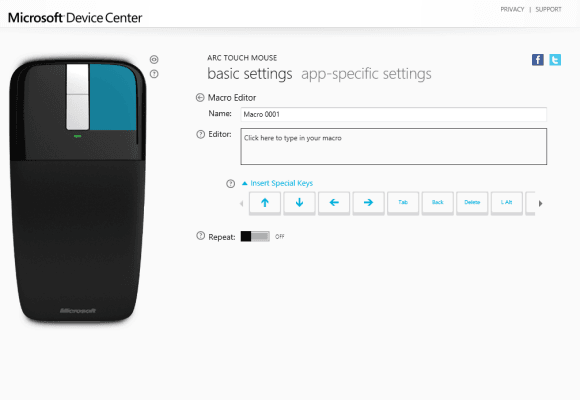 Help & Tips :
For every device you will find options like
Explore features with pop-up descriptive and "how-to" InfoTips.
Includes access to an online How-To/Troubleshooting library.
Includes access to an online Healthy Computing Guide for tips on how to work more comfortably on your computer.
The Big Question : Will this happen for every device ?
That's a pretty good question because till now I have just configured Microsoft Devices, and I guess its just for them  but I am guessing  either this will open for all or Microsoft might just bring in similar interface in the OS in the final build and it will depend on the hardware manufacturer to come with updates and provide to Microsoft so it can be seen in the device center. Even if you do not get very specific option, Microsoft should be taking care of helping you with most basic things.