Last.Fm is one of the popular music service already music lovers are into and now with Google Music available to all, it is obvious you are tempted to use it for a while but if you are missing features in Google Music like Scrobbling, More correct info on Artist info etc, Music Plus Extension for Chrome can bridge this gap. So if you had started using Google Music and want to do the same, Music Plus extension for Google Chrome can do this for you, Thanks JohnMu
Features :
Scrobbling in Last.FM is an exclusive feature which lets you add  the name of the song you listen on your computer to your music profile.
Displays Artist and Album Information in Google Music from Last.fm
Read along the lyrics when playing the track.
Downloads Music from Google Music
Adds Keyboard Shortcuts though you also have Official Shortcuts.
Track change Notification.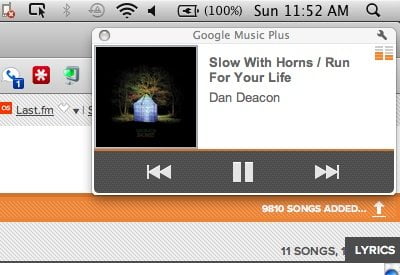 This extension is built from lot of codes which are open to public for reuse so now if you do not want all the features but some here is the breakdown :
Only Scrobbling : Daniel Slaughter developed this script when Google Music was in beta. You will need to give access to your Last.FM account before using it. Download this script from here and follow the instructions. For Firefox Greasemonkey extension does the job for Chrome you need to run it and then follow the prompt.Download
Only Lyrics : Lyrics are very important for users who love to karaoke. So if you just want this, grab the user script from here . It finds the lyrics and play it along with the song.
Only Download : Very much required by users if you want to download your songs.  It Gives you a link to download the current playing song in Google Music Beta. It'll open the steam.mp3 file to be downloaded. Grab the script from here