In this post, I am listing down 20 iPad puzzle games, including games that use physics engines. It includes both free games which you need to buy. The games will keep you busy for a long time and make you think and use your head. I had played each game for at least 2 to 3 hours to understand how it works, and I had 30 games before I started evaluating. I have considered how smart they are, their difficulty level, stability, and fun. So if you have looked for puzzle games, below is the list.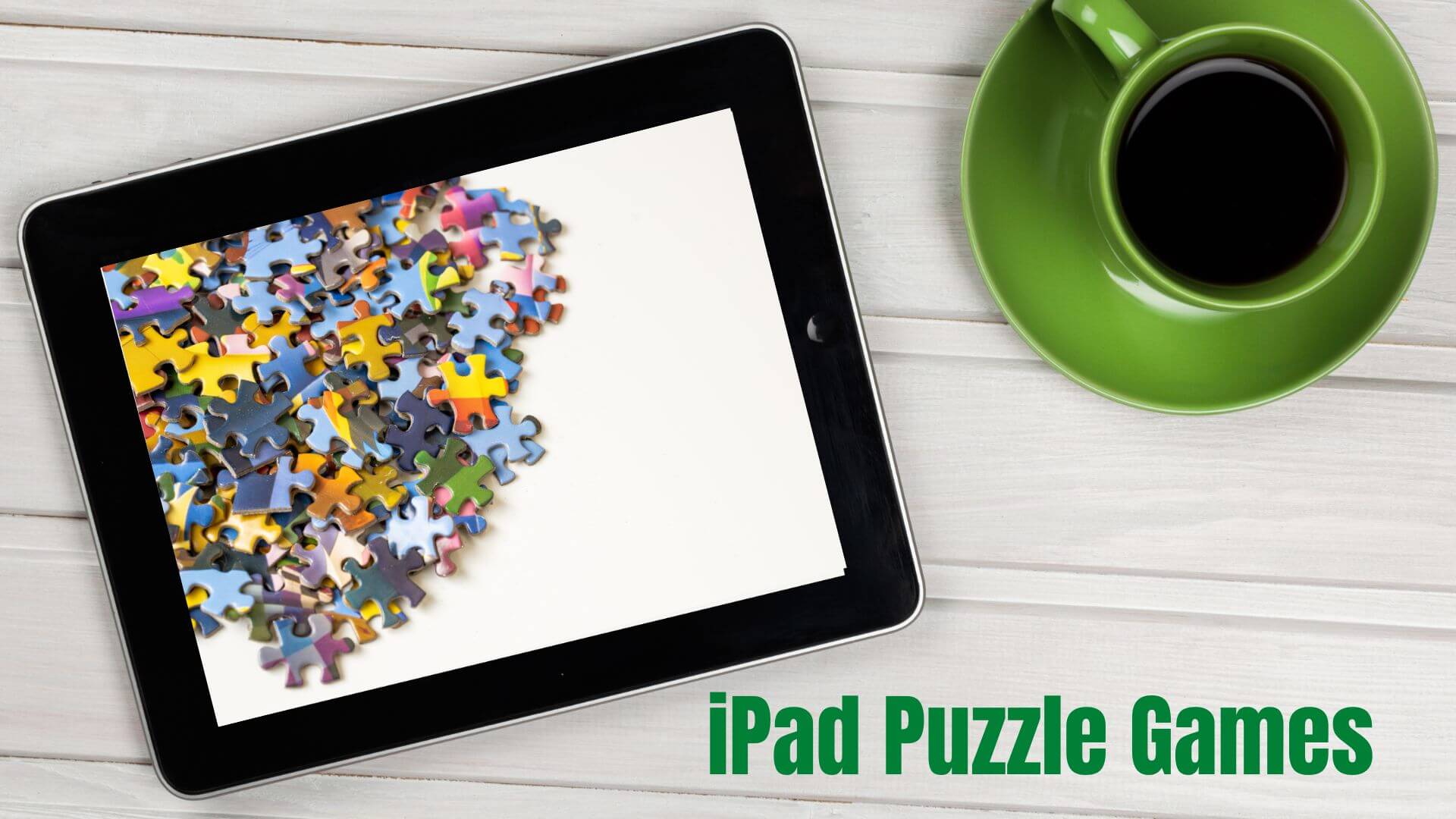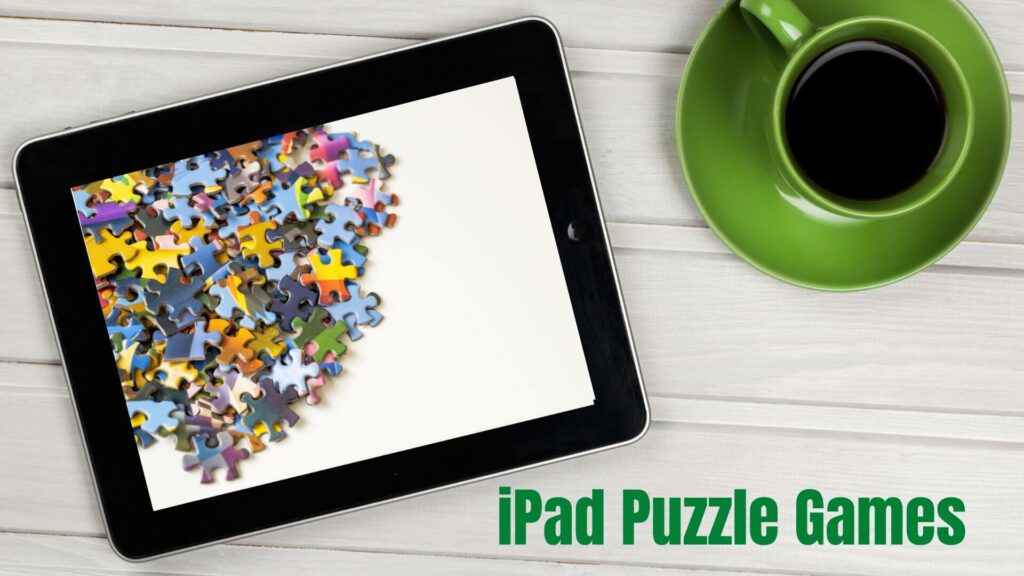 20 Must Have iPad Puzzle Games
All the games I had on the list were free when I downloaded them from iTunes. But when I checked now the price has changed. So in case you do like the game but do not want to spend money on this, make sure to read our post on How to get iPad Apps for free, where I have talked about a couple of apps that can notify you when the price drops or become free.
1. Fun Escape room: Logic Puzzles
Are you looking for exciting iPad puzzle games? In that case, you can opt for the Fun Escape Room. It is the perfect combination of high-dose entertainment and brain-stimulating puzzles. By the end of the game, you will feel invigorated and charged up even more. 
The game has a unique concept where players need to solve different puzzles to leave 100 rooms. Incredible, right? The tricky riddles and complex challenges indicate that not many have been successful. But, if you are confident in your brain prowess, trying the game will be highly satisfactory.
With this game, you get more than 500 levels that you can play to sharpen your brain. Besides, you also get access to hints in case you get stuck at a level. Another excellent feature that deserves special mention is the top-rated graphics. Even the animations in the game are jaw-dropping.
Fun Escape Room is available for free. It also doesn't come with a timer. Hence, there is no need to play with time pressurizing you.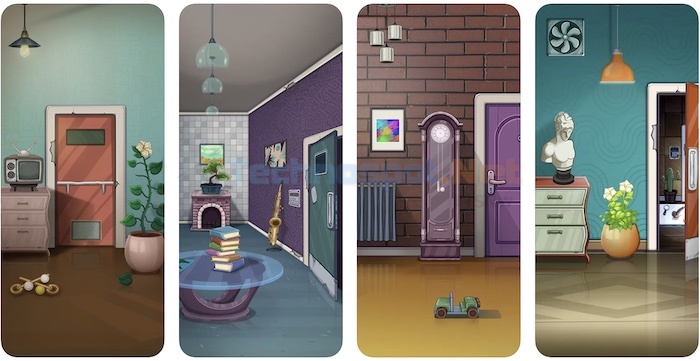 2. Where's My Water? 2
Another excellent iPad puzzle game you can play is Where's My Water? 2. It is a sequel to the trendy Where's My Water?. In this game, the players have to topple obstructions and hurdles and ensure water flows from one source to another. Here, you will need to offer assistance to these unique gaming characters.
The game's main characters are – Cranky, Allie, and Swampy. You can join these characters as they guide water flow from one area to another. With Where's My Water? 2, you get three new locations – the beach, the soap factory, and the sewer. Another impressive aspect is that the game is available for free for iPhone and iPad users.
There are more than 100 levels in the game. Moreover, you can try the exciting "Challenge Modes" to play the already-passed levels again. You can also use the hints to get past a particularly challenging level.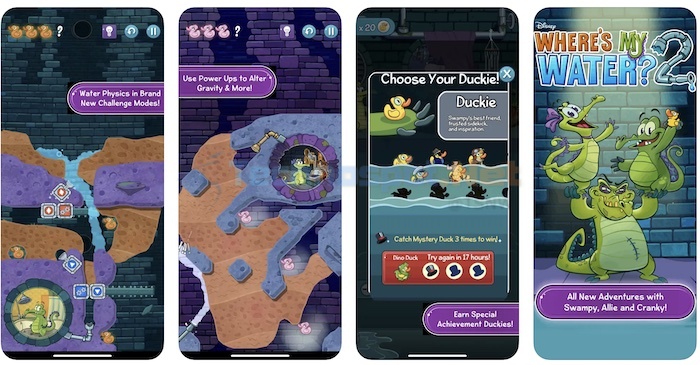 3. Brain Test: Tricky Puzzles
If you are looking for a challenging puzzle for the iPad, you can opt for the Brain Test. The presence of a wide range of riddles will boost your brain. If you love brain-stirring games that push you to solve complex puzzles, you will fall in love with the Brain Test. Besides, it is available free of cost. 
Different quizzes will aid you in moving forward. Rest assured, you will significantly admire the brain teasers. The game is easy to navigate and doesn't need technical expertise. You can even play the game offline without the need for the internet.
However, you can also opt for the VIP package. Here, you will get access to a weekly subscription. The first three days are available for a free trial. After that, the users must pay the subscription fee.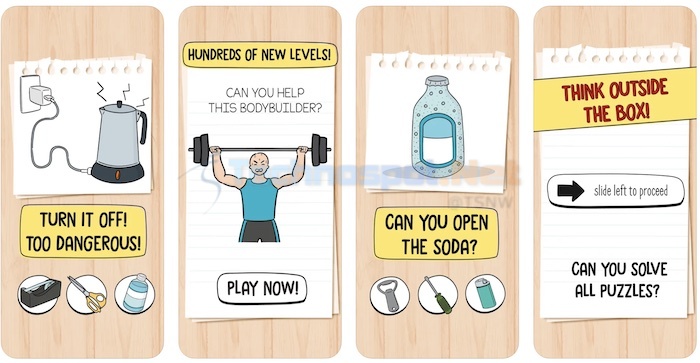 4. Decipher: The Brain Game
Another attractive yet excellent puzzle game you can opt for is the Decipher. It is an excellent brain-stimulating puzzle. The players must align various space rings to solve the enigmas that will aid in conquering different worlds. The game rightly portrays how looks can be deceptive.
The game, at first glance, looks easy. But, the actual reality is different as various rings create various effects. To use the Butterfly Effect to your advantage, you will need to merge creativity and logic perfectly. By the time you start deciphering the puzzles, you will love the game. 
The game rules of Decipher constantly evolve, making it difficult for players to master the game. However, the satisfaction you gain from crossing each level via the puzzle game is undeniable. Apart from that, the game is integrated with stunning visuals and soothing audio. That makes it easy for players to escape reality and find solace in an imaginary sci-fi universe.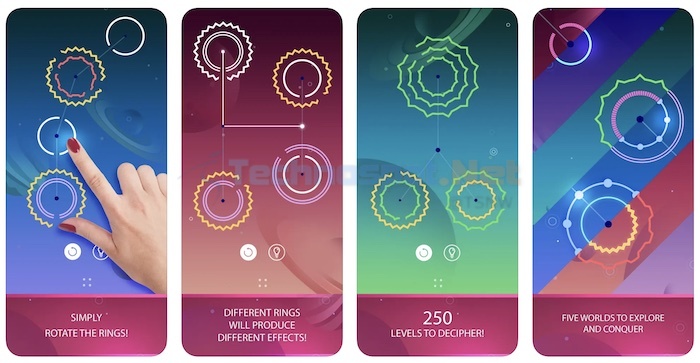 5. Photographs – Puzzle Stories
The last yet most incredible puzzle game for iPad users on the list is Photographs. This excellent puzzle game differentiates itself from the rest. The innovative mix of narrative and challenging puzzles set the tone right away. Though the levels might come across as hard, the players will still know what to do.
The game involves players searching for puzzles and solving them. As soon as you solve the puzzle, a scene develops, and you get the chance to hear a beautiful story. The focus is on making the story-telling aspect as creative as possible. That is why integrating top-rated music and stunning pixel art is a bonus.
Moreover, the game is intentionally designed to allow players to finish it quickly. You can complete the whole game within three hours. If you are looking for a slightly different puzzle game, try Photographs – Puzzle Stories.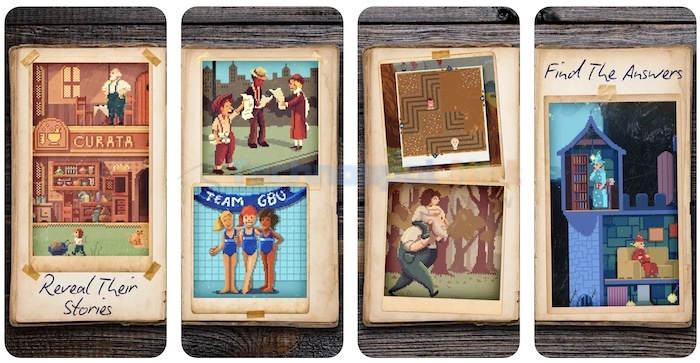 6] Aqueduct 101
It's a jigsaw game where you need to connect pipes so the water can flow from one end to another. The game starts easy and gets tough, especially when you have loads of pipes, and there are conditions where you need to do it in parts, i.e., water flowing to multiple sources. It includes carriers to move pipes when there is space in between and rollers which, if not blocked smartly, will take your pipe to somewhere else.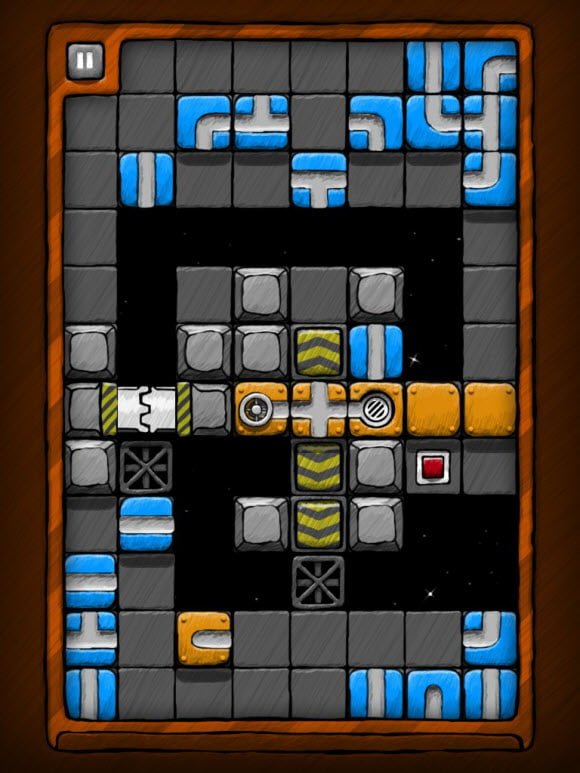 Levels: 48 | HD Game: Yes | In-App Purchase: Yes |  Download (Free)

7] Drainworks LT

In this game, you need to fill in water into another pipe, and the source could be a hand pump, another pipe, or anything else, but the gravity is most tricky here. You can tilt your iPad to change the flow of water because sometimes the pipes are next to each other, and sometimes there is a barrier in between. Apart from direction change, you also use one obstacle, which appears when you keep your finger anywhere on the iPad. It can change water to steam or can act as a blockage. They call it water physics.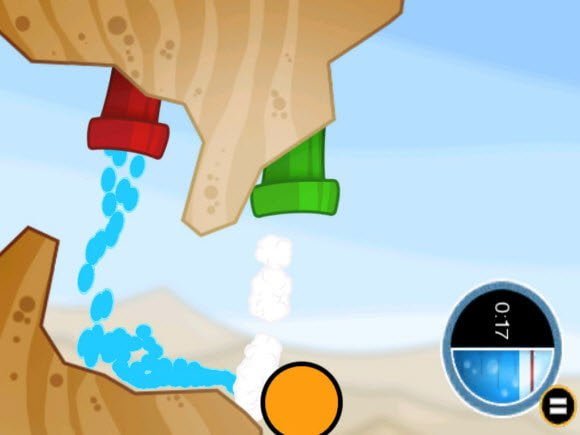 This game is different from all the games on this list.
Levels: 48 | HD Game: No | In-App Purchase: No |  Download
8] We Thieves HD
It is an exciting game where you help a couple of thieves to steal something, and they have minimal time. The game uses physics where you need to open a couple of cages to drop barrels which will move thieves to their aim. In between that, you need to collect gold coins and use bombs to reach the destination.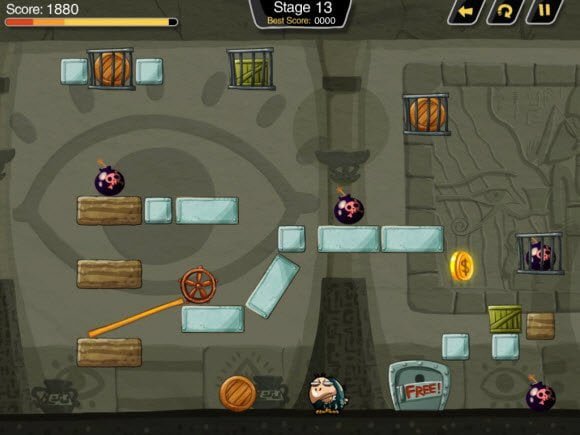 What makes this game challenging is there is not just one thieve that you need to move but can be two, and they can be at two different parts of the level. You have to use the right combination, proper timing, and the right barrels to fire so each can reach its destination.
Levels: 30 | HD Game: Yes | IAP: No | Download (2.99 USD)
9] Geared HD
A straightforward but brilliant game for gear lovers. Every level aims to move all the gears together. So you get two gears at two ends and use a couple of gears and adjust them so that they all fit and start rotating.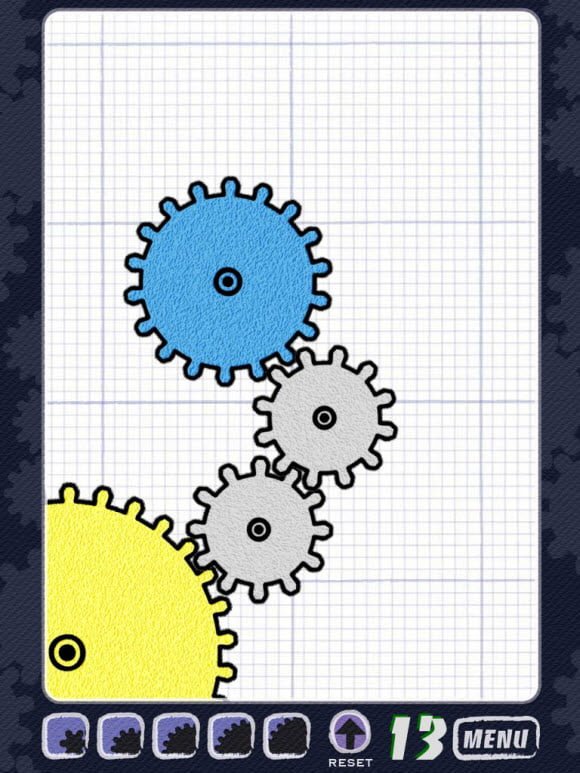 Levels: 150 | HD Game: Yes | IAP: No | Download (0.99 USD)
10] Tinker Box
It makes you tinker—the best of all physics games, which makes you understand what levels, pulleys, and chains can do. Every level aims to move balls into a basket but to do that. You will have to use a combination of mechanical stuff and fire them at the right time. If you have kids learning about levers and all this stuff, this game can help them visualize things much better.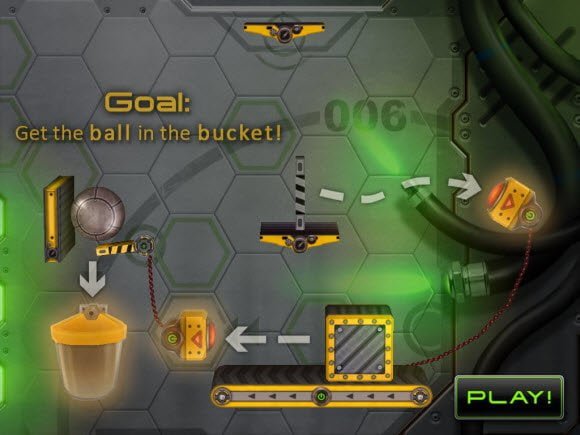 Apart from solving the puzzle, it also lets you create your puzzle, which I have not seen in any of the games yet—a must-have.
Levels: 19 +, two more stages are coming soon.| HD Game: Yes |  IAP: No | Download(Free)

11] Monsterball
Time for some fun. This game is not so serious; all you need is to keep the ball up in the air and grab some point. The ball has a rope at one end, so when you tap, it gets stuck at that point, and touch the ball again, it starts falling. So the game aims to stay up as long as you can and collect stars from the clouds to gain speed.
So here comes the physics again. It would help if you made the timing right, i.e., where to pin the ball and where to release it, and understand what centrifugal force is (Back to School!!)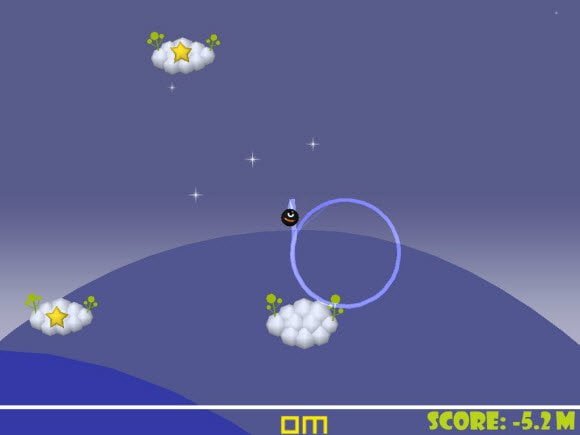 Levels: No actual levels, but you have primary and advance where you need to collect several stars.| HD Game: Yes |  IAP: No | Download (0.99 USD)

12] Beyond Ynth (Xmas Edition)

This game came out in December and features a bug that finds the Santa dropped a couple of gifts, and he decides to return them. To return the gifts, the bug has to cross different terrains and use boxes to move from one to another. That is where strategy and physics both come into play.
Also, depending on which terrain you are in, hurdles change. So in the icy region, you cannot stay out for long. When you are in the jungle, walnuts can fall and block your game. A unique feature of this game is the rewind button which helps you get back to a certain level back call t undo.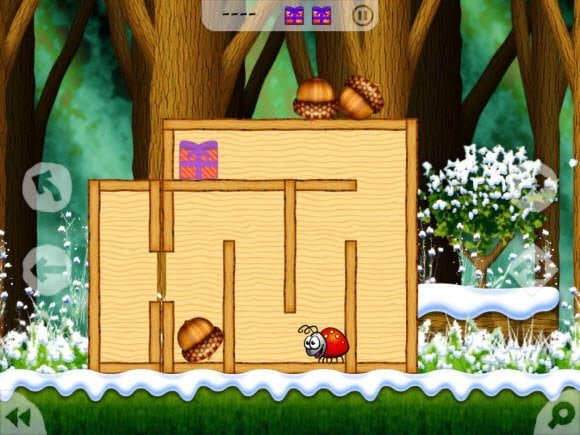 Levels: Four | HD Game: Yes |  IAP: Yes | Download (Free)

13] Cubetastic HD
Let's leave physics behind and check the cube-based puzzle game. It is the first 3D High Definition game where you need to move parts of the cub and align them so that you can draw a line between two points. The cube can be rotated around all the axis.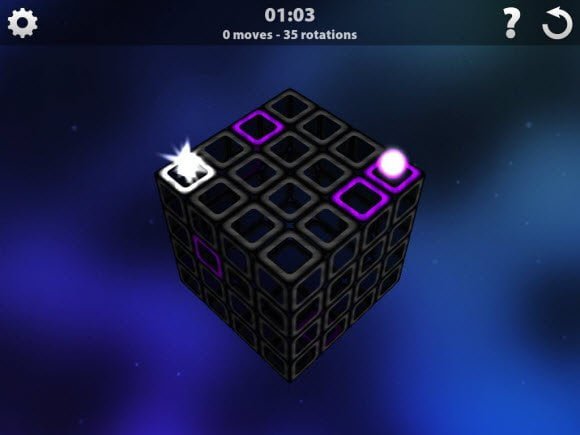 Levels: 72 levels + Special Challenge and Quick Game mode. | HD Game: Yes  and 3D|  IAP: No | Download (1.99 USD )

14] Arriving HD
Let's get back to physics again, but this will be light. Arriving HD takes you to the jungle, where you need to gather the power jewels by moving balls that are either on the wooden plank or falling on it. What is different here is there are no heavy levers here, but you can draw lines to control where the ball falls and how you can block levers.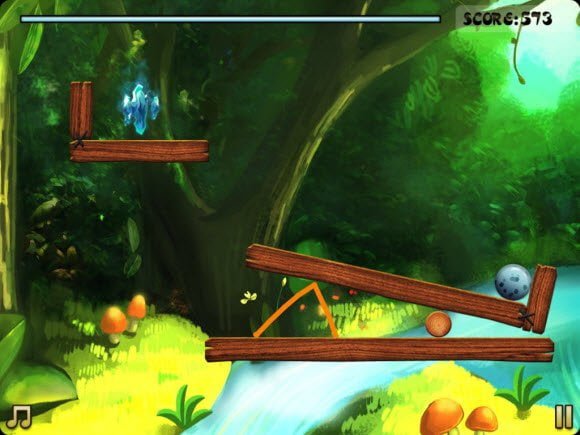 It's a bit difficult, and you need to start thinking as soon as the game starts, i.e., there is no prep time here.
Levels: 42 | HD Game: Yes |  IAP: No| Download (4.99 USD)

15] Stripe Physics
Though the game says physics, I would call it Stripe Balance. This game teaches you how to play any game patiently and with ultimate balance. The game aims to bring down the ball from top to bottom by removing the other planks in between, one at a time. So you have to be very thoughtful about which one to remove and how the balance will work out.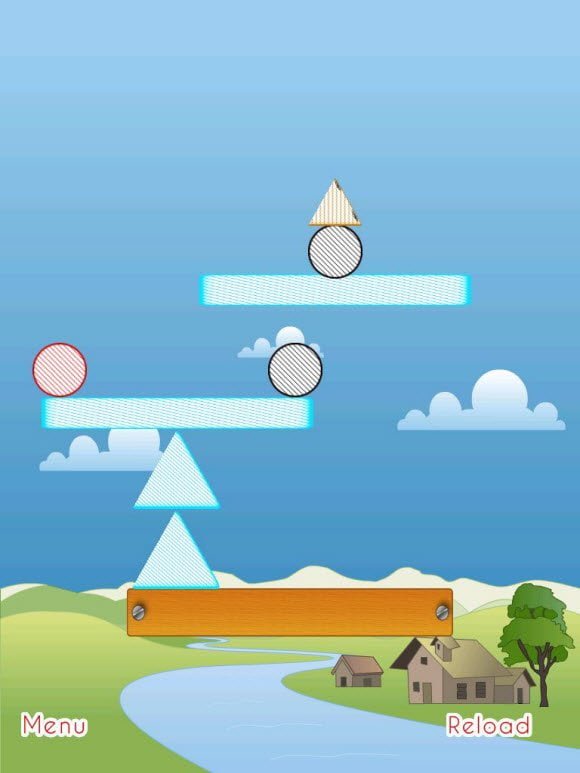 Levels: 16 | HD Game: Yes |  IAP: No| Download (Free)
16] Spin & Win
This game is very similar to the marble game, where you need to align 5 in a straight line to win. The game uses a board that is divided into four sub-boards. Each can be turned around. You place one checker and twist another or the same board where you placed the checker. This way, the strategy changes, and you can break the opponent's combination.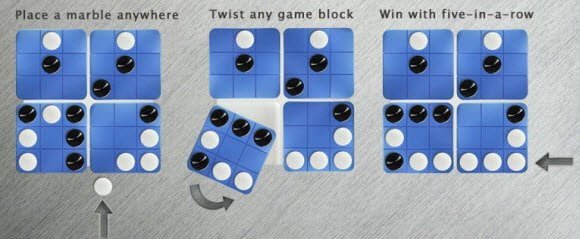 Levels: 16| HD Game: Yes |  IAP: No| Download(Free)

17] Make Way
Similar to Arrive HD, this game lets you draw lines to direct balls into a container. The challenge starts when you have more than one ball, and you need to understand "Collision" (Again, Back to School!!). The UI is designed to be sketchy instead of solid lines but still is high-definition.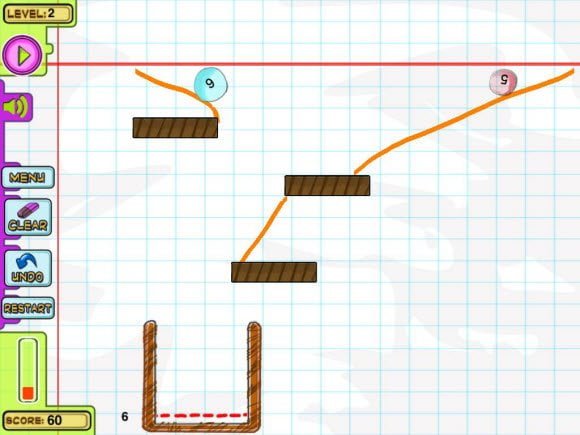 Levels: 65 HD Game: Yes |  IAP: Yes,  which adds 35 levels and removes advertisements from the game.| Download (0.99 USD)

18] Bubble Ball
A simple physics-based game uses planks, gravity, and pushes to direct a ball to a flag. We talked in detail here.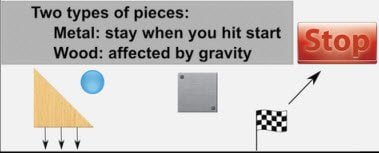 Levels:48: Yes |  IAP: Yes,  which adds extra 24 levels, new obstacles, and exciting puzzles.| Download (Free)

19] Rise of Atlantis
One of the most popular arcade games where you need to match specific types of and let pass the puzzle piece, which is one of the seven most extraordinary powers of the patron god of the Atlanteans – Poseidon. The app was free when I bought it but is now 6.99$.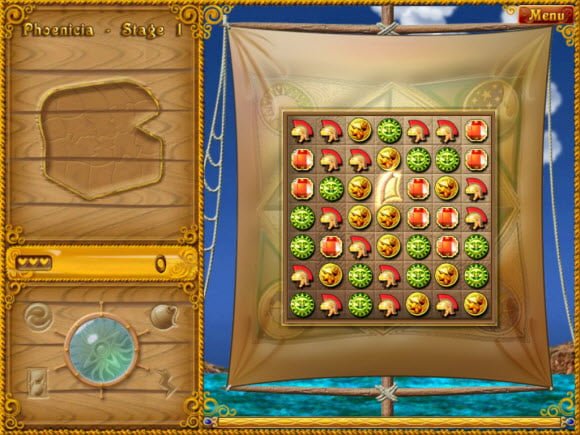 Levels:77: Yes |  IAP: No.| HD: Yes | Download (6.99$.)
20] MineSweeper
Again one of the most popular games on Windows, but it is still challenging for many. In this game, you need to unearth all the mines without blowing them. It is achieved by taking hints from numbers that tell how close the mine is.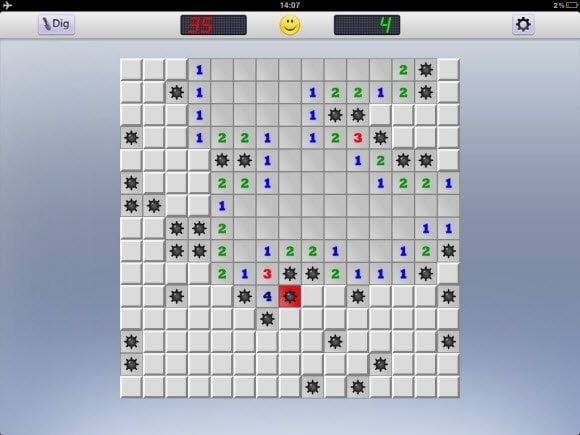 Download (Free)
When I first bought the iPad, I thought it was just for productivity, but sooner I realized its one of the devices is one of the best devices when it comes to Games. Enjoy!!