We randomly visited some booths, and this was the best among all of them. We got hold of a dual-screen phablet from NEC, and they call it MEDIAS W N-05E. It's from the "Docomo NEXT series" of smartphones.
This phablet is a  two-screen design that helps you convert a big phone into a small one, making it portable and open to a large screen display of 5.6 inches.  When the phablet is closed, it becomes a compact, 4.3-inch display smartphone.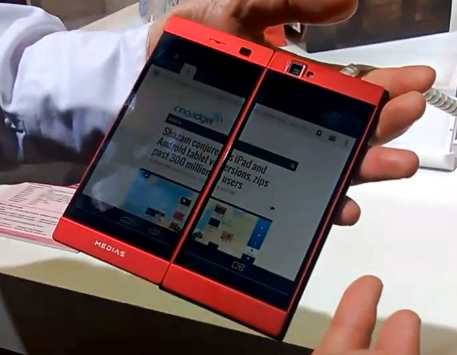 This phone supports high-speed LTE "Xi" communications. The browser is enabled to support both screens. So you can view a wide page extending to the second screen. It is also useful when you want to watch a wide-angle picture or look at Google Maps.
MEDIAS W N-05E runs on a Snapdragon S4 1.5 GHz, 1GB RAM. It has 16GB built-in storage and can be extended using microSD storage. It packs in a 2100mAh battery, which should run longer, and an 8MPX camera.
The unique feature of the camera is that when the tablet is folded, it becomes the back camera, but if you open it, it becomes the front camera. This makes it an ultimate companion for video calls, as you can view callers' videos on a wide 5.6-inch screen.
The resolution of both the screens combined is 960 X 1080, but with only one screen, it shrinks to 960 by 450. The phone is only 1 MM thick. It is from Nec Medias W.