#1 Compatibility View
IE 8 provides with alternate view of viewing websites which are yet to become compatible with it. This helps you in viewing sites with ease avoid the display problems on a website like misaligned text, images, or text boxes. It's located next to the Refresh button on the Address Bar

My View :

You can maintain a list of sites for the compatibility view. But there is one thing missing. How should a person using IE 8 know that a site has become compatible with IE 8. If I don't remove from the list I will never know.
#2 InPrivate Browsing :
This feature came out first in FireFox. Now you can browse anonymously in IE without leaving a trace. It prevents  Internet Explorer from storing data about your browsing session. This includes cookies, temporary Internet files, history, and other data. Toolbars and extensions are disabled by default.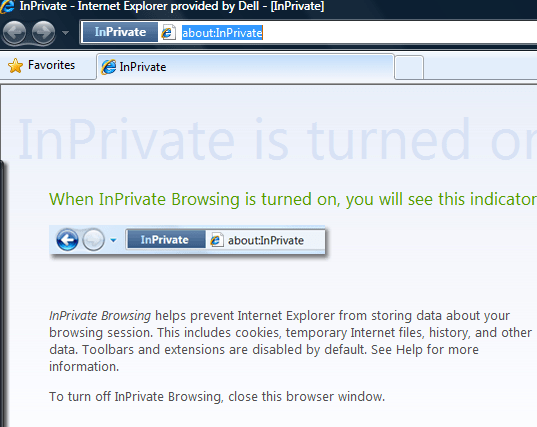 My View :

The last thing is what i didn't like about it. I would like to browse without leaving a trace but I would still like to use the extensions and toolbar. But the catch here is extensions and toolbars both might collect users data and that voids the whole concept of In Private browsing.
#3 Web Slice :
Rss or Feeds which provide your with the latest content on any website are the only way to stay updated with news. However this requires people to have subscribed somewhere and then go and check it.
IE 8 comes with a feature called as Web Slice. A Web Slice enables your to subscribe to the site content directly within a Web page. Meaning you can stay updated with just a visual portion of website. Like Stock Exchange rates or the graphs, Money exchange rates etc. This way you can actually track what RSS feeds can never show.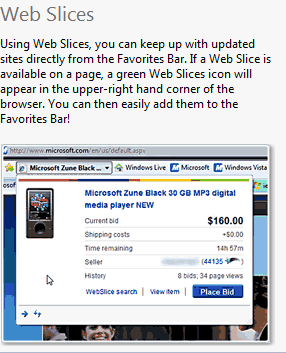 My View :

Slice has one major drawback. Users dont have any control what to select. Similar to RSS , the owner of the website has to decide which part can be sliced away.  Read more about Slice on MSDN
#4 Accelerators :
This are shortcut menus for tools which can enhance your browsing experience or let you do thing faster. Like when you want to search or find meaning or even blog about it. IE 8 Accelerators adds to the context menu ( right click ) . So next time you want to find details of a text on web page on Live maps,  just copy and hit maps.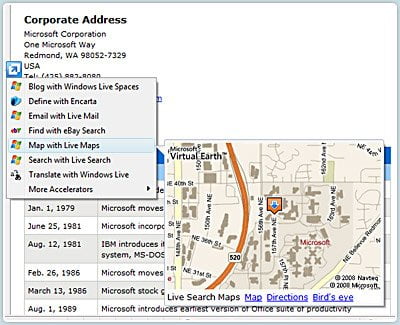 My Views :

Accelerators are good things. They are similar to Extensions but it should be developed carefully. I have seen many addons which make FireFox heavy. This can happen here also.
#5 Visual Search :
Visual search are advanced mode or Enriched Search with images. Now you can see images along with your search result. Internet Explorer 8 is partnering with top search providers like Live Search, Wikipedia, Yahoo, Amazon, and more to deliver "visual search" images that provide you with immediate answers.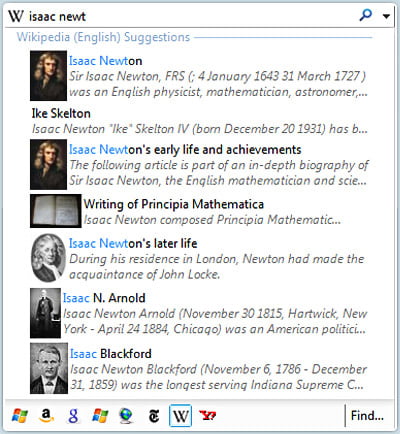 My Views :

Visual Search are very helpful but people will have to understand that all searches might not give you visual search. Like IE has partnered with top search providers. So if the search provider has something to offer in visual ways, you would get it but if its not there you will not.
#6 Better  favorite Management and History Search
IE 8 finally has good ways to handle all your bookmarked sites. It not the old never ending drop down which you kept scrolling . It has its own Manager and you can check out the history delete and everything you ever wanted.
History searching
History sorting
RSS feeds on Links Bar
One Click Favorites
There are more features which I will cover in next post. Stay Tuned!!!  and In case you haven't downloaded IE 8 , Give it a spin and download IE 8 Today