Ok, so, you are a news junkie, and don't like to stay away from the headlines wherever you are. Here is something if you are one of those proud iPad owners; here is something you will love to have, 'NYT Editors' Choice', a Free app for iPad, which can help you quench the thirst of reading and updating yourself. This free app provides you the editor's pick from the New York Times daily, the daily pick includes –
Select articles from Latest News, Opinion, Business, Technology and more.
View photos and videos optimized for display on the iPad's cutting-edge screen.
Read articles and browse photos and videos with ease, using the iPad's sophisticated navigation capabilities.
Download and sync content to your iPad via Wi-Fi or cellular network, so you can read offline.
Here are the snapshots of the app –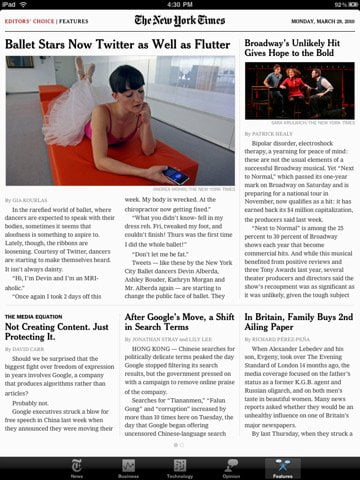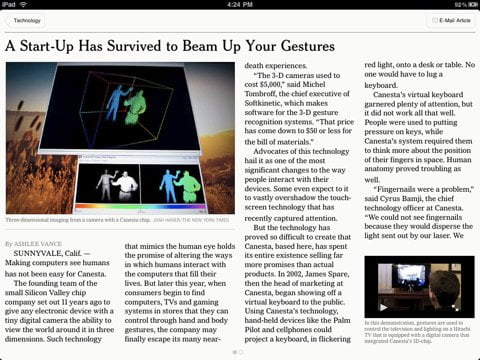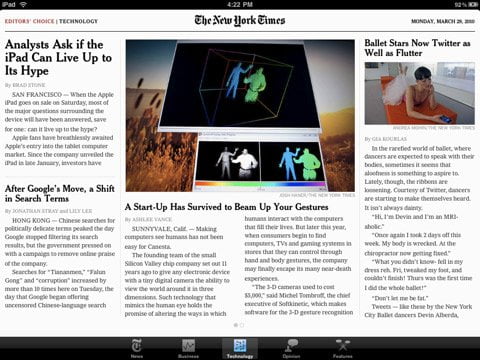 Sounds cool, isn't it? So go ahead and grab this app on your iPad, and enjoy getting the best of The New York Times daily.
Download and read more about NYT Editors' Choice
Also if you are interested you can download the Telegraph app, which too is almost the same as this on for another world class daily, and comes for free (for limited period).